2023 Peru Accesible Expedition
Lima - Cuzco - Machu Picchu - Amazon Cruise - Sacred Valley - Puno - Puerto Maldonado
11 days / 10 nights.
ITINERARY
Day 1: LIMA
Welcome to Peru! Upon arrival in Lima city, our staff will be waiting for you to transfer you to your hotel.
CHECK IN 14:00 CHECK OUT 12:00
Meals included: None
Day 2: LIMA
09:00 Hrs. We will start our tour with a panoramic view of the "Pucllana Pyramid" a magnificent ceremonial and archeological center built in the 4th century AD. and considered a "sacred village" by the Incas; then we are going to visit the main square of Lima and view the Government Palace, the Cathedral and the Archbishop's Palace. Visit to Santo Domingo monastery that is the oldest religious complex of Lima. It was in this monastery that St. Martin de Porres spent most of his life. In the crypt of the monastery is also buried Rose of Lima. PM. Time for Lunch in Café del Museo Larco restaurant. After the lunch and a good rest, we are going to visit the Larco Herrera museum to meet the most impressive pre-columbian art collection in the world. Located in an 18th century this mansion is built on a pre-columbian pyramid of the 17th century. This museum displays an impressive collection of gold and silver of Peru. End of the tour and return to the hotel.
CHECK IN 14:00 CHECK OUT 12:00
Meals included: Breakfast & Lunch.
Day 3: LIMA - CUSCO
Transfer to the airport for the flight to Cusco, Arrival to Cusco and transfer to hotel. Free morning for acclimatization. 13:30 Hrs. We begin our tour to Cusco city declared World Heritage by UNESCO. We are going to view the main square of the city and the archaeological complex of Qoricancha (Temple of the sun) an ancient Inca palace. Then visit to the archaeological complex of Tambomachay and Sacsayhuaman and a sightseen view to Kenko and Pucca Pucara Overnight at the hotel.
CHECK IN: 14:00 HRS CHECK OUT: 10:00 HRS
Meals included: Breakfast,
Day 4: CUSCO - MACHU PICCHU - CUSCO
Transfer to Poroy train station to take the Hiram Bingham train to Aguas Calientes that is a village located in the base of Machu Picchu, after the reception at the station we go to the bus station, we will continue with a 30 minutes trip by bus to reach the top of the mountain where is Machu Picchu. The Citadel is located at the top of the mountain at an altitude of 2450 msnm. Our accesible tour will begin approximately at 13:00 Hrs. We are going to visit the citadel, where he is one of he most renowned examples of Inca architecture, Guided tour of the most important streets, plazas and temples etc. surrounded by abundant vegetation and some llamas. 16:00 Tea Time 17:50 Board the Hiram Bingham Train to Cusco Transfer and overnight at your hotel
CHECK IN: 14:00 HRS CHECK OUT: 10:00 HRS
Meals included: Breakfast, Brunch on board & dinner on board the train
Day 5: CUSCO-SACRED VALLEY-CUSCO
08:20 Hrs. This
Day we will visit the sacred valley of the Incas. In our first stop we visit Pisac located 32 km from the city of Cusco, a typical Andean village famous for its artisan and crafts archaeological park, which hosts the famous crafts fairs. Another 20 minutes up the mountain is the Inca site which goes by the same name as the town; covering a large area with many finely constructed buildings the site had various purposes ranging from military, religious and agricultural. Exploring the site is a great way to spend a morning, most people only have a flying visit as their time is restricted but this means they miss out on seeing a large part of what is on offer. Continuing the tour, we will pass through the towns of Coya, Lamay, Calca, Yucay, Urubamba, observing beautiful flora and fauna during the route that takes about 45 minutes to reach the town of Urubamba PM. Lunch Time! At Hawa Restaurant. 14:00 Hrs. We continue the tour visiting the archaeological site of Ollantaytambo, one of the most important places in the sacred valley. This place was a strategic point for the Incas. Return to Cusco city overnight in the hotel.
CHECK IN: 14:00 HRS CHECK OUT: 10:00 HRS
Meals included: Breakfast, Lunch
Day 6: CUSCO - PUNO
At appropriate time transfer to the airport to take the flight to Juliaca Arrival to Juliaca city and transfer to the city of Puno located at 3812 meters above sea level and where the highest navigable lake in the world, Lake Titicaca, is located. Transfer to your hotel Day at leisure for acclimatization.
CHECK IN 15:00 CHECK OUT 12:00
Meals included: Breakfast, Lunch
Day 7: PUNO
06:30 Hrs. Early in the morning transfer to the main dock or port. At 7:15am, we start the tour towards the floating islands of the Uros, currently considered the National Reserve of Lake Titicaca. Also known as the highest navigable lake in the world. During the trip you will be able to observe a beautiful panoramic view. Our specialized guide will introduce you to the existence of the Uros Floating Islands. Today the people of the Uros still maintain their own culture and tradition, as well as artisanal fishing, especially of (CARACHI) and pejerrey. When fishing is plentiful, they can keep the fish by drying them in the sun. They also hunt wild birds and collect duck eggs. Then we will head to the natural island of Taquile, during the navigation you will be able to observe the mountain range (the real mountain range), not only that, the people of Taquile very collaborative and well organized. This is the reason why Taquileños have demonstrated their high degree of progress in Textiles, receiving their award from UNESCO. It should be noted that spinning and weaving are mainly done by men, beginning at the age of eight. We will know their customs and part of their daily life, in Taquile life is still largely unchanged by modernity. We will have a short walk during which we can appreciate different landscapes and beautiful views of Lake Titicaca.
PM. Lunch time in Taquile Island
After lunch we will have a demonstration of the weaving and some typical dances. 15:00 Hrs. Return to the boat and return to the city of Puno.
16:30 Hrs. Arrival to Puno city and transfer to your hotel.
CHECK IN 15:00 CHECK OUT 12:00
Meals included: Breakfast, Lunch
Day 8: PUNO - LIMA
Transfer to Juliaca where the airport is located on way we will visit the Chulpas de Sillustani, this site arqueológico of Sillustani is located 34 km away from the city of Puno and at an altitude of 3,840 mts (12,858 feet) above sea level. Sillustani está está estratégicamente located on the top of a península surrounded by a beautiful lagoon called Umayo Lagoon. This site arqueológico was a cemetery built in the 13th century by a civilización that occupied this región before the dominación Inka. The builders of these imposing funeral towers are known as the village or nación Kolla. The imposing funeral towers más were built for the powerful chiefs más and priests. Arrival Lima, assistance to the hotel located in the Lima Airport.
CHECK IN 15:00 CHECK OUT 12:00
Meals included: Breakfast,
Day 9: LIMA - PUERTO MALDONADO
AM. Arrival at Puerto Maldonado and transfer to the pier to board a boat that will take us upriver where the lodge is located. Welcome meeting, with a refreshing fruit juice from our region. Installation in our respective rooms. After a refreshing rest, you will have the introduction of a two-hour hike in the dense tropical forest, guided by an expert local guide, who will take you on our trails and appreciate a variety of trees that can be more than five hundred years old, as well as observe some species of wild animals such as toucans, oropendolas, macaws, monkeys, snakes, butterflies, etc. You will have the opportunity to experience the magic of our Amazon rainforest that is within the TAMBOPATA NATIONAL RESERVE, (278,000 protected hectares). PM. After lunch, we will visit the "monkey island", located in front of our lodge crossing the Madre de Dios River where we will find different species like the family of capuchin monkeys that live on the island and return to the lodge. At night we will go in search of white caimans that are usually found on sandbanks, in the Madre de Dios River, for which we will need to carry a flashlight. Also, we can see the capybara, the largest rodent in the world that can weigh up to 60 kg, return to the lodge, dinner and rest.
Accommodation Monte Amazónico Lodge
Meals included: Breakfast, Lunch and Dinner
Day 10: PUERTO MALDONADO
08:20 Hrs. After breakfast we will walk 3 km. In the middle of the dense tropical jungle and we head towards Lake Sandoval (inhabited by piranhas), one of the largest in the Tambopata National Reserve, where we will ride in a rowing boat where we will appreciate a great variety of birds and monkeys of different species (shansho, cormorant, jacanas, puma garza, gallinazos, cotomono, monkey fraile, machín negro, pichicos and perezosos). Perhaps we will have a meeting with the family of the giant otter (almost two meters long) that is in danger of extinction and the largest registered caimans over 4 meters long, return to the Lodge to enjoy the typical lunch. PM. Lunch Time! In the evening we will have a walk where we will be able to appreciate the diversity of species of insects, amphibians, reptiles and other nocturnal animals. dinner and rest
Accommodation Monte Amazónico Lodge
Meals included: Breakfast, Lunch and Dinner
Day 11 : PUERTO MALDONADO - LIMA - HOME
AM. Morning at leisure 11:00 Hrs. Transfer to Puerto Maldonado city and transfer to the airport take our flight to Lima city PM. Arrival to Lima City. Meals included: Breakfast,
2023 Peru Accesible Expedition Itinerary Overview:
WHAT IS INCLUDED / NOT INCLUDED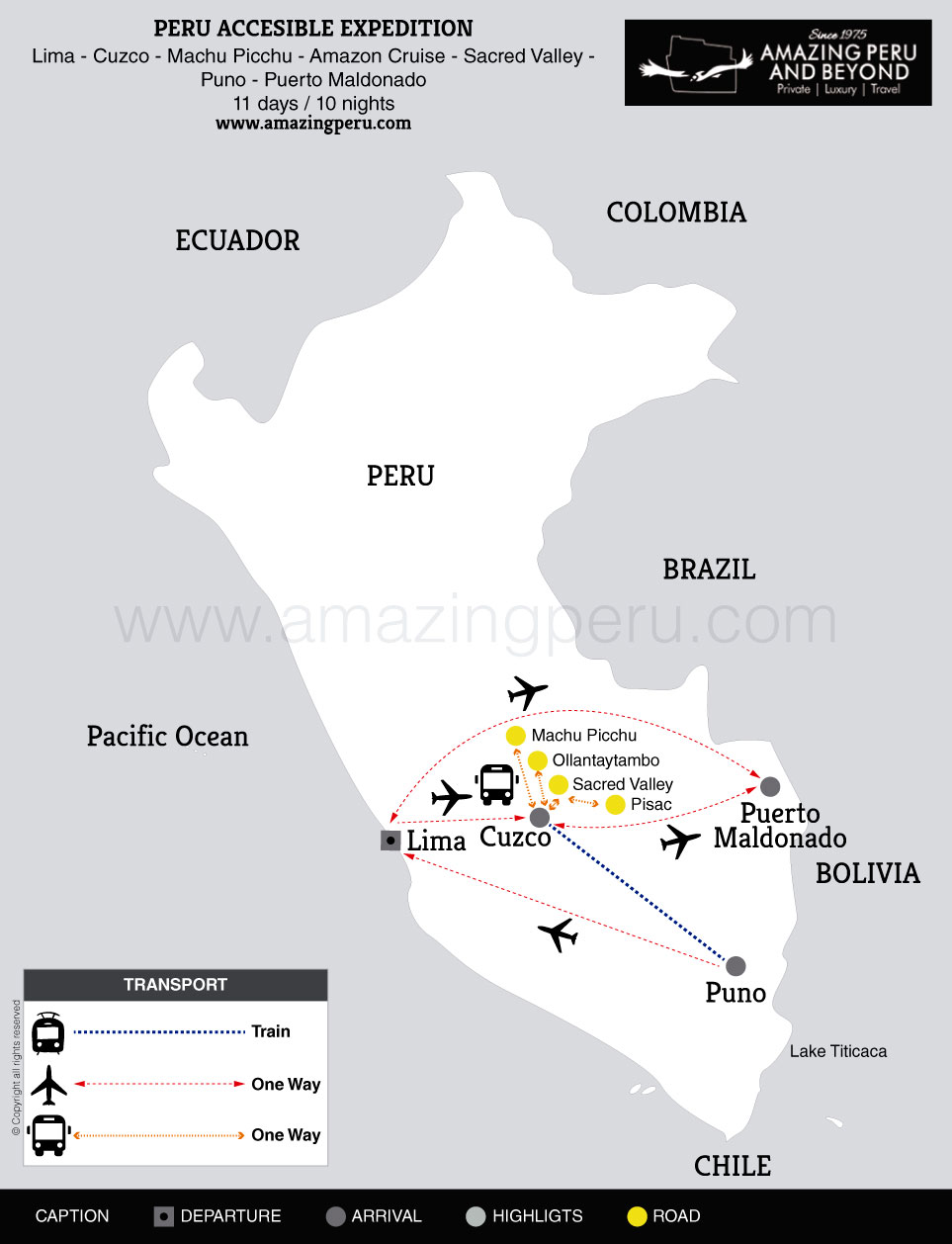 2023 Peru Accesible Expedition
Lima - Cuzco - Machu Picchu - Amazon Cruise - Sacred Valley - Puno - Puerto Maldonado
11 days / 10 nights.
For current availability contact us at
info@amazingperu.com
and we will send you the relevant trip dossier along with a 90 day fixed quote, terms and conditions. Please bear in mind that significant price reductions are available for groups. All our Luxury Tours are fully private and depart daily. Contact us for more information regarding the above tour, or to begin customizing your own itinerary.
"Well-run multipurpose agency, with several offices in Peru with an extensive roster of trips, from family and honeymoon to luxury trips..."
Frommers Guides 2023
"Highly recommended, professional and well-organized, 'perfect tour', knowledgeable guides"
Footprint Handbook 2023
"Transportation services and accommodations are top-notch, and the guides are flexible and extremely helpful"
Fodor's Guides 2023
"
Amazing Peru
has more than 20 years of experience in the travel industry. Tours to Machu Picchu can be customized to include airfare, all meals, accommodations and travel insurance, and last from six to 14 days. Amazon cruises, horseback riding, river rafting, hiking and biking throughout Machu Picchu, Cuzco, Sacred Valley, Lake Titicaca..."
USA TODAY
"Move Over, Machu Picchu - How disabled travelers can tour Machu Picchu."
Christoper Reynolds
"Looking for an adventure of lifetime to kick-start married life? Consider these honeymoons with a difference… "
Perfect Wedding Magazine
"Experience"
Amazing Peru is the leading company in Latin America that combines exclusivity, luxury and authenticity for Peruvian holidays. It will tailor a 15- days tour for you that takes in Lake Titicaca, the Sacred Valley, Machu Picchu, Lima, Cuzco, Colca Canyon and the Amazon rainforest."
The Travel and Leisure Magazine UK
"A reputable firm with an impressive variety of unique excursions… "
At Home and Away with Alan Whicker CBE Magazine
Spend Christmas on a guided tour of breathtaking Machu Picchu and visit famous Lake Titicaca. Amazing Peru offers luxury Christmas vacations in Machu Picchu along the Inca Trail...
Trails Outdoor Travel Guide
"Amazing Peru takes families on both luxury and affordable tours throughout Peru. Children 12 and older are welcome to come along on the 12-day Peru Family Adventure Tour. Raft, backpack, kayak and bike through some of Peru's most unforgettable sights including Machu Picchu. The Family Tour to Peru is tailored for children younger than 12 years of age with an educational component. Relax on Peru's northern beaches, explore the high-altitude Lake Titicaca, trek through the Amazon, and visit Machu Picchu on this 16-day journey. Check out Amazing Peru's 12-day Family Tour."
Global Post USA
"
You can fly over Machu Picchu - or take a helicopter ride
Who needs hiking when you can fly? The company Amazing Peruoffers hour-long flight tours right over the Sacred Valley of the Incas. The plane fits a minimum of eight passengers, and it can also be chartered. Passengers fly over Tipon and Pikillaqta, both archaeological sites, Pisaq and the Urubamba Valley, Sacsayhuaman, and, of course, Machu Picchu itself. Flights can be longer or shorter as requested. "
"
You can Om your way through Machu Picchu
Machu Picchu is known as one of the most spiritual lands in the world, so why not go all out and Om your way through its ruins? Amazing Peru offers a seven-day yoga tour where visitors travel from Lima to Cuzco and finally to Machu Picchu, where they stay in the famed sanctuary Lodge hotel right outside of the ruins. They participate in multiple meditation and yoga sessions throughout the trip, but the highlight is a private session smack-dab in the middle of the ruins. Now that is an Om experience worth waiting for."
Yahoo Lifestyle
A Private, customized tour to Venezuela, Guyana, Suriname, French Guiana and Trinidad & Tobago. "Any traveler with a well-developed sense of adventure will be rewarded with an incredible experience on this journey to a birding paradise designed and operated by Amazing Peru."
"Savoring a taste of Uruguay's acclaimed wine region - An outstanding experience"