First Class Peru Cultural and Landscapes Tour
Lima - Trujillo - Chan Chan - Sacred Valley - Cuzco - Machu Picchu - Arequipa - Colca Canyon - Amazon Rainforest
19 days / 18 nights.
ITINERARY
Day 1. LIMA
Arrival to Lima and accommodation at the Ramada airport hotel.
Day 2. LIMA - TRUJILLO (Breakfast)
After breakfast, take the flight to Trujillo, the largest city in Peru after Lima. Located in the northern half of Peru, Trujillo lies close to the Pacific Ocean and is the perfect gateway to many of the pre-Inca cultural sites in the area. Reception and transfer to your hotel, the Libertador.
Libertador Hotel | Meals: B
Day 3. TRUJILLO - CHAN CHAN (Breakfast)
After breakfast, a walking tour of this fascinating colonial city founded in 1534 by Diego de Almagro, a fellow conquistador of Pizarro. Trujillo, named after the birth place of Pizarro is famous for its colonial and republican-era architecture and for its many churches and mansions. We shall visit the Cathedral and several 18th century mansions, including La Casa Mayorazgo and La Casa Urquiaga, which was home to Simon Bolivar during the War of Independence. We shall also visit the Museum of Archaeology which houses artefacts from the Moche's Pyramids of the Sun and Moon.

After lunch (not included), the tour continues to the metropolis of Chan-Chan, the ancient capital city of the Chimu Empire built in the 10th century. It is the largest pre-Columbian city in South America, built entirely of mud and adobe bricks. At its zenith, more than 60,000 inhabitants offered fierce resistance to the expansion of the Inca Empire centuries later. The nearby ruins of the Huaca La Esmeralda (Emerald Temple) and the restored Huaca Arco Iris (Rainbow Temple) will give you an idea of the city's original appearance, when its high-relief friezes were painted in vivid colors with depictions of sea life and fishing activities reveal the significance of the life of the Chimu. Return to Trujillo.
Meals: B
Day 4. TRUJILLO - LIMA - CUZCO - SACRED VALLEY (Breakfast)
After breakfast, transfer to the airport for your flight to Lima and connecting flight to Cuzco, the ancient Inca capital of the Incas. After the one hour flight, reception and private transfer to your Hotel in the Sacred Valley, the Rio Sagrado. Free day at leisure.
Sacred Valley Hotel | Meals: B
Day 5. SACRED VALLEY (Breakfast)
Free day to explore on your own.
Meals: B
Day 6. SACRED VALLEY (Breakfast)
Free day to explore on your own.
Meals: B
Day 7. SACRED VALLEY (Breakfast)
Free day to explore on your own. Overnight at the EL Albergue.
Day 8. CUZCO - MACHU PICCHU (Breakfast & dinner)
Enjoy a good night's sleep before boarding the train to Aguas Calientes. Arrival to Aguas Calientes, assistance with your luggage and check-in to your hotel the Pueblo Inkaterra Hotel. Boarding of the bus for the short ride up to Machu Picchu.

Shortly after, a guided tour of Machu Picchu, the most spectacular ancient city in the world. Built by the Inca Pachacutec, and comprising stone blocks fitted with masterful precision, Machu Picchu harmoniously blends into the mountain landscape. There are many theories as to the origins behind Machu Picchu but three of the most popular ideas include a temple to the sun, a fortress against the jungle inhabitants or a sanctuary for the Incas. This fabulous city has houses, temples, warehouses, a large central square, all connected by narrow roads and steps, and is surrounded by terraces cut into the mountain side which were used for agriculture.
Pueblo Inkaterra Hotel | Meals: B & D
Day 9. MACHU PICCHU (Breakfast & dinner)
Free day at Machu Picchu. We can also arrange tickets for the climb to Wayna Picchu ($35 per person additional).

Overnight at the Pueblo Inkaterra Hotel.
Meals: B & D
Day 10. MACHU PICCHU - CUZCO (Breakfast)
Free day in Machu Picchu. Return to Cuzco by train and to your hotel, the Casa Andina Private Collection.
Casa Andina Private Collection | Meals: B
Day 11. CUZCO (Breakfast)
Today, a guided tour of Cuzco including the Qoricancha temple, the Inca fortress of Sacsayhuaman overlooking Cuzco, Qenko and Puka Pukara.

Cuzco's history extends back to before 1000 BC when the Marcavalle Culture was the dominant power; indeed organized life in the City began practically with them. In the second phase of its history, around 800BC, Cuzco was home to the Chanapata culture and later developed several regional states. What is traditionally known as the Inka civilisation began around 1200 AD in its initial phase, with the first Inka, Manko Capaq and Mama Ocllo. It is also suggested that Pachakuteq, the ninth king, elaborated another foundation in 1438 which is also known as the expansive phase. Inca builders hereafter laid out the city in the form of a puma, with the fortress of Sacsayhuaman as the head.

After the arrival of the Spanish to the city on November 15th 1533, Francisco Pizarro re-founded it for the Spanish King on March 23rd 1534. In 1536 Manko Inka began a long and bloody war against the Spanish invaders with a siege lasting over 8 months over the city. Finally in 1572, after a war that lasted 36 years, Tupaq Amaru I, the last emperor of the Inka dynasty was defeated, captured and executed in the city's main square. The Spanish subsequently destroyed many of the structures in the city or used them as foundations for many of their own churches and buildings.
Meals: B
Day 12. CUZCO - AREQUIPA (B)
After breakfast, transfer to the airport for your flight to Arequipa, the most beautiful city in Peru. Arrival and transfer to the Casa Arequipa hotel. Free day at leisure.
Casa Arequipa hotel | Meals: B
Day 13. AREQUIPA - COLCA CANYON (Breakfast)
After breakfast, early departure in your vehicle climbing up towards the National Reserve of Pampa de Cañahuas at 3800m. Here groups of alpacas, vicuñas and sometimes-even guanacos can be seen. After driving several hours more, the descent to the Colca Valley begins. The trip continues down the valley, passing next to several villages until you arrive at Chivay, the most important town of the valley. Accommodation at the Killawasi Lodge set in the Colca Valley itself.
Meals: B
Day 14. COLCA CANYON (Breakfast)
Free day at leisure.
Meals: B
Day 15. COLCA CANYON - AREQUIPA (Breakfast)
After breakfast an early departure to descend into the valley to visit some of the villages, all of which have beautiful, colonial-style churches. You shall also see the Inca terraces, some of which are still in use and can be seen all along the valley. Start the ascent up to the Cruz del Condor, a few kilometres before Cabanaconde. Here one can appreciate a fine view of the flight of the condors as well as of the depth of the canyon. Return to your hotel in Arequipa.
Meals: B
Day 16. AREQUPA - CUZCO - INKATERRA AMAZONICA (Lunch & dinner)
Early transfer to the airport for the flight to Cuzco and connecting flight to Puerto Maldonado. Arrival to Puerto Maldonado. Reception at the airport and transfer to the river port, whilst hearing an introductory talk about the city and surrounding areas, in addition to the characteristics of the Amazon region. You will embark on a 45-minute boat ride on the Madre de Dios River until your arrival at the Reserva Amazonica Rainforest lodge. Here you will be assigned to your cabin.

After lunch, an afternoon excursions begin including a guided walk along one of the trails close to the lodge. The trails wind past important giant trees of the forest such as the kapok and the strangler fig, and you may see superb examples of bird and insect life. You will also take a boat ride along the Madre de Dios River to see the change in the environment as twilight gives way to darkness. Animals and birds are replaced by special species adapted to the darkness, such as nightjars, owls, capybara, and caiman. You may choose to take the Twilight Rainforest excursion as an alternative.

Cocktails and buffet dinner in the dining room of the lodge's main pavilion.
Meals: L & D
Day 17. INKATERRA AMAZONICA (All meals)
Wake up early to observe the sun rise over the Madre de Dios River before a buffet breakfast with eggs, cereals, local fruits, and fresh bread.

You will then gather in the Eco-Centre for your morning excursions.

A five-minute boat ride takes you to the Canopy Inkaterra Interpretation Centre where you can ascend the first tower, 45 metres (150 feet) above the forest floor. Spend an hour and a half walking on the bridges that stretch between seven platforms, as you see giant strangler fig trees, orchids, toucans, woodpeckers, trogons, and with luck, monkeys or a three-toed sloth. You will then embark on a 40-minute boat ride that takes you to the Tambopata National Reserve. Spend an hour-and-a-half walking the 3 km (1.8 mile) trail through the wildlife-rich reserve, and you will arrive at the breath-taking oxbow lake, Lake Sandoval. Here you will have an excellent opportunity to see the endangered giant river otter.
Meals: All meals
Day 18. INKATERRA AMAZONICA (All meals)
Enjoy a buffet breakfast before your morning's excursion to Concepción. A 10-minute boat ride upriver to Concepción, home to a botanical garden with more than 200 different species of plants. Walk for an hour to reach the natural collpas (clay licks), and learn about the many rainforest mammals and birds that consume this clay. After lunch, enjoy your excursion to Rolin Island where you will stroll for an hour, whilst learning about island ecosystems and seeing the presentation at the Primate Rescue Centre, home to three species of primate–the brown capuchin, white capuchin, and squirrel monkeys. Return to the lodge for cocktails and a buffet dinner.
Meals: All meals
Day 19. INKATERRA AMAZONICA - LIMA (Breakfast)
After breakfast, check out of the lodge and return by boat to Puerto Maldonado, an hour and a half upriver. Visit the city's Butterfly Farm, unique in Peru where you can experience several dozen of the more than 3,800 varieties of butterflies and moths found in Peru. Assistance with your luggage, prior to boarding your flight to Lima.
Meals: B
End of our services.
First Class Peru Cultural and Landscapes Tour - Itinerary Overview:
PRICES:

Please Contact Us Here
Credit Cards Welcome:



WHAT IS INCLUDED / NOT INCLUDED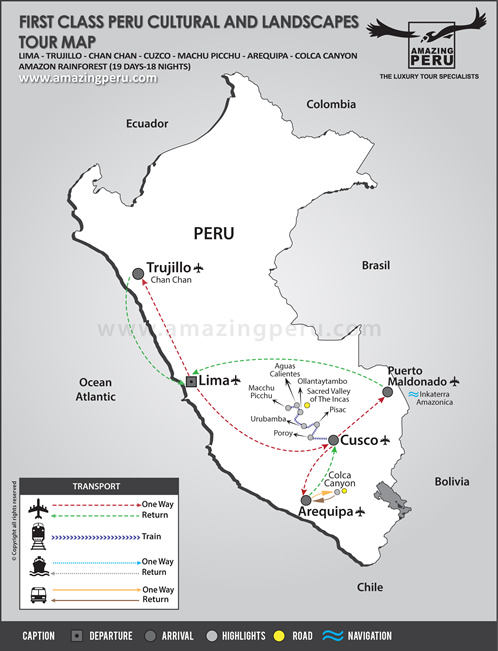 First Class Peru Cultural and Landscapes Tour
Lima - Trujillo - Chan Chan - Sacred Valley - Cuzco - Machu Picchu - Arequipa - Colca Canyon - Amazon Rainforest
19 days / 18 nights.
For current availability contact us at
info@amazingperu.com
and we will send you the relevant trip dossier along with a 90 day fixed quote, terms and conditions. Please bear in mind that significant price reductions are available for groups.
"Well-run multipurpose agency, with several offices in Peru with an extensive roster of trips, from family and honeymoon to luxury trips..."
Frommers Guides 2023
"Highly recommended, professional and well-organized, 'perfect tour', knowledgeable guides"
Footprint Handbook 2023
"Transportation services and accommodations are top-notch, and the guides are flexible and extremely helpful"
Fodor's Guides 2023
"
Amazing Peru
has more than 20 years of experience in the travel industry. Tours to Machu Picchu can be customized to include airfare, all meals, accommodations and travel insurance, and last from six to 14 days. Amazon cruises, horseback riding, river rafting, hiking and biking throughout Machu Picchu, Cuzco, Sacred Valley, Lake Titicaca..."
USA TODAY
"Move Over, Machu Picchu - How disabled travelers can tour Machu Picchu."
Christoper Reynolds
"Looking for an adventure of lifetime to kick-start married life? Consider these honeymoons with a difference… "
Perfect Wedding Magazine
"Experience"
Amazing Peru is the leading company in Latin America that combines exclusivity, luxury and authenticity for Peruvian holidays. It will tailor a 15- days tour for you that takes in Lake Titicaca, the Sacred Valley, Machu Picchu, Lima, Cuzco, Colca Canyon and the Amazon rainforest."
The Travel and Leisure Magazine UK
"A reputable firm with an impressive variety of unique excursions… "
At Home and Away with Alan Whicker CBE Magazine
Spend Christmas on a guided tour of breathtaking Machu Picchu and visit famous Lake Titicaca. Amazing Peru offers luxury Christmas vacations in Machu Picchu along the Inca Trail...
Trails Outdoor Travel Guide
"Amazing Peru takes families on both luxury and affordable tours throughout Peru. Children 12 and older are welcome to come along on the 12-day Peru Family Adventure Tour. Raft, backpack, kayak and bike through some of Peru's most unforgettable sights including Machu Picchu. The Family Tour to Peru is tailored for children younger than 12 years of age with an educational component. Relax on Peru's northern beaches, explore the high-altitude Lake Titicaca, trek through the Amazon, and visit Machu Picchu on this 16-day journey. Check out Amazing Peru's 12-day Family Tour."
Global Post USA
"
You can fly over Machu Picchu - or take a helicopter ride
Who needs hiking when you can fly? The company Amazing Peruoffers hour-long flight tours right over the Sacred Valley of the Incas. The plane fits a minimum of eight passengers, and it can also be chartered. Passengers fly over Tipon and Pikillaqta, both archaeological sites, Pisaq and the Urubamba Valley, Sacsayhuaman, and, of course, Machu Picchu itself. Flights can be longer or shorter as requested. "
"
You can Om your way through Machu Picchu
Machu Picchu is known as one of the most spiritual lands in the world, so why not go all out and Om your way through its ruins? Amazing Peru offers a seven-day yoga tour where visitors travel from Lima to Cuzco and finally to Machu Picchu, where they stay in the famed sanctuary Lodge hotel right outside of the ruins. They participate in multiple meditation and yoga sessions throughout the trip, but the highlight is a private session smack-dab in the middle of the ruins. Now that is an Om experience worth waiting for."
Yahoo Lifestyle
A Private, customized tour to Venezuela, Guyana, Suriname, French Guiana and Trinidad & Tobago. "Any traveler with a well-developed sense of adventure will be rewarded with an incredible experience on this journey to a birding paradise designed and operated by Amazing Peru."
"Savoring a taste of Uruguay's acclaimed wine region - An outstanding experience"