Venezuela & 3 Guyanas Tour
Caracas - Angel Falls tour - Canaima - Guyana - Suriname
18 days / 17 nights.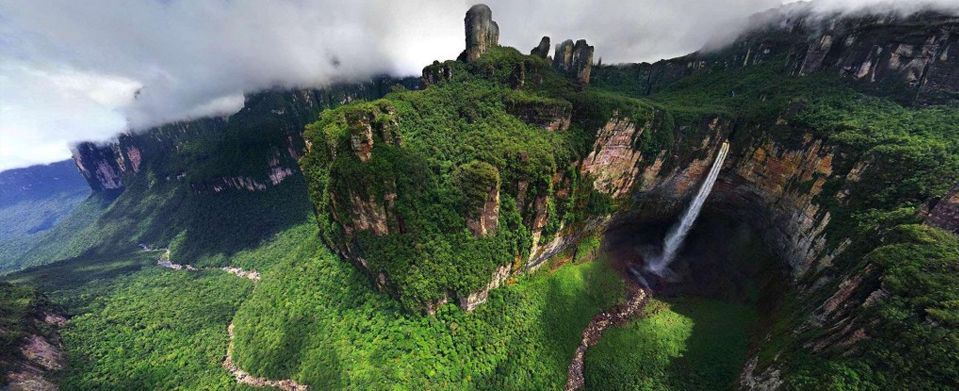 ITINERARY
Day 1. Caracas
Arrival and transfer to your hotel, the Hotel Eurobuilding Express.
Day 2. Caracas - Puerto Ordaz - Canaima (Breakfast & lunch)
After breakfast, early transfer to the airport for your 06.45 flight to Puerto Ordaz with Aserca Airlines and connect with your 09.00 flight onto Canaima with Transmandu Charter . (NOTE: Max. 10 Kg luggage & 2 Kg. carry on, per person) Arrival and transfer to your lodge for three night's accommodation at the Campamento Parakaupa.

After lunch, you will embark on an excursion to the Canaima Lagoon & Sapo waterfalls.
We will set off from the sandy pink beaches of the Canaima Lagoon, to tour this enchanting area, taking us so close to the raging falls that we can feel it's refreshing mist. From there, we will depart by canoe, and witness the natural beauty of Sapito Falls, allowing us to live the experience of walking behind a powerful curtain of water, just a few inches away from us. We will take a leisurely 20-minute walk to Puerto Ucaima where we will again take-off in the dugout canoes. While traveling up the Carrao River to the Sabana (plain) de Mayupa, we will experience the exciting rapids of Mayupa and witness the natural beauty of this idyllic land. Overnight at the Lodge.
Meals: B & L
Day 3. Angel Falls tour (Breakfast & lunch)
After an early breakfast we will travel two hours by boat on the Rio Carrao to our Angel Falls base at Raton Island. From this camp we will head to the base of the Angel falls. On this one hour and fifteen minute trek the lush primary tropical forest will entrance you with its greenery and diversity of plant life and the calls of its tropical animals and bird species. Arrival at the base of Angel Falls, we will have time to relax on the large rocks warmed by the sun, take some pictures of the raging waterfall, and take a dip in the pool created at its base.
After trekking back down to our day camp we will be greeted with a traditional Indian barbecue prepared by our Pemon hosts. An exciting return down the rapids will follow, and we will arrive around 5 p.m.
Meals: B & L
Day 4. Full day Kavac & Overflight Angel Falls (Breakfast & lunch)
After breakfast, transfer to the Canaima Airport for the start of the Kavac tour. After an exciting and daring flight through Devil's Canyon onboard the private Cessna 206, you will land on the isolated dirt strip at the Pemon Indian outpost of Kavac.

Located southeast of Auyan tepui, Kavac is an Indian settlement of the Pemon group. From Kavac you will be lead on foot by a Native Pemon Indian across the rolling savannah. As you approach the Kavac gorge the vegetation changes abruptly into dense jungle, the hiding place of ocelots, anteaters, macaws, parrots, and toucans. You may enjoy the Kavac River and its many swimming holes formed in the cavities of reddish shining rocks.

This amazing gorge was carved out by the waterfalls on the slopes of the flat-topped mountains over centuries. The rocks of the flat-topped mountains are between 1,800 and 3,600 million years old, which are considered the planet's oldest. Directly ahead are Auyan-tepui towers close to 3,000-m. After passing idyllic waterfalls you know you are very close when arriving to an immense wall that uninterruptedly drips crystal water drops from the tips of the wall's ferns. The entrance is separated by a small lagoon that you must swim across. Return to the plane for a fly-over tour of the Angel Falls before returning to your lodge.
Meals: B & L
Day 5. Canaima - Caracas (Breakfast)
After breakfast, transfer to the airport for the 11.30 flight to Puerto Ordaz and connecting flight to Caracas at 18.00. Arriving back in Caracas at 7pm. Overnight accommodation at the Hotel Chacao Cumberland.
Meals: B
Day 6. Caracas (Breakfast & lunch)
After breakfast, full day tour of Caracas, Venezuela's capital. The valley's temperatures are spring-like, and the inhabitable surface of the Caracas Valley lies between 2,500 and 3,000ft (760 and 910m) above sea level. The valley is close to the Caribbean Sea, separated from the coast by a steep mountain range (Cerro Ávila) that rises above 8,000ft (2600m); to the south lies further hills and mountains. The official metropolitan area has an estimated population of 3.3 million.

A guided walk will take you through part of the old city downtown, where there are a number of historical locations evoking what Caracas looked like during the 18th and 19th centuries. Some of the places visited during the trip include La Plaza Bolivar, Bolivar Museum, Basilica de Santa Teresa and El Teatro Nacional. During the tour through old Caracas there will also be many opportunities to see modern architecture and attractions as well. You will then ride the cable car from the Caracas valley up to the Avila Peak. From the cable car you will be able to identify the different varieties of vegetation in the Gamboa gallery forest, where there is also a small waterfall with crystalline waters fed from a mountain stream. The Avila Peak is where the cylindrical Humboldt Hotel was built. It takes approximately 15 minutes by cable car from the Maripérez Station. Lunch is included. Return to your hotel, the Hotel Eurobuilding Express.
Meals: B & L
Day 7. Caracas - Guyana (Breakfast)
After breakfast, transfer to the airport for your flight to Guyana in the morning and transfer to your hotel, the Le Meridien Pegasus.

Please note the normal check-in is at midday and early-check-in is subject to hotel discretion. Guyana is the only English speaking country in South America but is also known as the land of the Giant Arapaima fish, the Harpy eagle and the Anaconda.
the Le Meridien Pegasus | Meals: B
Day 8. Georgetown city tour (Breakfast & lunch)
After breakfast, a city tour of Georgetown. Originally called Longchamps by the French and Stabroek by the Dutch, it is a city full of historical monuments, many of them gracious colonial buildings which are still used today. It is also known as the 'Garden City of the Caribbean' with wide tree lined avenues and beautiful architecture, ranging from Gothic to Elizabethan.

St Georges Cathedral is the tallest freestanding wooden building in the world and was consecrated in 1892. Our visit also includes the Umana Yana, the Prime Minister's Residence, and State House built in 1845 as the governor's residence, the Walter Roth Museum with its display of Amerindian artefacts, the national museum and the botanical and zoological gardens . Lunch before continuing to the longest floating bridge in the world.
Meals: B & L
Day 9. Kaieteur Falls (Breakfast & lunch)
After breakfast, a morning flight to the majestic Kaieteur Falls, 740 ft in height and a fabulous natural wonder from many vantage points. Spend 2 hours at the falls. Picnic lunch before returning in the afternoon. Transfer to your hotel.
Meals: B & L
Day 10. Guyana - Suriname (Breakfast)
Early transfer to the airport for the 08:00 flight to Paramaribo in Suriname. Arrival in Paramaribo you will be met and transferred to your hotel, Torarica for check in. In the afternoon, a city tour of Paramaribo, including a guided tour by bus along the most prominent historic locations in the city centre. You will also visit Fort Zeelandia, Palmentuin (Palm Garden), the Waterkant and the Central Market. Return to your hotel. The rest of the afternoon is free.
Meals: B
Day 11. Suriname - French Guiana (Breakfast & lunch)
After breakfast, morning transfer to Albina by air conditioned car. There is a one and a half hour drive to the crossing before the transfer to Kourou. Transfer to your hotel, the Mercure Atlantis.
Mercure Atlantis Hotel | Meals: B & L
Day 12. Devil's Islands tour (Breakfast & lunch)
After breakfast, transfer to Ile Royale for the Devil's Island tour. Fourteen kilometres north of Kourou, Devils Islands (formerly known as the Triangle Isles) comprises three islands: Royale (28 ha), Saint-Joseph (20 ha) and Devil's Island (14 ha). Your English guide will escort you to Ile Royale where you will be given a spot presentation detailing the history of the islands that make up the penal settlements. See Devil's Island from the Auberge and learn about the legend behind "Papillon". Learn about Dreyfus and about the French Guiana colonial era. Visit the ruins of the penal settlement-cells dating back to 1847 and Joseph Island before your late afternoon return to your hotel.
Meals: B & L
Day 13. Ariane Space Centre (Breakfast & lunch)
Today you will transfer to the Ariane space centre. The bus shuttle will take you to the main installations and will introduce the concept behind the space program. Return to your hotel and departure by noon for Paramaribo. Packed lunch will be provided. Transfer to the Torarica Hotel.
Torarica Hotel | Meals: B & L
Day 14. Paramaribo, Suriname - Georgetown, Guyana (Breakfast)
After breakfast, take the flight back to Guyana and transfer to Le Meridien Pegasus for your overnight accommodation.
Meals: B
Day 15. Guyana - Karanambu Lodge (All meals)
After breakfast, transfer to the Ogle airport for the one hour flight into the south western savannah for an unforgettable stay at the Karanambu Lodge. Although a rather rustic lodge, with no air conditioning or hot water, the stay will promise to be one of the highlights of the entire trip. The lodge comprises a main house and four Amerindian-style guest huts nestled between old mango trees close to the golden river beach. This famous Giant Otter rehabilitation centre run by Diane McTurk allows for a deeper appreciation of these magnificent and endangered species. There will be opportunities to swim with these wonderful mammals along with several excursions including visits to nearby ponds for bird watching and to view the Victoria Amazonica, the world's largest water lily and Guyana's national flower. Explore the Rupununi River in search of wild black caiman and the giant arapaima, the largest freshwater fish that can reach up to 10m long. An evening visit to crane pond to see hundreds of ibis, anhinga, heron and egret roosting is a highlight. All meals at the lodge.
Meals: B, L & D
Day 16. Karanambu Lodge (All meals)
Full day at the Karanambu Lodge with a variety of excursions to choose from.
Meals: B, L & D
Day 17. Karanambu Lodge - Guyana (Breakfast)
Early transfer to the airstrip for the return flight to Georgetown and transfer to your hotel.
Meals: B
Day 18. Guyana (Breakfast)
After breakfast, transfer to the airport for your return flight home.
Meals: B
End of our services.
Venezuela & 3 Guyanas Tour - Itinerary Overview:
PRICES:

Please Contact Us Here
Credit Cards Welcome:



WHAT IS INCLUDED / NOT INCLUDED
For current availability contact us at
info@amazingperu.com
and we will send you the relevant trip dossier along with a 90 day fixed quote, terms and conditions. Please bear in mind that significant price reductions are available for groups.
"Well-run multipurpose agency, with several offices in Peru with an extensive roster of trips, from family and honeymoon to luxury trips..."
Frommers Guides 2023
"Highly recommended, professional and well-organized, 'perfect tour', knowledgeable guides"
Footprint Handbook 2023
"Transportation services and accommodations are top-notch, and the guides are flexible and extremely helpful"
Fodor's Guides 2023
"
Amazing Peru
has more than 20 years of experience in the travel industry. Tours to Machu Picchu can be customized to include airfare, all meals, accommodations and travel insurance, and last from six to 14 days. Amazon cruises, horseback riding, river rafting, hiking and biking throughout Machu Picchu, Cuzco, Sacred Valley, Lake Titicaca..."
USA TODAY
"Move Over, Machu Picchu - How disabled travelers can tour Machu Picchu."
Christoper Reynolds
"Looking for an adventure of lifetime to kick-start married life? Consider these honeymoons with a difference… "
Perfect Wedding Magazine
"Experience"
Amazing Peru is the leading company in Latin America that combines exclusivity, luxury and authenticity for Peruvian holidays. It will tailor a 15- days tour for you that takes in Lake Titicaca, the Sacred Valley, Machu Picchu, Lima, Cuzco, Colca Canyon and the Amazon rainforest."
The Travel and Leisure Magazine UK
"A reputable firm with an impressive variety of unique excursions… "
At Home and Away with Alan Whicker CBE Magazine
Spend Christmas on a guided tour of breathtaking Machu Picchu and visit famous Lake Titicaca. Amazing Peru offers luxury Christmas vacations in Machu Picchu along the Inca Trail...
Trails Outdoor Travel Guide
"Amazing Peru takes families on both luxury and affordable tours throughout Peru. Children 12 and older are welcome to come along on the 12-day Peru Family Adventure Tour. Raft, backpack, kayak and bike through some of Peru's most unforgettable sights including Machu Picchu. The Family Tour to Peru is tailored for children younger than 12 years of age with an educational component. Relax on Peru's northern beaches, explore the high-altitude Lake Titicaca, trek through the Amazon, and visit Machu Picchu on this 16-day journey. Check out Amazing Peru's 12-day Family Tour."
Global Post USA
"
You can fly over Machu Picchu - or take a helicopter ride
Who needs hiking when you can fly? The company Amazing Peruoffers hour-long flight tours right over the Sacred Valley of the Incas. The plane fits a minimum of eight passengers, and it can also be chartered. Passengers fly over Tipon and Pikillaqta, both archaeological sites, Pisaq and the Urubamba Valley, Sacsayhuaman, and, of course, Machu Picchu itself. Flights can be longer or shorter as requested. "
"
You can Om your way through Machu Picchu
Machu Picchu is known as one of the most spiritual lands in the world, so why not go all out and Om your way through its ruins? Amazing Peru offers a seven-day yoga tour where visitors travel from Lima to Cuzco and finally to Machu Picchu, where they stay in the famed sanctuary Lodge hotel right outside of the ruins. They participate in multiple meditation and yoga sessions throughout the trip, but the highlight is a private session smack-dab in the middle of the ruins. Now that is an Om experience worth waiting for."
Yahoo Lifestyle
A Private, customized tour to Venezuela, Guyana, Suriname, French Guiana and Trinidad & Tobago. "Any traveler with a well-developed sense of adventure will be rewarded with an incredible experience on this journey to a birding paradise designed and operated by Amazing Peru."
"Savoring a taste of Uruguay's acclaimed wine region - An outstanding experience"