Deluxe Machu Picchu, Amazon Cruise and Galapagos Cruise
A true journey of exploration to the most wonderful sites of South America staying at deluxe hotels and cruising aboard deluxe cruises. Visit Machu Picchu in private services before enjoying a luxurious cruise on the Amazon River. Complete the tour with a luxury cruise though the Galapagos Islands onboard the Eclipse.
Lima - Sacred Valley - Cuzco - Machu Picchu - Amazon Cruise - Quito - Galapagos Islands
16 days / 15 nights.
ITINERARY
Day 1. LIMA - no meals today
As you arrive into Lima airport and exit customs and baggage, you will be warmly welcomed by our driver. You will be assisted with your luggage before escorted to your hotel in a private vehicle. Your hotel in Lima will be the Luxury Boutique hotel Art B.
Day 2. LIMA - CUZCO - SACRED VALLEY (Breakfast)
After breakfast, with boarding passes in hand, you will be driven to the airport for your quick-check-in and brief one hour flight to Cuzco, the ancient Inca capital of the Incas. In Cuzco, you will be warmly welcomed and assisted with your luggage before your private drive to the Sacred Valley and to your deluxe hotel, the Tambo del Inka . Free day at leisure.
Meals: B
Day 3. SACRED VALLEY-PISAC-OLLANTAYTAMBO (Breakfast only)
After breakfast at your hotel, start of a full-day's excursion to the beautiful Urubamba, the Sacred Valley of the Incas, situated between Pisac and Ollantaytambo. It is an exceptionally fertile valley that was and remains the larder of Cuzco. You will visit the village of Pisac, founded during colonial times, and set at the foot of a hill crowned by the remains of an ancient Inca city. On Sundays, Tuesdays and Thursdays, you will witness Indians bartering their products in the main square and artisans from around the area sell their woven alpaca wool blankets and ponchos, engraved gourds, antique reproductions, jewellery, etc. Visit to Ollantaytambo, the only Inca town that was not defeated by the Spanish.
Meals: B
Day 4. SACRED VALLEY - MACHU PICCHU (Breakfast & dinner)
Today you will have an early start and enjoy breakfast before your train to Aguas Calientes.. Arrive to Aguas Calientes train station, gateway to the lost city of the Incas. Check-in to your hotel, the Pueblo Hotel and a luxury Suite. The short ride up to Machu Picchu will meander through breathtaking mountain scenery up to the ancient Inca citadel. Shortly after, a guided tour of Machu Picchu, the most spectacular ancient city in the world. Built by the Inca Pachacutec, and comprising stone blocks fitted with masterful precision, Machu Picchu harmoniously blends into the mountain landscape. There are many theories as to the origins behind Machu Picchu but three of the most popular ideas include a temple to the sun, a fortress against the jungle inhabitants or a sanctuary for the Incas. This fabulous city has houses, temples, warehouses, a large central square, all connected by narrow roads and steps, and is surrounded by terraces cut into the mountain side which were used for agriculture.
Pueblo Hotel | Meals: B & D
Day 5. MACHU PICCHU - SACRED VALLEY (Breakfast only)
Today you will enjoy a free day in Machu Picchu with an opportunity to see the site at sunrise. Today no guide is provided as we feel that Machu Picchu requires a certain amount of self - discovery to be fully understood. Take any of the several paths around various parts of the site, trek up to Wayna Picchu or walk down to the Inca's bridge. Let Machu Picchu unfold all its mysteries for you, take in the breathtaking cloud forests and jagged mountains, or marvel at the extraordinary Masonic precision of the ancient Incas. Return train back to the Sacred Valley and transfer to your hotel.
Meals: B
Day 6. SACRED VALLEY - CUZCO (Breakfast)
After breakfast, you will be transferred to Cuzco for a tour of Cuzco including the Qoricancha temple or temple of the Sun, the Inca fortress of Sacsayhuaman overlooking Cuzco city, Qenko, Tambomachay and Puka Pukara. Overnight in Cuzco at the Inkaterra Casona .
Meals: B
Day 7. CUZCO - LIMA - IQUITOS (Breakfast & dinner)

(Must be a Saturday)
After early breakfast, we bid farewell to Cuzco and take a short drive in a private car to the airport in time for your return flight to Lima and your connecting flight to Iquitos. Arrival at approximately 5PM, collect your luggage, welcome and board the air conditioned bus for a scenic one and a half hour drive to the small village of Nauta, where your luxury vessel, the M/V Aqua lies at anchor. You will settle into your over-sized cabin. This fully air-conditioned cabin comes complete with panoramic glass windows. Open the curtain at the foot of your California king-sized (or separate singles) bed at night and count the constellations in a sky filled with brilliant stars. Your cabin also comes complete with a private bath, shower, 24 hour hot water, a hairdryer, and a basket of luxury toiletries. The fine Peruvian linens, with a high thread count will help you sleep very soundly after each day's excursion. All meals are prepared by Executive chef Pedro Miguel Schiaffino, one of Lima's culinary stars who has created a menu that draws on both Peruvian and European influence. Wine is included with meals, giving you the opportunity to experience a range of the finest South American vintages. Over the next few days, you will sail along in total comfort over several tributaries of the Amazon River, as well as on the mighty river itself. A safety drill and briefing on the top deck, before the journey begins and you settle down to some fine dining on the Amazon River.
Meals: B & D
Day 8. UCAYALI RIVER - YANALLPA (All meals) -

itinerary subject to change due to weather
After a delicious breakfast, a jungle walk to the Yanallpa Lake in search of the "hoatzins", prehistoric birds which live in huge colonies. As we embark on the gentle hike, your guides will teach you orientation techniques used in the deep jungle. Return to the cruiser to enjoy a light lunch. In the afternoon you will cruise the majestic Ucayali River, offering a chance to see and meet native balseros, or fishermen, who will demonstrate their skill and let you see their catch-including a type of "armored" catfish with a shell-like skin which they are taking to the market in the small village of Requena. We will also find a "banana balsero" raft, loaded with hundreds of clusters of bananas, drifting down the river to the market. Dinner is followed by a trip to the Sapote River where your guides will show you several types of caiman, members of the alligator family, along the fish-rich Sapote River. Chances are good that we will surprise other night-dwelling creatures as well. Retire for the night as the cruiser sails upstream on the Puinahua River.
Meals: B, L & D
Day 9. PUINAHUA RIVER/HATUM POSA LAKE AND PACAYA RIVER (All meals)
After breakfast, a jungle walk near to the Hatum Posa Village. On this walk, your guides will introduce you to the native people involved in subsistence farming, and will tell you how they learned to cultivate wild plants and trees to earn farm income. Deep in the primary forest, your guides will also show you the wealth of fruit trees and medicinal plants hidden in the undergrowth. Return for lunch before the expedition continues onto the Pacaya River and Yanayacu Lake. In the late afternoon, we will take a journey along the Pacaya River, journeying from Ranger Station No. 1 towards Yanayacu Lake, where you can view the abundant life that is hidden in the deep rainforest. You may see saki monkeys, capuchin monkeys, and the easy-to-spot heavy howler monkeys. As the sun sets, you will hear the loud, ferocious sounding warning signals made by howler monkeys marking their territories. When night falls, you will hear the more of the rainforest sounds as nocturnal animals send their shrill calls across the tree tops. Return for dinner aboard the cruiser.
Meals: B, L & D
Day 10. YANAYACU LAKE - IQUITOS - LIMA - QUITO (Breakfast & lunch)
After breakfast, return to the town of Nauta, and transfer to Iquitos airport for our flight back to Lima and connect with your flight to Quito. As you arrive into Quito airport and exit customs and baggage, you will be warmly welcomed by our representative. You will be assisted with your luggage before escorted to your hotel in a private vehicle, the Casa Gangotena.
Meals: B & L
Day 11. QUITO - GALAPAGOS ISLANDS - NORTH SEYMOUR (Breakfast & dinner)
After breakfast, with boarding passes in hand, you will be driven to the airport for your quick-check-in and flight to Baltra airport, where you will clear immigration and be met by your guide, who will escort you on a short bus ride to the harbor. A motorized dinghy will then transfer you to the M/V Eclipse, where the captain and crew will welcome you aboard. A visit to North Seymour is a perfect introduction to the Galapagos Islands. Although the island is characterized by arid vegetation, fauna abounds and you will soon find yourself surrounded by sea lions, blue-footed boobies, marine iguanas, frigatebirds and more.
Meals: B & D
Day 12. SOUTH PLAZA - SANTA FE (All meals)
A visit to South Plaza Island which is home to a large opuntia cactus forest, land iguanas and one of the largest sea lion colonies in the central region of the archipelago. You will also be able to see Nazca boobies, swallow-tailed gulls, and other kinds of sea birds, as well as different types of finches. Continue to Santa Fe where during the hike you will see some of Santa Fe's endemic species, including the Galapagos hawk, the Galapagos snake, various finches and the Galapagos mockingbird. Playful sea lions usually join swimmers and kayakers during beach time.
Meals: B, L & D
Day 13. PITT POINT - CERRO BRUJO (All meals)
Pitt Point is located on the eastern tip of San Cristobal Island. You will hike up to a plateau where the view and landscape are so spectacular it is definitely worth the effort. The power hike is followed by kayaking, snorkeling or a dinghy ride. At Cerro Brujo, in addition to the magnificent scenery, there is wonderful swimming and a dinghy ride at this visitor site. Cerro Brujo's spectacular beach is home to a large colony of sea lions, and it is famous for being the first place in the archipelago that Charles Darwin visited.
Meals: B, L & D
Day 14. FLOREANA ISLAND (All meals)
Post Office Bay is home to a unique "post office" inspired by 18th century pirates and buccaneers who used a wooden barrel as an unofficial mailbox. The tradition continues today as visitors leave addressed postcards in the barrel and sort through left mail to deliver at home. The Baroness' Viewing Point is the ideal place to take in the unique scenery that defines Floreana. After snorkeling at Champion Islet, you will visit Cormorant Point, where there is a beautiful lagoon that is home to flamingos, stilts and pintail ducks. A great site for bird-watching.
Meals: B, L & D
Day 15. ISABELA ISLAND (All meals)
Elizabeth Bay is one of the furthest points of the Galapagos that we will visit on our cruise. We will enter a sheltered cove that is only accessible by dinghy - a wonderful mangrove ecosystem that is a refuge for sea turtles, rays and herons. Moreno Point, which is southwest of Elizabeth Bay, is famous for its large population of seabirds. You'll be able to get close to them on a dinghy ride along the cliffs of the island, or on a hike through lava rock that leads to tide pools and mangroves teeming with life. You will also have time for snorkeling.
Meals: B, L & D
Day 16. SANTA CRUZ - QUITO (Breakfast)
On your visit to the Charles Darwin Research Station you will gain insight into the extensive efforts underway to preserve the Galapagos Islands. You will also encounter the famous Galapagos tortoises that are the islands' namesake. After the visit we will transfer to the airport to take the flight back to the mainland to connect for your international flight home.
Meals: B
End of our services
Deluxe Machu Picchu, Amazon Cruise and Galapagos Cruise Itinerary Overview:
PRICES:

Please Contact Us Here
Credit Cards Welcome:



WHAT IS INCLUDED / NOT INCLUDED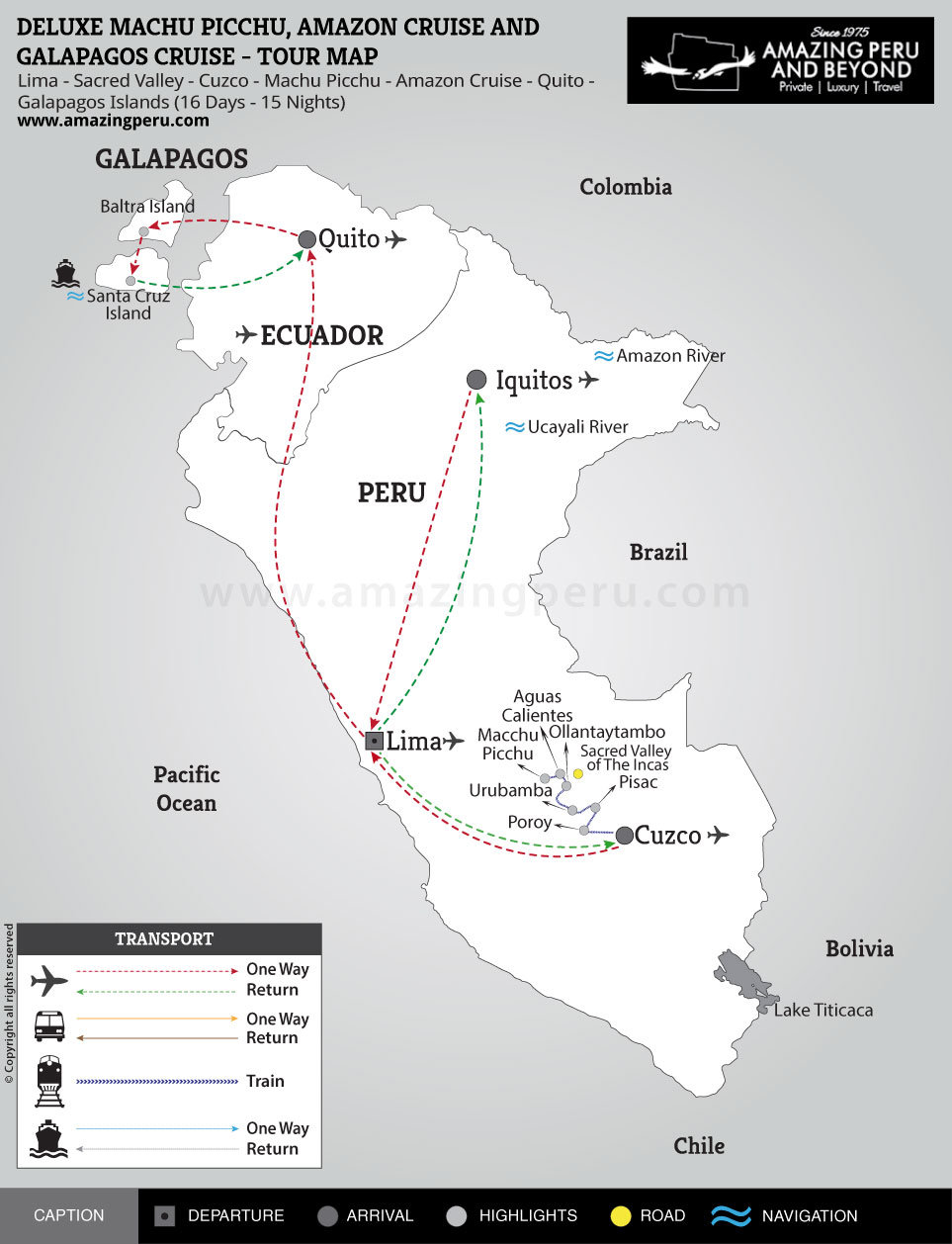 Deluxe Machu Picchu, Amazon Cruise and Galapagos Cruise
Lima - Sacred Valley - Cuzco - Machu Picchu - Amazon Cruise - Quito - Galapagos Islands
16 days / 15 nights.
For current availability contact us at
info@amazingperu.com
and we will send you the relevant trip dossier along with a 90 day fixed quote, terms and conditions. Please bear in mind that significant price reductions are available for groups.
"Well-run multipurpose agency, with several offices in Peru with an extensive roster of trips, from family and honeymoon to luxury trips..."
Frommers Guides 2023
"Highly recommended, professional and well-organized, 'perfect tour', knowledgeable guides"
Footprint Handbook 2023
"Transportation services and accommodations are top-notch, and the guides are flexible and extremely helpful"
Fodor's Guides 2023
"
Amazing Peru
has more than 20 years of experience in the travel industry. Tours to Machu Picchu can be customized to include airfare, all meals, accommodations and travel insurance, and last from six to 14 days. Amazon cruises, horseback riding, river rafting, hiking and biking throughout Machu Picchu, Cuzco, Sacred Valley, Lake Titicaca..."
USA TODAY
"Move Over, Machu Picchu - How disabled travelers can tour Machu Picchu."
Christoper Reynolds
"Looking for an adventure of lifetime to kick-start married life? Consider these honeymoons with a difference… "
Perfect Wedding Magazine
"Experience"
Amazing Peru is the leading company in Latin America that combines exclusivity, luxury and authenticity for Peruvian holidays. It will tailor a 15- days tour for you that takes in Lake Titicaca, the Sacred Valley, Machu Picchu, Lima, Cuzco, Colca Canyon and the Amazon rainforest."
The Travel and Leisure Magazine UK
"A reputable firm with an impressive variety of unique excursions… "
At Home and Away with Alan Whicker CBE Magazine
Spend Christmas on a guided tour of breathtaking Machu Picchu and visit famous Lake Titicaca. Amazing Peru offers luxury Christmas vacations in Machu Picchu along the Inca Trail...
Trails Outdoor Travel Guide
"Amazing Peru takes families on both luxury and affordable tours throughout Peru. Children 12 and older are welcome to come along on the 12-day Peru Family Adventure Tour. Raft, backpack, kayak and bike through some of Peru's most unforgettable sights including Machu Picchu. The Family Tour to Peru is tailored for children younger than 12 years of age with an educational component. Relax on Peru's northern beaches, explore the high-altitude Lake Titicaca, trek through the Amazon, and visit Machu Picchu on this 16-day journey. Check out Amazing Peru's 12-day Family Tour."
Global Post USA
"
You can fly over Machu Picchu - or take a helicopter ride
Who needs hiking when you can fly? The company Amazing Peruoffers hour-long flight tours right over the Sacred Valley of the Incas. The plane fits a minimum of eight passengers, and it can also be chartered. Passengers fly over Tipon and Pikillaqta, both archaeological sites, Pisaq and the Urubamba Valley, Sacsayhuaman, and, of course, Machu Picchu itself. Flights can be longer or shorter as requested. "
"
You can Om your way through Machu Picchu
Machu Picchu is known as one of the most spiritual lands in the world, so why not go all out and Om your way through its ruins? Amazing Peru offers a seven-day yoga tour where visitors travel from Lima to Cuzco and finally to Machu Picchu, where they stay in the famed sanctuary Lodge hotel right outside of the ruins. They participate in multiple meditation and yoga sessions throughout the trip, but the highlight is a private session smack-dab in the middle of the ruins. Now that is an Om experience worth waiting for."
Yahoo Lifestyle
A Private, customized tour to Venezuela, Guyana, Suriname, French Guiana and Trinidad & Tobago. "Any traveler with a well-developed sense of adventure will be rewarded with an incredible experience on this journey to a birding paradise designed and operated by Amazing Peru."
"Savoring a taste of Uruguay's acclaimed wine region - An outstanding experience"