Deluxe Complete Peru & Amazon Cruise
Lima - Nazca - Cuzco - Machu Picchu - Lake Titicaca - Amazon
15 days / 14 nights.
ITINERARY
Day 1. LIMA - no meals today
As you arrive into Lima airport and exit customs and baggage, you will be assisted with your luggage before escorted to your hotel in a private vehicle. Your hotel in Lima will be the 5 star deluxe Miraflores Park Hotel complete with sweeping views of the Pacific Ocean. At check-in you will receive a welcome drink before being shown to your junior suite. Free evening.
Day 2. LIMA - PARACAS (Breakfast)
After a delicious breakfast at the observatory restaurant with spectacular views of both Lima and the Pacific Ocean, you will be met by your guide as you start your visit of colonial and modern Lima, starting in the centre of this vibrant, metropolis. The tour will include a visit of the cathedral, dating from 1654 which still houses the remains of the conquistador Pizarro in the foyer; the Main Square, with the original bronze fountain built in 1650, the Government Palace where the President has his official residence and the San Francisco Convent, with its famous catacombs. Lima, known as the city of the kings, was founded in 1535 by Pizarro and after several devastating earthquakes was rebuilt in 1991; the same year that UNESCO declared Lima a world heritage site. One of the very few South American cities that preserve the colonial past, Lima was home to the Spanish viceroy during the time of the Spanish colonial power. The tour will continue to the ancient citadel of Pachacamac, located on the outskirts of Lima. This pre-Inca citadel was an ancient pilgrimage destination for the early coastal cultures but has also evidence of Inca design. Continue onto Paracas some 4 hours by car through the coastal desert strip. Arrival and transfer to your hotel.
Meals: B
Day 3: PARACAS - NAZCA (Breakfast)
After breakfast, transfer to the airport for the flight over the Nazca Lines; Gigantic drawings and geometrical figures, representing animals, such as a spider, a monkey and several birds which are engraved in the desert sands of Nazca. Visible only from the air, these huge markings were once believed to be an enormous astronomical calendar. The flight will take 1 hour 10 minutes. Please note airport tax is not included and is paid locally, $6 per person. After the tour, transfer to the port for a short boat tour of the Ballestas islands. Commonly referred to as the "little Galapagos", here you will find an amazing concentration of sea birds and sea lions. Return to the mainland and onto the Huacachina Oasis before returning to your hotel.
Meals: B
Day 4. PARACAS - LIMA - CUZCO (Breakfast)
After breakfast, return journey to Lima and with boarding passes in hand, check-in and brief one hour flight to Cuzco, the ancient Inca capital of the Incas. In Cuzco, you will be warmly welcomed and assisted with your luggage before your short private drive to the exclusive deluxe five star Monasterio. Welcome drink and check-in to your room which will be oxygenated to help you relax and sleep more comfortably in the high altitude setting of Cuzco (11,600ft above sea level). Free day at leisure.
Meals: B
Day 5. CUZCO (Breakfast)
Free morning. In the early afternoon, enjoy an incredible tour of Cuzco including the Qoricancha temple or temple of the Sun, the Inca fortress of Sacsayhuaman overlooking Cuzco city, Qenko, Tambomachay and Puka Pukara.
Meals: B
Day 6. SACRED VALLEY-PISAC-OLLANTAYTAMBO (Breakfast)
After breakfast at your hotel, start of a full-day's excursion to the beautiful Urubamba, the Sacred Valley of the Incas, situated between Pisac and Ollantaytambo. It is an exceptionally fertile valley that was and remains the larder of Cuzco. You will visit the village of Pisac, founded during colonial times, and set at the foot of a hill crowned by the remains of an ancient Inca city. On Sundays, Tuesdays and Thursdays, you will witness Indians bartering their products in the main square and artisans from around the area sell their woven alpaca wool blankets and ponchos, engraved gourds, antique reproductions, jewellery, etc. Continue your trip to Ollantaytambo, the only Inca town that was not defeated by the Spanish with an opportunity to explore the ruins which tower above. You will then return to Cuzco after this full day.
Meals: B
Day 7. CUZCO - MACHU PICCHU (All meals)
Today you will have an early start and enjoy breakfast before your private chauffeur will take you to Poroy Railway Station in time for the boarding of the Luxury Hiram Bingham train to Aguas Calientes. The train will depart at 09.00am for the 3 ½ hour journey and you will enjoy the company of fellow travellers and guides onboard this luxury train complete with 1920s styled Pullman carriages. Each carriage has been furnished in polished wood and brass with large comfortable armchairs. The bar car is the perfect place to enjoy a cocktail accompanied by live Peruvian music. On the way to Machu Picchu, the bartender will show you how to make a traditional Pisco Sour. The observation car is furnished with large cushioned seats, making it the perfect place to sit, relax and watch the Peruvian landscape unfold as you gently ride towards Machu Picchu. A hearty brunch will be served on-board before you arrive to Aguas Calientes train station, gateway to the lost city of the Incas. As you disembark, you will be assisted with your luggage and check-in to your hotel, the Inkaterra Pueblo Hotel. Take the short walk to the bus terminal where a private bus will be waiting for all Hiram Bingham passengers. The short ride up to Machu Picchu will meander through breathtaking mountain scenery up to the ancient Inca citadel. Shortly after, a guided tour of Machu Picchu, the most spectacular ancient city in the world. Built by the Inca Pachacutec, and comprising stone blocks fitted with masterful precision, Machu Picchu harmoniously blends into the mountain landscape. There are many theories as to the origins behind Machu Picchu but three of the most popular ideas include a temple to the sun, a fortress against the jungle inhabitants or a sanctuary for the Incas. This fabulous city has houses, temples, warehouses, a large central square, all connected by narrow roads and steps, and is surrounded by terraces cut into the mountain side which were used for agriculture. Dinner and accommodation in Aguas Calientes.
Inkaterra Pueblo Hotel | Meals: B, L & D
Day 8. MACHU PICCHU - CUZCO (Breakfast and dinner)
Free day in Machu Picchu. Afternoon tea will be served before taking the private Hiram Bingham bus down to Aguas Calientes in time for the return Luxury Hiram Bingham train to Cuzco. You will enjoy dinner and cocktails onboard before arriving back to Cuzco. Welcome and private drive back to your hotel, the exclusive deluxe five star Monasterio Hotel.
Monasterio Hotel | Meals: B & D
Day 9. CUZCO - PUNO (Breakfast and lunch)
You can either embark on a spectacular 10 hour train ride (Mondays, Wednesdays and Saturdays only) or fly direct to Puno. Arrival and transfer to your hotel. Puno is also the folkloric capital of Peru. Accommodation in Puno.
Meals: B & L
Day 10: ISLANDS OF LAKE TITICACA (Breakfast)
After early breakfast, pick-up for a full day group excursion to the islands of Uros and Taquile. Uros, a group of islands made entirely of tortora reeds is home to a small community dating back to a pre-Inca culture. The inhabitants of Taquile are more closely related to the Aymara people of Bolivia than the Quechua Incas of Peru. Return to Puno in the afternoon and transfer to your hotel.
Meals: B
Day 11: PUNO - LIMA- IQUITOS (Breakfast & dinner)
After breakfast, transfer to the airport for your flight to Lima and connect with your flight to Iquitos. Arrival and welcome. Take the private vehicle over a paved road to the city of Nauta, 95 kilometers away. Nauta is literally the "end of the road" where you will embark the Delfin I cruise. Along the way, you will see vibrant "terra firma" (non-flooded forest) and various aspects of daily jungle life. Arrive to Nauta port: Nauta is a small riverside town on the banks of the Marañon River and was the first city founded in the department of Loreto. Once we reach Nauta, you will enjoy a VIP greeting at our private port along the shores of the Marañon River where the vessel awaits you. Embarkation: Aboard Delfin, you will be served by our qualified staff who will introduce you to your exquisite and cozy suite, specially equipped with all the amenities for the experienced traveler as yourself. Orthopaedic beds, pure cotton sheets, pillows of 100% pure natural latex, cotton bathrobes, air conditioning, and private bathroom with Spanish style hot water showers are all framed with a spacious private terrace we are sure you will enjoy to the fullest. Orientation: While the Delfin begins its initial navigation, you will enjoy the most fantastic panoramic views from the elegantly outfitted observation area located on our third deck. Our bartender will be waiting to serve you with an exotic cocktail made with regional fruits and pisco, the beloved national brandy liquor of Peru. Then, your naturalist guide will give you an overview of your journey's schedule, activities, route, highlights, wildlife and vegetation to keep your eye out for, geographical and historical background, and other useful details. The third deck features an entertainment center which offers use for film presentations, as well as extensive literature about the area (fauna, flora, etc.) There is also a completely equipped bar so you can test any combination of regional and international liquors and aromas that the bartender will be happy to provide for you to enjoy under the spell of the beautiful Amazonian afternoons and night, and the sweet breeze of the rainforest. Moreover, should you have any doubts or questions, our guides are always fully at your service. Our vessels all have an open bridge policy, so you are welcome to learn about the navigation systems and spend time with the driving captain at any time. Moreover, should you have any doubts or questions, our guides are always fully at your service. After dinner we invite you to the third deck were you can enjoy stargazing while we cruise in to the depths of the Amazon Rainforest.
Meals: B & D
Day 12. AMAZON RIVER CRUISE (All meals)
AM: Fundo Casual: On your first morning, we recommend getting up early to appreciate one of the most important zones of the Pacaya Samiria National Reserve. Early rising is always rewarding since wildlife is most abundant and active with the rising of the sun. The walk at Fundo Casual jungle trail will take you deep into the rainforest on terra firme (non-flooded forest) where your guide will point out the dynamic creatures and vegetation of the Amazon. Be sure to keep an attentive eye open for spotting surprises! PM: Yanayacu Pucate: In the afternoon, you will start cruising through the Yanayacu and Pucate Rivers, peeking into different creeks and lagoons. This is one of the best preserved and protected zones of the Pacaya Samiria National Reserve. Your guide will use his expert eye to pinpoint all the biodiversity of this region. If you want to interact directly with the waters of the Amazon, go out on one of our paddle boards. You will even have the opportunity to swim in the jungle river along with the famous pink dolphins!
Meals: B, L & D
Day 13. AMAZON RIVER CRUISE (All meals)
AM: Amazon Park: Begin your morning with an adventurous journey to visit a private natural and fishing reserve. To get there, you will walk through primary forest and paddle slowly through tranquil Tahuampa Lake, a black water lagoon with giant arapaima fishes (known locally as paiche) and with luck, you might hear them jumping up to breathe the crisp dawn air. Early in the morning, a symphony of sounds will surely enchant your ears. Your destination will be out network of suspension bridges hanging high up in the treetops where you can explore the canopy at your leisure. PM: Nauta Caño Creek: After lunch, explore Nauta Caño Creek and its various delights via skiff. You will also fish for the famous carnivorous piranhas! As night approaches, your guide will take you on a night safari in search of caiman alligators and night birds.
Meals: B, L & D
Day 14. AMAZON RIVER CRUISE (All meals)
AM: Yarapa River: Along the Yarapa River, you will get to explore this tributary intimately. Start your morning with light paddling in one of our kayaks and listen closely for the sounds from within the mysterious jungle. PM: Yarapa River: in the afternoon, explore the Yarapa River and its unparalleled biodiversity even more extensively via skiff. You'll see why the Peruvian Amazon jungle has earned its title as one of the most biologically diverse areas on Earth! Day 15. AMAZON RIVER CRUISE - LIMA (Breakfast) AM: San Francisco community: On board our skiffs, you will visit the community of San Francisco to meet local villagers who have called Amazonia their home for generations. You may step into a typical schoolhouse where the children will be very happy to have visitors, and then stop by an area to see the women of this community who have a most amazing arts & craft market. Disembarkation: The staff will wish you farewell as you begin your departure. At the port of Nauta, our ground crew will be waiting to take you by our private vehicle back to the city of Iquitos, about 95 kilometers journey by paved road.PM: The Rescue & Rehabilitation Center of River Mammals (ACOBIA): On our way from Nauta back to Iquitos airport, you will visit the Rescue & Rehabilitation Center of River Mammals (ACOBIA) where you will have the chance to meet baby manatees and learn about these wonderful and docile creatures and why they are on the endangered species list. You will also have the chance to pet and feed these kind manatees. As well, there are also some other animals cared for by the center that have been rescued from capture for the intention of being turned into pets and other threatening conditions. Our staff will be on hand to help you with your luggage and check in at the airport for the flight to Lima in time for your connecting flight home.
Meals: B, L & D
End of our services.
Deluxe Complete Peru & Amazon Cruise Itinerary Overview:
PRICES:

Please Contact Us Here
Credit Cards Welcome:



WHAT IS INCLUDED / NOT INCLUDED
SELECTED LUXURY HOTELS - Click on hotel for more information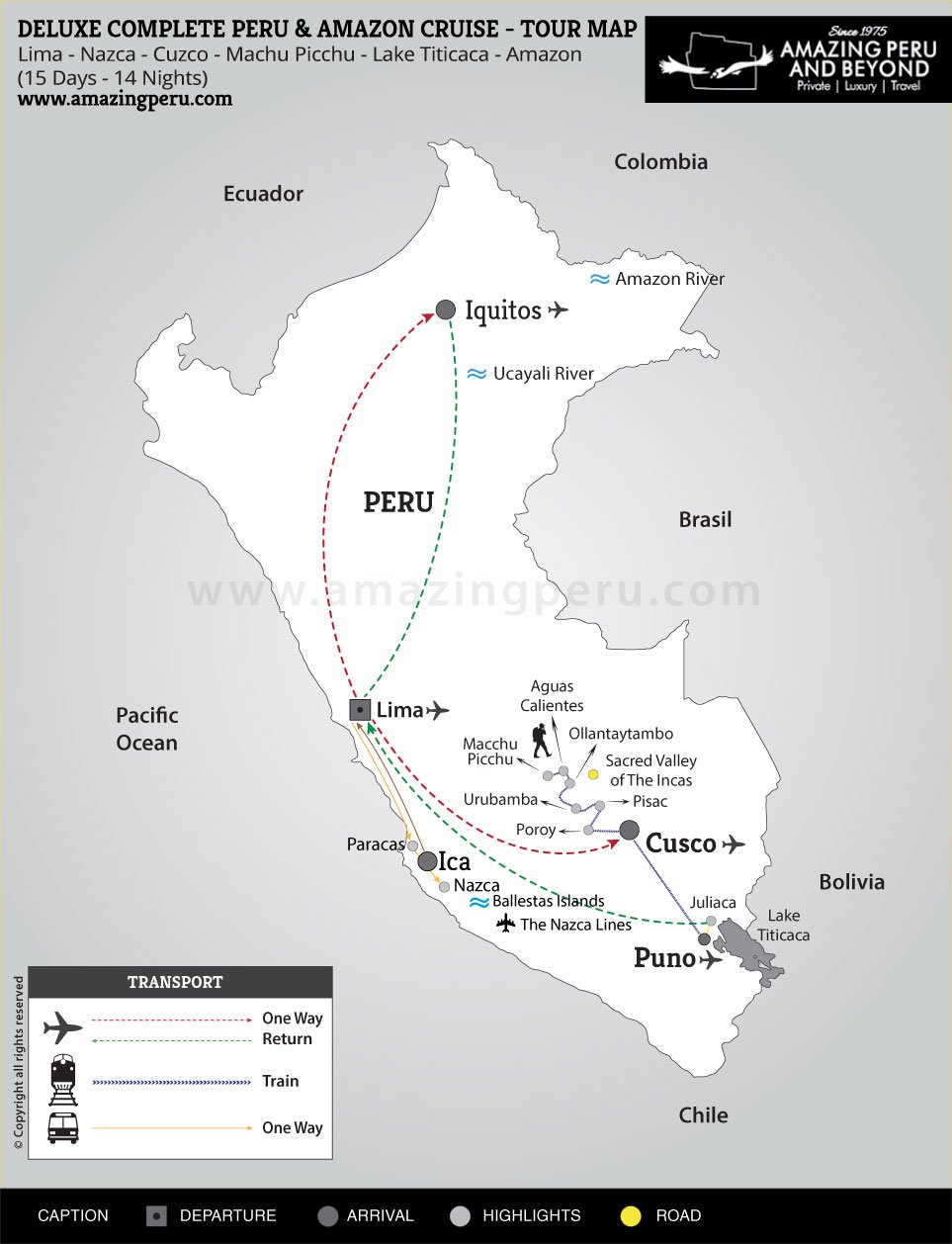 Deluxe Complete Peru & Amazon Cruise
Lima - Nazca - Cuzco - Machu Picchu - Lake Titicaca - Amazon
15 days / 14 nights.
For current availability contact us at
info@amazingperu.com
and we will send you the relevant trip dossier along with a 90 day fixed quote, terms and conditions. Please bear in mind that significant price reductions are available for groups. All our Luxury Tours are fully private and depart daily. Contact us for more information regarding the above tour, or to begin customizing your own itinerary.
"Well-run multipurpose agency, with several offices in Peru with an extensive roster of trips, from family and honeymoon to luxury trips..."
Frommers Guides 2023
"Highly recommended, professional and well-organized, 'perfect tour', knowledgeable guides"
Footprint Handbook 2023
"Transportation services and accommodations are top-notch, and the guides are flexible and extremely helpful"
Fodor's Guides 2023
"
Amazing Peru
has more than 20 years of experience in the travel industry. Tours to Machu Picchu can be customized to include airfare, all meals, accommodations and travel insurance, and last from six to 14 days. Amazon cruises, horseback riding, river rafting, hiking and biking throughout Machu Picchu, Cuzco, Sacred Valley, Lake Titicaca..."
USA TODAY
"Move Over, Machu Picchu - How disabled travelers can tour Machu Picchu."
Christoper Reynolds
"Looking for an adventure of lifetime to kick-start married life? Consider these honeymoons with a difference… "
Perfect Wedding Magazine
"Experience"
Amazing Peru is the leading company in Latin America that combines exclusivity, luxury and authenticity for Peruvian holidays. It will tailor a 15- days tour for you that takes in Lake Titicaca, the Sacred Valley, Machu Picchu, Lima, Cuzco, Colca Canyon and the Amazon rainforest."
The Travel and Leisure Magazine UK
"A reputable firm with an impressive variety of unique excursions… "
At Home and Away with Alan Whicker CBE Magazine
Spend Christmas on a guided tour of breathtaking Machu Picchu and visit famous Lake Titicaca. Amazing Peru offers luxury Christmas vacations in Machu Picchu along the Inca Trail...
Trails Outdoor Travel Guide
"Amazing Peru takes families on both luxury and affordable tours throughout Peru. Children 12 and older are welcome to come along on the 12-day Peru Family Adventure Tour. Raft, backpack, kayak and bike through some of Peru's most unforgettable sights including Machu Picchu. The Family Tour to Peru is tailored for children younger than 12 years of age with an educational component. Relax on Peru's northern beaches, explore the high-altitude Lake Titicaca, trek through the Amazon, and visit Machu Picchu on this 16-day journey. Check out Amazing Peru's 12-day Family Tour."
Global Post USA
"
You can fly over Machu Picchu - or take a helicopter ride
Who needs hiking when you can fly? The company Amazing Peruoffers hour-long flight tours right over the Sacred Valley of the Incas. The plane fits a minimum of eight passengers, and it can also be chartered. Passengers fly over Tipon and Pikillaqta, both archaeological sites, Pisaq and the Urubamba Valley, Sacsayhuaman, and, of course, Machu Picchu itself. Flights can be longer or shorter as requested. "
"
You can Om your way through Machu Picchu
Machu Picchu is known as one of the most spiritual lands in the world, so why not go all out and Om your way through its ruins? Amazing Peru offers a seven-day yoga tour where visitors travel from Lima to Cuzco and finally to Machu Picchu, where they stay in the famed sanctuary Lodge hotel right outside of the ruins. They participate in multiple meditation and yoga sessions throughout the trip, but the highlight is a private session smack-dab in the middle of the ruins. Now that is an Om experience worth waiting for."
Yahoo Lifestyle
A Private, customized tour to Venezuela, Guyana, Suriname, French Guiana and Trinidad & Tobago. "Any traveler with a well-developed sense of adventure will be rewarded with an incredible experience on this journey to a birding paradise designed and operated by Amazing Peru."
"Savoring a taste of Uruguay's acclaimed wine region - An outstanding experience"