2023 Peru Family Christmas Tour
Price per family of 5: US$10,985.00
Lima - Cusco - Urubamba - Puno
8 days / 7 nights.
ITINERARY
DAY 1: LIMA
Saturday December 22, 2023 You will receive assistance during the night at Jorge Chávez International Airport of Lima by an English speaking representative.
CHECK IN 15:00 CHECK OUT 12:00
Meals included: None
DAY 2: LIMA - CUSCO
Sunday December 23, 2023
Flight to Cusco:

Arrival Cusco. Your tour will start going to the Sacred Valley, where you will visit Awanakancha, a farm of South American camelids and textiles showroom, where local families show the entire traditional process of weaving and making garments. You will then visit the Pisac market, which has stands that exhibit and sell products manufactured by area residents. Beautiful alpaca textiles, musical instruments, paintings, carvings, necklaces and replicas of old Inca pieces are sure to catch your eye. Next, have lunch at a local restaurant, followed by a visit Ollantaytambo, making a series of stops at points of interest. The town of Ollantaytambo is a typical example of Incan urban planning,whose present-day residents still live in accordance with their old traditions. Inca ruler Pachacuti conquered the town, destroyed it and built a new one, absorbing it as part of his empire. This town exhibits one of the most remarkable complexes of the Inca Empire. Return to your hotel in Sacred Valley.

You will receive assistance during the night at Jorge Chávez International Airport of Lima by an English speaking representative.

Lunch at Rancho Wayra. Delight yourself with the surprising variety of

CHECK IN 12:00 CHECK OUT 10:00
Meals included: Breakfast, lunch

DAY 3: URUBAMBA
Monday December 24, 2023
Today you will enjoy an excellent day doing stand up paddle or Kayak.

We are arriving to Piuray Outdoor Center on the shores of Lake Piuray. A snack and drinks station will be waiting for them. We begin with a welcome briefing, then a yoga session to disconnect and warm up. After completing the yoga class according to the activity they have chosen (sup or Kayak) they will give them the corresponding equipment. In the case of SUP, the wetsuits will be placed and in the case of the kayak they will put on the corresponding skirts and vests. The guide will give you a technical briefing of each activity.

Then we go in the wáter, depending on the level of the group we row between 1 hour and 1:30hours approximately. In this time they will be able to learn techniques and stroll along the lake, which has an admirable landscape accompanied by birds and agriculture in its surroundings.

Enjoy Lunch and then transfer back to your hotel.
DAY 4: URUBAMBA - MACHU PICCHU - CUSCO
Tuesday December 25, 2023
A transportation service with a guide will pick you up from your hotel in Urubamba at the established time and will drive you to the Ollantaytambo train station. The guide will assist you at the station.

Board the Vistadome Train

Your tour to Machu Picchu begins with a train ride to Aguas Calientes in approximately two hours. This town is also known as "Machu Picchu Pueblo" and is the last stop before the entrance to the remains of the most important archaeological site in Peru. In Aguas Calientes you will find the railway station, a crafts market, restaurants and accommodation of different categories for those who prefer to spend the night at the foot of the mountain and climb it early. Finally, after a short transfer you will reach Machu Picchu, a masterpiece of engineering and architecture that is believed served as a sanctuary and retreat for the Inca Pachacutec (1438 - 1572). Machu Picchu, which means "Old Mountain", is considered a World Heritage by UNESCO and one of the new seven wonders of the world. Once in the citadel you may optionally also visit the Intipunku (Sun Gate), the Wayna Picchu (subject to space availability & not included ) and the Inca Bridge

Enjoy a delicious lunch at Cafe Inkaterra

In the afternoon return by Vistadome train to Ollanta Station.

A transportation service with a guide will pick you up from the Ollantaytambo train station at the established time, and will transfer you to your hotel in Cusco City. The guide will assist you with your check-in.
DAY 5: CUSCO
Wednesday December 26, 2023
Start your tour today by visiting Coricancha, also known as the "Temple of the Sun", which was built by the Inca ruler Pachacuti and, upon the arrival of the Spaniards, became the base for the construction of the Santo Domingo Convent. Here, during the Inca Empire, reverence was surrendered to the sun, and there was even time when the structure was covered in gold. Next, visit the Cathedral, the most imposing monument in Plaza de Armas square. The construction of the cathedral took almost 100 years to complete, beginning in the mid-16 th century. Hundreds of stones were extracted and transported from the Sacsayhuaman fortress under the command of the Ecclesiastical Council to use for the construction of the church. Continue your tour to the fortress of Sacsayhuaman, a magnificent building conceived and built by Inca ruler Pachacuti in the 15th century. The Sacsayhuaman complex was built with megalithic blocks, the transportation and erection of which continue to be a fascinating mystery. The Inti Raymi Sun Festival is reenacted here every year on 24 June during the winter solstice. Continue on to Quenqo, located only four kilometres from the city of Cusco. Quenqo is an archaeological complex of mainly religious use where it is believed agricultural rituals were performed. Finally, visit Puka Pukara, located seven kilometres from the city of Cusco. Puka Pukara, meaning "Red Fortress", was an architectural complex of alleged military use with multiple spaces, plazas, baths, aqueducts, walls and towers, and it is believed the entourage of the Inca ruler used the space while he rested in Tambomachay. Return to the hotel with the remainder of the day at leisure.

Enjoy lunch at Calle del Medio (Set Menu)

At proper time Transfer to the neighbourhood of San Blas, specifically to the house of Sabino, a talented Andean musician. He will welcome you and explain the history of the typical Andean instruments. You will be able to learn and play the drums, 'quenas' (Andean flutes), among others. Also, not only will you play the most representative Andean instrument, the zampoña (pan flute), but you will make one. Finally, you will play together like the local bands.

Accommodation Casa Andina Premium Cusco
CHECK IN 12:00 CHECK OUT 10:00
Meals included: Breakfast, lunch
DAY 6: CUSCO - PUNO
Thursday December 27, 2023
A transportation service with a guide will pick you up from your hotel at the established time and transfer you to the airport. A transportation service with a guide will pick you up from your hotel at the established time and will transfer you to the airport.
CHECK IN 12:00 CHECK OUT 10:00
Meals included: Breakfast
DAY 7: PUNO
Friday December 28, 2023
You will be picked up from the port of Puno and taken to the floating islands of Uros. The Uros are an ancient culture that inhabits a series of artificial islands built on the basis of reeds growing in the lake itself. These are constructed by weaving reed in the areas where it grows thicker and thus forming a natural layer. On it they build their houses and cook outdoors in order to prevent fires. After an hour you will continue to the island of Taquile. In contrast to the other islands in the lake, where the people speak Aimara, here they speak Quechua. It was part of the Inca Empire and vestiges of that culture can still be seen in their buildings. However the Spanish also came here, forbade them from wearing their traditional costumes and forced them to use peasant dress. When you arrive you will be given a short description of the island and a tour round it before lunch. After lunch you will go to the harbour for the trip back to Puno.
Accommodation Casa Andina Premium Puno (www.casa-andina.com)
CHECK IN 12:00 CHECK OUT 10:00
Meals included: Breakfast
DAY 8: PUNO - LIMA - HOME
Saturday December 29, 2023
This tour takes three and a half hours. A transportation service will pick you up from your hotel and transfer you to Sillustani, where a guide will be waiting for you. In Sillustani, a peninsula of the Umayo Lagoon, you will visit one the world's largest necropolis, in which stand out over 90 chullpas, huge and primitive stone mausoleums of over 12m high, designed with a wider top than the base. At the end of the visit you will return to the Juliaca airport.
2023 Peru Family Christmas Tour Itinerary Overview:
TRAIN SERVICE – VISTADOME TRAIN
POLICY OF LUGGAGE ON BOARD THE TRAIN
THE AMAZING PERU ADVANTAGE
WHAT IS INCLUDED / NOT INCLUDED
PRICES:

Please Contact Us Here
Price per family of 5: US$10,985.00
Credit card payments incur an additional 5% service fee
Credit Cards Welcome: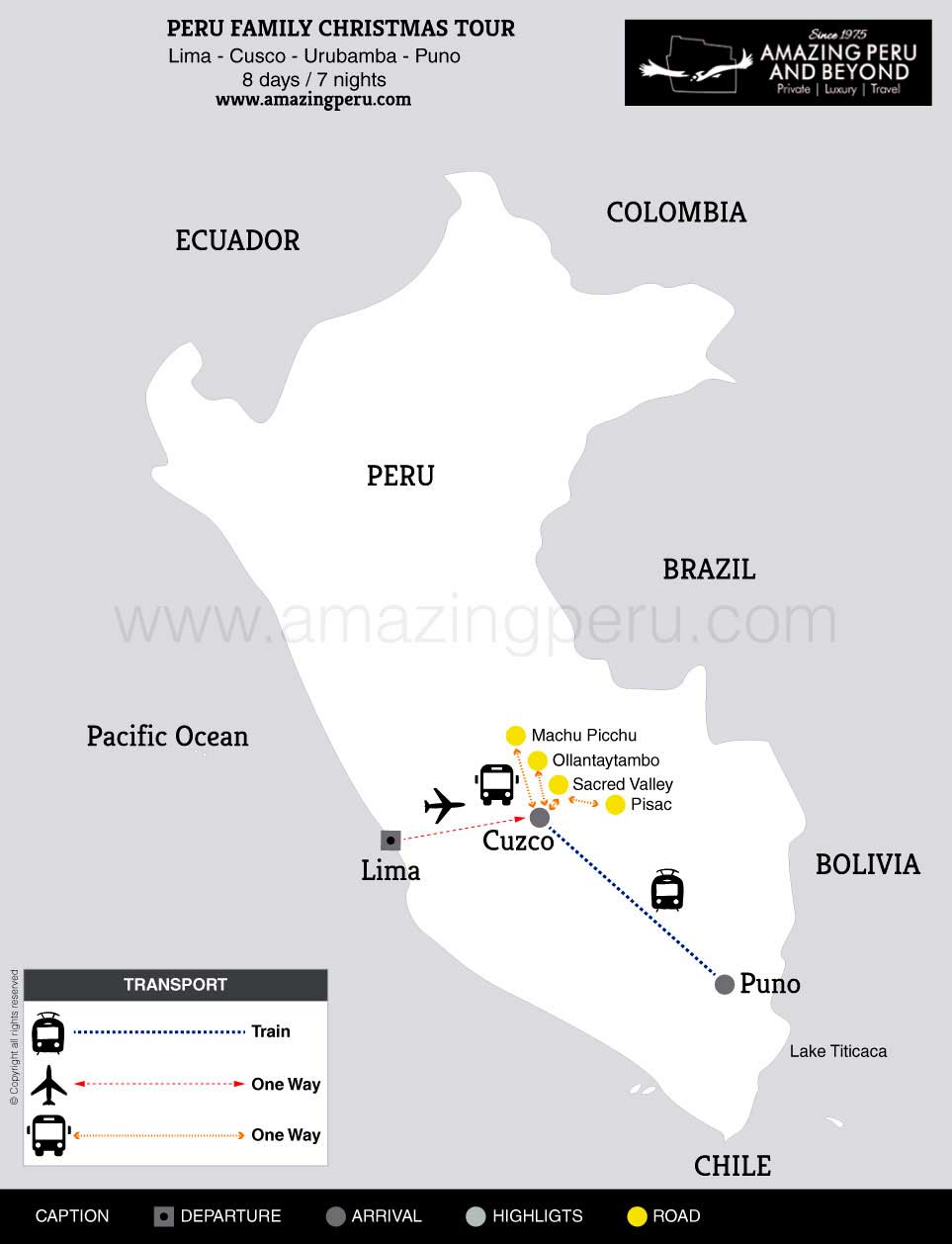 2023 Peru Family Christmas Tour
Lima - Cusco - Urubamba - Puno
8 days / 7 nights.
For current availability contact us at
info@amazingperu.com
and we will send you the relevant trip dossier along with a 90 day fixed quote, terms and conditions. Please bear in mind that significant price reductions are available for groups. All our Luxury Tours are fully private and depart daily. Contact us for more information regarding the above tour, or to begin customizing your own itinerary.
"Well-run multipurpose agency, with several offices in Peru with an extensive roster of trips, from family and honeymoon to luxury trips..."
Frommers Guides 2023
"Highly recommended, professional and well-organized, 'perfect tour', knowledgeable guides"
Footprint Handbook 2023
"Transportation services and accommodations are top-notch, and the guides are flexible and extremely helpful"
Fodor's Guides 2023
"
Amazing Peru
has more than 20 years of experience in the travel industry. Tours to Machu Picchu can be customized to include airfare, all meals, accommodations and travel insurance, and last from six to 14 days. Amazon cruises, horseback riding, river rafting, hiking and biking throughout Machu Picchu, Cuzco, Sacred Valley, Lake Titicaca..."
USA TODAY
"Move Over, Machu Picchu - How disabled travelers can tour Machu Picchu."
Christoper Reynolds
"Looking for an adventure of lifetime to kick-start married life? Consider these honeymoons with a difference… "
Perfect Wedding Magazine
"Experience"
Amazing Peru is the leading company in Latin America that combines exclusivity, luxury and authenticity for Peruvian holidays. It will tailor a 15- days tour for you that takes in Lake Titicaca, the Sacred Valley, Machu Picchu, Lima, Cuzco, Colca Canyon and the Amazon rainforest."
The Travel and Leisure Magazine UK
"A reputable firm with an impressive variety of unique excursions… "
At Home and Away with Alan Whicker CBE Magazine
Spend Christmas on a guided tour of breathtaking Machu Picchu and visit famous Lake Titicaca. Amazing Peru offers luxury Christmas vacations in Machu Picchu along the Inca Trail...
Trails Outdoor Travel Guide
"Amazing Peru takes families on both luxury and affordable tours throughout Peru. Children 12 and older are welcome to come along on the 12-day Peru Family Adventure Tour. Raft, backpack, kayak and bike through some of Peru's most unforgettable sights including Machu Picchu. The Family Tour to Peru is tailored for children younger than 12 years of age with an educational component. Relax on Peru's northern beaches, explore the high-altitude Lake Titicaca, trek through the Amazon, and visit Machu Picchu on this 16-day journey. Check out Amazing Peru's 12-day Family Tour."
Global Post USA
"
You can fly over Machu Picchu - or take a helicopter ride
Who needs hiking when you can fly? The company Amazing Peruoffers hour-long flight tours right over the Sacred Valley of the Incas. The plane fits a minimum of eight passengers, and it can also be chartered. Passengers fly over Tipon and Pikillaqta, both archaeological sites, Pisaq and the Urubamba Valley, Sacsayhuaman, and, of course, Machu Picchu itself. Flights can be longer or shorter as requested. "
"
You can Om your way through Machu Picchu
Machu Picchu is known as one of the most spiritual lands in the world, so why not go all out and Om your way through its ruins? Amazing Peru offers a seven-day yoga tour where visitors travel from Lima to Cuzco and finally to Machu Picchu, where they stay in the famed sanctuary Lodge hotel right outside of the ruins. They participate in multiple meditation and yoga sessions throughout the trip, but the highlight is a private session smack-dab in the middle of the ruins. Now that is an Om experience worth waiting for."
Yahoo Lifestyle
A Private, customized tour to Venezuela, Guyana, Suriname, French Guiana and Trinidad & Tobago. "Any traveler with a well-developed sense of adventure will be rewarded with an incredible experience on this journey to a birding paradise designed and operated by Amazing Peru."
"Savoring a taste of Uruguay's acclaimed wine region - An outstanding experience"