Tours Amazonas 2
Puerto Maldonado - Posada Amazonas
4 days / 3 nights.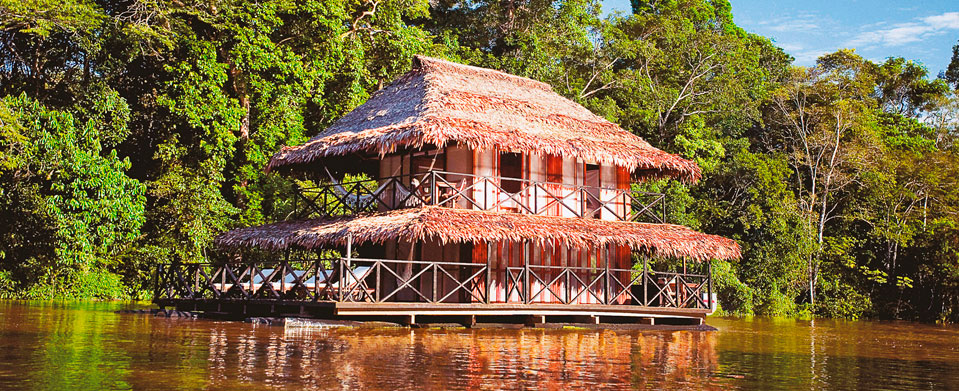 ITINERARY
Day 1: Puerto Maldonado - Posada Amazonas
Upon arrival from Lima or Cuzco, reception and transfer to our office in Puerto Maldonado. Puerto Maldonado is situated at the confluence of the mighty Madre de Dios and Tambopata Rivers and is a bustling, booming tropical frontier town. Its principal activities are gold mining, Brazil nut collecting, timber extraction, agriculture and ecotourism. After a brief survey of the town we will drive thirty minutes to the Tambopata river port in the community of Infierno. We will board our boats for a one hour trip by motorized canoe to Posada Amazonas. Depending on the arrival time of the plane we will have a boxed lunch aboard the boats or have lunch upon arrival at Posada Amazonas. During our voyage we may see bird species typical of the river or forest edge such as: Black Skimmer, Pied Lapwing, Capped Heron, Jabiru Stork, Roadside Hawk, and several species of kingfishers, swallows and flycatchers.
When we arrive at Posada Amazonas we will unpack and unwind. Posada Amazonas is a comfortable yet unobtrusive 30 room lodge owned jointly by Rainforest Expeditions and the Local Community of Infierno. We will receive a short orientation and a complete briefing on the lodge and the Ecotourism Project before our afternoon activity : the canopy tower. In this activity, we will visit a 35 meter scaffolding tower that is 15 minutes walking from the lodge.
The scaffolding tower is built so that you safely climb using the internal staircase with verandahs on each side, and rest in platforms present every 2 meters. From the top you not only get spectacular views of the river and the surrounding forest but also excellent opportunities to observe birds from the canopy including parrots, toucans and macaws. A video about the forest of Tambopata will be displayed after dinner.
Day 2: Posada Amazonas
We will be up at dawn for a visit to the Tres Chimbadas oxbow lake. After an early breakfast we depart, fifteen minutes from Posada Amazonas by boat and a 30 minute walk take us to the lake shore. From here we take a long, easy canoe ride around it. We will look for giant river otters, turtles, hoatzin, and wading birds. The giant river otters that are seen in Tres Chimbadas belong to a resident family of nine. Then we will return to the lodge for lunch before embarking on our afternoon outing. In the afternoon we will visit the community's ethnobotanical center. From this little shop, the community has been registering the uses of medicinal plants from elders and planting, producing and distributing them for over ten years. We will hike the trails around the center with one of the residents who will explain to us the everyday uses of forest resources in medicine, construction, food and fiber. We will return to Posada Amazonas for dinner and overnight. After enjoying our popular happy hour and refurbishing your spirits with ours, you will be up for an optional night walk to look for amphibians and insects.
Day 3: Posada Amazonas
After an early breakfast we will visit a clay lick. This clay lick is also a ten minute walk from the lodge, but next to the river. Amazingly, the variety of parrots that visit this clay lick is considerably different than the one inside the forest that we will visit later in the day. Some of the large macaws, like the red and green macaw, and larger parrots, like mealy and yellow crowned Amazons visit this lick, as well as the smaller parrots and parakeets. From the blind we have constructed next to this lick, even the amateur photographer can take good pictures of these wonderful birds. We will also have a great opportunity to spot other spectacular wildlife, active at this time of the day, like scarlet or blue and gold macaws and a great deal of other birds. When the activity dies out we will visit a small parakeet clay lick that is a 45 minute walk away. Dozens and sometimes hundreds of Blue Headed Parrots, Orange-Cheeked Parrots, Cobalt-winged parakeets, and sometimes even the rare Rock Parakeet congregate here on clear days to ingest clay. This congregation creates a riotous and colorful wildlife spectacle where the greens, oranges, reds and blues of the parrots dance around the bank as each individual parrot competes for their choice beakful of clay. At times, this spectacle lasts for hours. After lunch, we will have a walk through a trail on primary forest with a community member and our naturalist guide who will explain general aspects of rain forest ecology and natural history, each with their own contrasting viewpoint.
We will return to Posada Amazonas where you will be able to reminisce on the happenning of the past three days enjoying our happy hour's amazonian concoctions.
Day 4: Posada Amazonas-Puerto Maldonado
After an early breakfast, we depart by boat back to the city of Puerto Maldonado, directly to the airport, in time for our flight back to Lima or Cuzco.
Tours Amazonas 2 Itinerary Overview:
PRICES:

Please Contact Us Here
Credit Cards Welcome:



WHAT IS INCLUDED / NOT INCLUDED
For current availability contact us at
info@amazingperu.com
and we will send you the relevant trip dossier along with a 90 day fixed quote, terms and conditions. Please bear in mind that significant price reductions are available for groups.
"Well-run multipurpose agency, with several offices in Peru with an extensive roster of trips, from family and honeymoon to luxury trips..."
Frommers Guides 2023
"Highly recommended, professional and well-organized, 'perfect tour', knowledgeable guides"
Footprint Handbook 2023
"Transportation services and accommodations are top-notch, and the guides are flexible and extremely helpful"
Fodor's Guides 2023
"
Amazing Peru
has more than 20 years of experience in the travel industry. Tours to Machu Picchu can be customized to include airfare, all meals, accommodations and travel insurance, and last from six to 14 days. Amazon cruises, horseback riding, river rafting, hiking and biking throughout Machu Picchu, Cuzco, Sacred Valley, Lake Titicaca..."
USA TODAY
"Move Over, Machu Picchu - How disabled travelers can tour Machu Picchu."
Christoper Reynolds
"Looking for an adventure of lifetime to kick-start married life? Consider these honeymoons with a difference… "
Perfect Wedding Magazine
"Experience"
Amazing Peru is the leading company in Latin America that combines exclusivity, luxury and authenticity for Peruvian holidays. It will tailor a 15- days tour for you that takes in Lake Titicaca, the Sacred Valley, Machu Picchu, Lima, Cuzco, Colca Canyon and the Amazon rainforest."
The Travel and Leisure Magazine UK
"A reputable firm with an impressive variety of unique excursions… "
At Home and Away with Alan Whicker CBE Magazine
Spend Christmas on a guided tour of breathtaking Machu Picchu and visit famous Lake Titicaca. Amazing Peru offers luxury Christmas vacations in Machu Picchu along the Inca Trail...
Trails Outdoor Travel Guide
"Amazing Peru takes families on both luxury and affordable tours throughout Peru. Children 12 and older are welcome to come along on the 12-day Peru Family Adventure Tour. Raft, backpack, kayak and bike through some of Peru's most unforgettable sights including Machu Picchu. The Family Tour to Peru is tailored for children younger than 12 years of age with an educational component. Relax on Peru's northern beaches, explore the high-altitude Lake Titicaca, trek through the Amazon, and visit Machu Picchu on this 16-day journey. Check out Amazing Peru's 12-day Family Tour."
Global Post USA
"
You can fly over Machu Picchu - or take a helicopter ride
Who needs hiking when you can fly? The company Amazing Peruoffers hour-long flight tours right over the Sacred Valley of the Incas. The plane fits a minimum of eight passengers, and it can also be chartered. Passengers fly over Tipon and Pikillaqta, both archaeological sites, Pisaq and the Urubamba Valley, Sacsayhuaman, and, of course, Machu Picchu itself. Flights can be longer or shorter as requested. "
"
You can Om your way through Machu Picchu
Machu Picchu is known as one of the most spiritual lands in the world, so why not go all out and Om your way through its ruins? Amazing Peru offers a seven-day yoga tour where visitors travel from Lima to Cuzco and finally to Machu Picchu, where they stay in the famed sanctuary Lodge hotel right outside of the ruins. They participate in multiple meditation and yoga sessions throughout the trip, but the highlight is a private session smack-dab in the middle of the ruins. Now that is an Om experience worth waiting for."
Yahoo Lifestyle
A Private, customized tour to Venezuela, Guyana, Suriname, French Guiana and Trinidad & Tobago. "Any traveler with a well-developed sense of adventure will be rewarded with an incredible experience on this journey to a birding paradise designed and operated by Amazing Peru."
"Savoring a taste of Uruguay's acclaimed wine region - An outstanding experience"