"The Northern Peru Jewels" a Signature Tour by Amazing Peru and Beyond
Trujillo - Chiclayo - Cajamarca - Chachapoyas - Piura
16 days / 15 nights.
ITINERARY
Day 1: Lima
Arrival in Lima, reception and transfer to your hotel.
Day 2: Lima-Trujillo (Breakfast)
After breakfast, transfer to the airport for the morning flight to Trujillo. Reception and transfer to your hotel. Free day to explore Trujillo on your own, the third largest city in Peru.
Meals: B
Day 3: Chan Chan (Breakfast)
After breakfast, a guided visit to the metropolis of Chan-Chan, the ancient capital city of the Chimu Empire. It is the largest pre-Columbian city in South America, built entirely of mud and adobe brick. A stop is made at Huaca Dragon to visit this restored, pyramidal shaped adobe temple consecrated to the rainbow, and with beautiful bas-reliefs, Huaca del Sol y Luna. A visit to the small nearby archaeological museum concludes the tour. Return to your hotel.
Meals: B
Day 4. Trujillo - Cajamarca (Breakfast)
Today we travel towards Cajamarca. Along the road in Chocope we shall visit Sra de Cao, a beautifully preserved mummy only recently discovered. The Sra de Cao was in fact a very powerful female leader which offers an insight into an ancient matriarchal society. Continue the trip to Cajamarca. Accommodation in Cajamarca.
Meals: B
Day 5. Otuzco - Cumbemayo (Breakfast)
Today a full day tour to the Ventanillas of Otuzco and the pre-inca aqueducts of Cumbemayo. Accommodation in Cajarmarca. Cajamarca is of historical importance for in 1532, Pizarro imprisoned and subsequently executed Inca Atahualpa, bringing to an end the Inca Nation. A chance to visit the thermal baths at Banos del Inca.
Meals: B
Day 6. Cajamarca - Chachapoyas (Breakfast)
Early morning journey to Chachapoyas for a full day trip, we will visit the Celedine town where they specialise both in hats and an agrarian lifestyle. If preferred, we can join the farmers for a local style breakfast before we continue the trip to cross the Maranon River to reach "Balsas" town where we will stop for refreshments with coconut milk and delicious fresh local fruits. On the route we shall visit the Mummies museum of Laguna de los Condores in Leimebamba. Arrival and transfer to your hotel in Chachapoyas, the capital of the Amazonas region.
Meals: B
Day 7. Caverns of Kiocta in Lamud (Breakfast)
Full day tour visiting first the Caverns of Kiocta which are over 600 metres deep. Continue to the valley of Utcubamba heading towards the village of Lamud. The Sachapuyans, after placing the coffins in these strategic locations on the cliffs, destroyed the paths which led to them thus avoiding any disturbance of their dead. Return to Chachapoyas.
Meals: B
Day 8. Revash (Breakfast)
After breakfast you will enjoy an excursion by horse to visit the colourful funereal buildings of Revash perched on a ledge high up on a cliff. They overlook a valley and tributary of the Utcubamba River, near the town of Santo Tomas. The Cliff walls at Revash are decorated with geometric designs and figures of camelids.
Meals: B
Day 9: Kuelap (Breakfast)
Early departure from Chachapoyas to Tingo. Ascend to the ruins of Kuelap, the huge fortress dominating the skyline above the Amazonas landscape and hailed as the Machu Picchu of Northern Peru. To get a good view of the whole complex, we recommend a climb to the Kuelap watch-tower, where the gigantic outer walls and the whole extension of this former fortress can be fully appreciated. In the afternoon, return to Tingo and then to Chachapoyas.
Meals: B
Day 10. Gocta Waterfalls (Breakfast)
A visit to one of the tallest waterfalls in the world. Comprising two levels, the first level is the longest at 500 metres and the second level is 250 metres, in total 750 metres high. This is a full day tour of 7 hours with 5 hours hike roundtrip (optional use of horses), and excellent for photography in the high jungle scene.
Meals:
Day 11. Chachapoyas - Chiclayo (Breakfast)
Today is a trip of 8 hours back to Chiclayo where along the way we will see plantations of rice, coconut before crossing the Maranon River in Bagua Grande to continue on to the Olmos, Chiclayo road. Hotel in Chiclayo.
Meals: B
Day 12: Chiclayo museums (Breakfast)
Today you will visit the wonderful Brunning museum, housing artefacts from several cultures. Lunch is followed by a visit to both the Sipan and Sican museums. The day concludes with a visit to the Tucume complex, where over 26 pyramids are located. Return to your hotel.
Meals: B
Day 13. Chiclayo - Piura (Breakfast)
Trip to Piura, the most northerly city in Peru just over 3 hours by road. Reception and transfer to your hotel. In the afternoon, a city tour of Piura, the first Peruvian city established by the colonising Spanish, including Museum Vicus, the Colonial Cathedral, House Museum of Admiral Miguel Grau, Sala Exposition and the Ignacio Merino of Banco Central de Reserva.
Meals: B
Day 14: Catacaos (Breakfast)
Day trip to Catacaos, just 20 minutes from Piura, the artisan capital of Northern Peru. Splendid opportunity to observe gold and silver jewels being crafted by the local artisans, and paja hats of tuquillo. Visit to the colonial church of the main square.
Meals: B
Day 15. Laguna de Napique - Sechura - Lima (Breakfast)
A visit to Sechura, just South of Piura and home to one of the driest deserts in the world. Visit to the nearby Lake Napique, home to many flamingos and other bird species. This is a fresh water lake located between the dry desert and the dry forest of Sechura. This habitat covers 3 thousand hectares of dry forest, lake, and algarrobo forests.There are 115 bird species and 26 are migratory birds. Transport to the airport for the return flight to Lima (extension to the beautiful northern beaches of Mancora - Please ask for details). Transfer to your hotel in Lima.
Meals: B
Day 16: Lima (Breakfast)
Leisurely day with plenty of opportunity for shopping before your transfer to the airport and your return flight home.
Meals: B
End of our services.
"The Northern Peru Jewels" a Signature Tour by Amazing Peru and Beyond - Itinerary Overview:
PRICES:

Please Contact Us Here
Credit Cards Welcome:



WHAT IS INCLUDED / NOT INCLUDED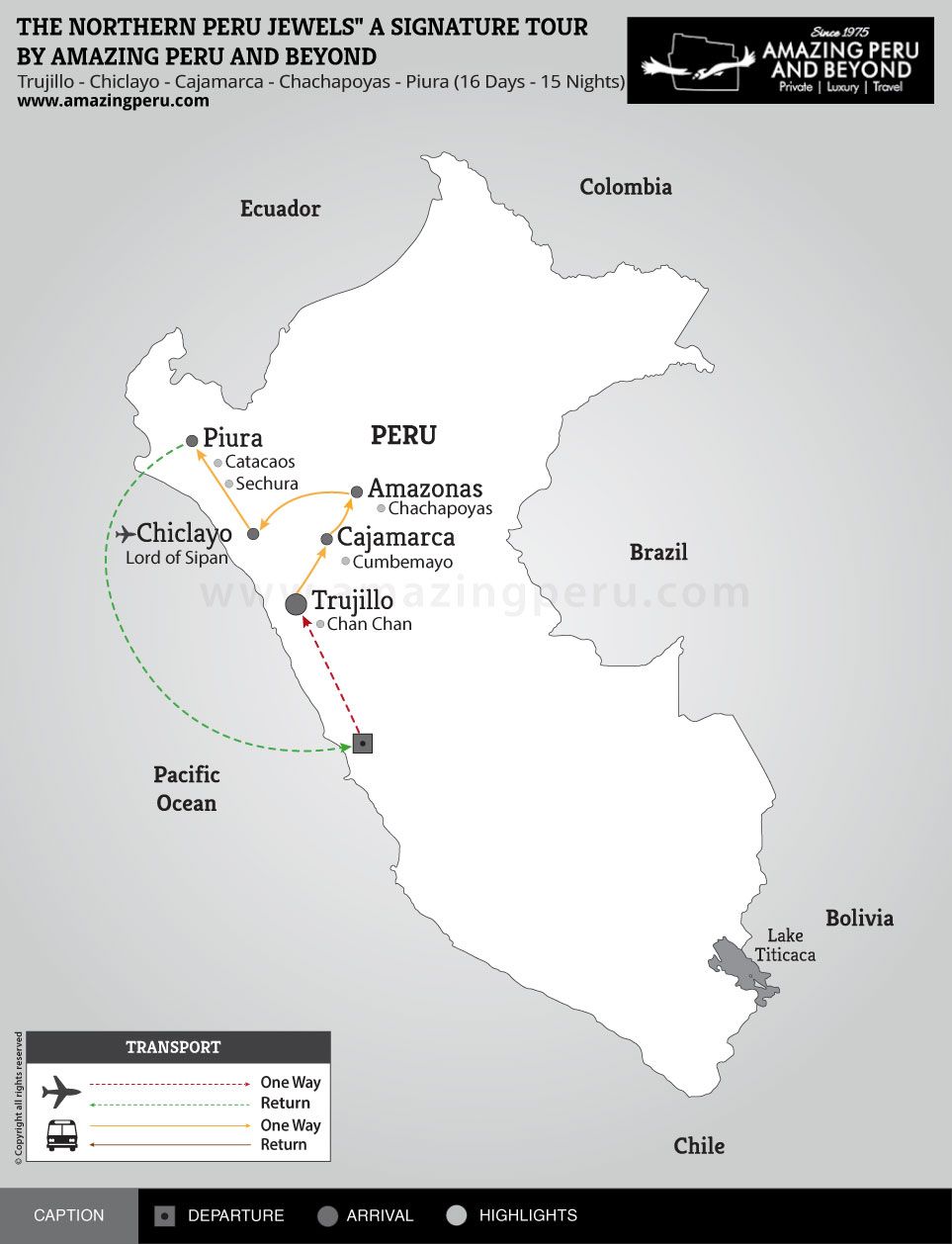 "The Northern Peru Jewels" a Signature Tour by Amazing Peru and Beyond
Trujillo - Chiclayo - Cajamarca - Chachapoyas - Piura
16 days / 15 nights.
For current availability contact us at
info@amazingperu.com
and we will send you the relevant trip dossier along with a 90 day fixed quote, terms and conditions. Please bear in mind that significant price reductions are available for groups.
"Well-run multipurpose agency, with several offices in Peru with an extensive roster of trips, from family and honeymoon to luxury trips..."
Frommers Guides 2023
"Highly recommended, professional and well-organized, 'perfect tour', knowledgeable guides"
Footprint Handbook 2023
"Transportation services and accommodations are top-notch, and the guides are flexible and extremely helpful"
Fodor's Guides 2023
"
Amazing Peru
has more than 20 years of experience in the travel industry. Tours to Machu Picchu can be customized to include airfare, all meals, accommodations and travel insurance, and last from six to 14 days. Amazon cruises, horseback riding, river rafting, hiking and biking throughout Machu Picchu, Cuzco, Sacred Valley, Lake Titicaca..."
USA TODAY
"Move Over, Machu Picchu - How disabled travelers can tour Machu Picchu."
Christoper Reynolds
"Looking for an adventure of lifetime to kick-start married life? Consider these honeymoons with a difference… "
Perfect Wedding Magazine
"Experience"
Amazing Peru is the leading company in Latin America that combines exclusivity, luxury and authenticity for Peruvian holidays. It will tailor a 15- days tour for you that takes in Lake Titicaca, the Sacred Valley, Machu Picchu, Lima, Cuzco, Colca Canyon and the Amazon rainforest."
The Travel and Leisure Magazine UK
"A reputable firm with an impressive variety of unique excursions… "
At Home and Away with Alan Whicker CBE Magazine
Spend Christmas on a guided tour of breathtaking Machu Picchu and visit famous Lake Titicaca. Amazing Peru offers luxury Christmas vacations in Machu Picchu along the Inca Trail...
Trails Outdoor Travel Guide
"Amazing Peru takes families on both luxury and affordable tours throughout Peru. Children 12 and older are welcome to come along on the 12-day Peru Family Adventure Tour. Raft, backpack, kayak and bike through some of Peru's most unforgettable sights including Machu Picchu. The Family Tour to Peru is tailored for children younger than 12 years of age with an educational component. Relax on Peru's northern beaches, explore the high-altitude Lake Titicaca, trek through the Amazon, and visit Machu Picchu on this 16-day journey. Check out Amazing Peru's 12-day Family Tour."
Global Post USA
"
You can fly over Machu Picchu - or take a helicopter ride
Who needs hiking when you can fly? The company Amazing Peruoffers hour-long flight tours right over the Sacred Valley of the Incas. The plane fits a minimum of eight passengers, and it can also be chartered. Passengers fly over Tipon and Pikillaqta, both archaeological sites, Pisaq and the Urubamba Valley, Sacsayhuaman, and, of course, Machu Picchu itself. Flights can be longer or shorter as requested. "
"
You can Om your way through Machu Picchu
Machu Picchu is known as one of the most spiritual lands in the world, so why not go all out and Om your way through its ruins? Amazing Peru offers a seven-day yoga tour where visitors travel from Lima to Cuzco and finally to Machu Picchu, where they stay in the famed sanctuary Lodge hotel right outside of the ruins. They participate in multiple meditation and yoga sessions throughout the trip, but the highlight is a private session smack-dab in the middle of the ruins. Now that is an Om experience worth waiting for."
Yahoo Lifestyle
A Private, customized tour to Venezuela, Guyana, Suriname, French Guiana and Trinidad & Tobago. "Any traveler with a well-developed sense of adventure will be rewarded with an incredible experience on this journey to a birding paradise designed and operated by Amazing Peru."
"Savoring a taste of Uruguay's acclaimed wine region - An outstanding experience"