Cultural Escape tour of Mexico
Mexico City - Merida City - Sotuta de Peón - Chichen Itza
9 days / 8 nights.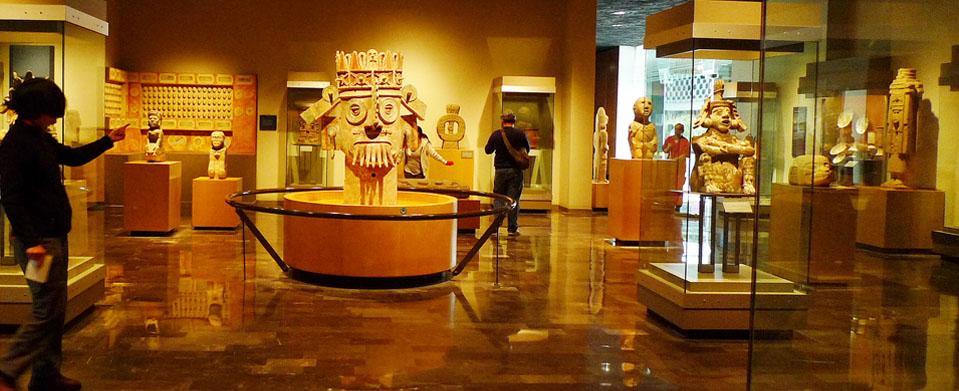 ITINERARY
Day 1. Mexico City
Arrival to Mexico City International Airport and transfer to your hotel Lodging: Hotel Camino Real Polanco www.caminoreal.com/destinos/Polanco
The hotel is strategically located in the exclusive financial and commercial zone of "Polanco" and very close to different places of interest such as Chalpultepec Park, Museums, Paseo de la Reforma among others.
Day 2 - Teotihuacan and Museum of Anthropology and History
Breakfast at the hotel. Today you will visit Teotihuacan, a pre-Columbian Mesoamerican city located in the Basin of Mexico, 30 miles (48 km) northeast of modern day Mexico City, which is today known as the site of many of the most architecturally significant Mesoamerican pyramids. Continue your day in the Museum of Anthropology and History, the most visited museum in Mexico that contains significant archaeological and anthropological artifacts from the pre-Columbian heritage of Mexico, such as the Piedra del Sol (the "Stone of the Sun" or Aztec calendar stone) and the 16th-century Aztec statue of Xochipilli Lodging: Hotel Camino Real
Meals: B
Day 3 - Mexico City tour and Free Afternoon (walking tour)
Breakfast at the hotel. Start the day visiting the "Zocalo" (main square), Palacion Nacional to see Diego Rivera's murals, Metropolitan cathedral, main downtown streets, the Fine Arts Palace, Alameda Park, the Revolutin Monument and many other interesting venues.
Lodging: Hotel Camino Real

Meals: B
Day 4. Mexico - Merida City
Breakfast at the hotel, check out and transfer to the airport for your domestic flight to Merida City where a van will be waiting for you to transfer you to your hotel
Lodging: Casa Lecanda Boutique Hotel
www.casalecanda.com

Meals: B
Day 5 Merida City Tour
Breakfast at the hotel. A privately guided city tour is the best ways to begin discovering all that Merida has to offer and learn of its rich past. Founded in 1542, this charming colonial city maintains its splendor till this day. In the city center you can appreciate historic buildings and architecture such as Government Palace, The Cathedral, The Municipal Palace and Casa de Montejo. Immerse yourself in the culture, try the unique cuisine and visit with locals while touring one of the most tranquil and charming cities of Mexico. Transfer back to your hotel or to a local restaurant to enjoy the culinary delights of the yucatecan cuisine Lodging: Casa Lecanda Boutique Hotel
Casa Lecanda Boutique Hotel | Meals: B
Day 6 Sotuta de Peón
Breakfast at the hotel. Sotuta de Peón, is the restoration project of a landmark located in the heart of the ancient henequen farming area near Merida, and gives a true glimpse of what was once a fully operational Henequen Hacienda in the grand style and tradition of this period. When touring Sotuta de Peon, visitors will literally travel back in time to witness the step-by-step process of the transformation of the Henequen, known throughout the region as Green Gold, from plant to fiber and from fiber to finished product. You will also have the opportunity to see the antique machinery that has been rescued from the ravages of time and rebuilt to precise operational capacity. Your tour will also include a visit to a typical Mayan House and Cenote where you can safely swim in its cool waters.
Meals: B
Day 7 Chichen Itza, Valladolid and Drop off Riviera Maya
Breakfast at the Hotel, Transfer to your hotel in Riviera Maya visiting Chichen Itza and Valladolid on the way. Dating back more than 1,500 years the famous Mayan Pyramids of Chichen-Itza is considered one of the most important archeological sites in Mexico and the world. Located only 1.5 hours from Merida, the tour is led by a certified private guide who will explain this mystical site, its history and the fascinating Culture of the Mayan people. During your visit you see the magnificent Kukulkan Pyramid, the Temple of Warriors, the Grand Ball Court, The Nunnery and the Astrological Observatory.

One of Mexico's "Pueblos Magicos" or translated to Magical town, this enchanting city is entirely painted a rich yellow that gives it uniformity and glamour. Known also as the City of three Cultures you will visit the majestic Convent of San Antonio de Padua, Various Mayan Pyramids, and its beautiful historic center & traditional crafts.
Meals: B
Rest of Day 7 & 8 At Leisure
Hotel not booked. We recommend that you book your own hotel or we can do this for you.
Day 9
Transfer to Cancun international Airport for departure.
End of our services.
Cultural Escape tour of Mexico - Itinerary Overview:
PRICES:

Please Contact Us Here
Credit Cards Welcome:



WHAT IS INCLUDED / NOT INCLUDED
For current availability contact us at
info@amazingperu.com
and we will send you the relevant trip dossier along with a 90 day fixed quote, terms and conditions. Please bear in mind that significant price reductions are available for groups. All our Luxury Tours are fully private and depart daily. Contact us for more information regarding the above tour, or to begin customizing your own itinerary.