Savoring a taste of Uruguay's acclaimed wine region
The tasting room at Uruguay's Juanico Winery.
Jennie & Denzil Verardo
Elk Grove, CA
Visiting wine regions is a hobby of ours, not only for the wine but because vineyards tend to occupy some of the world's most beautiful places. As Californians, we also appreciate the nexus between the grapes grown in our state and the same grapes grown in their country of origin.
Some of South America's best vineyards and wineries lie between 32° 53'S and 34°51'S in latitude. Within that narrow band (a width of about 119 miles) are Uruguay´s rising wine region, Argentina's famous malbec vineyards in the Mendoza region Chile's Casablanca and San Antonio valleys.
We wanted to visit Uruguay, since it was the only South American country we had not been to, but a trip solely to Uruguay didn't seem to justify the travel cost or the flight time. A little research, a good map and a trusted travel agency sent us off to more of South America's little visited wined country.
While this article will focus on undiscovered Uruguay, our adventure included Mendoza, Argentina, and Chile's central wine regions.
Making arrangements
Jennie is the "travel arranger" in our family, so she mapped out the route we wanted as wel as an itinerary that would take us from Uruguay to Argentina and then Chile. She contacted Amazing Peru (800/704-2915, www.amazingperu.com), a travel company headquartered in Lima that we had used for a trip to Venezuela and the Guianas and with witch we had been extremely pleased.
Agent Jim Turner, communicating with us by email, made all of our land arrangements. The total tour cost for the two of us was $15,400, which included 19 winery visit and tastings, all breakfasts, local guides and drivers, nine gourmet meals, five nights' accommodation in Uruguay and four nights in Argentina and all airport and ferry transfers. We booked three nights' accommodation in Chile and international flights separately.
Off we went on our South American wine and vineyard adventure, or, as we came to affectionately call it, our "Gluttony & Sloth Tour"!
Montevideo
We flew American Airlines form Los Angeles to Montevideo, Uruguay, via Miami. Montevideo has one of the most efficient Immigration processes we have experienced. Once a plane arrives, almost every Immigrations kiosk opens and a flash board lists the number of the kiosk for the next passenger in line, making for a very quick entry into the country.
When we arrived at the baggage carousel, our luggage was already out. We had deplaned, passed through Immigration and retrieved our luggage in less than minutes!
Our guide and driver met us as we exited Customs, and we were driven to our hotel, the Sofitel Montevideo Casino on the Rambla Republica de Mexico. Opened in 1921, it has been refurbished to its original splendor, and it was truly elegant.
The Rambla Republica de Mexico is a very impressive, wide promenade that runs for miles between the beach, the highway and the town. A drive along it felt more like we were in a resort town than in the capital of a South American country.
A visit to the historic Mercado del Puerto, a huge enclosed market near the port, was a sensory delight.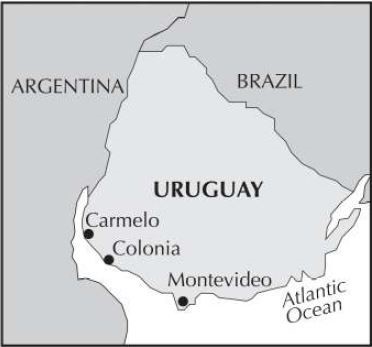 Open-grill barbecues were cooking sausage, chicken and beef, enticing customers into their restaurants and ordered a "standard" grilled chicken, which turned out to be anything but standard. It was a feast that cost us relatively few Uruguayan pesos. Bread pesto dip, sautéed onions and peppers width sausage, French fries and a quarter of a chicken plus a salad set us back the equivalent of a whopping $5 each!
The grapes
Wine is an important part of the culture of Uruguay. The country's major grape, tannat, is little known in the United States. Originally from France, it was taken to Uruguay in the late 19th century. The varietal had become nearly extinct in France due to the ravages of the plant louse phylloxera, but in Uruguay it thrived.
It is a big-bodied red wine that, at its worst, is highly tannic but at its best is a refined competitor with the world's great red wines.
Wine tasting in Uruguay was an experience unlike any we have had. Perhaps because it is an emerging region or perhaps because there are not many tourist, compared with the numbers in other wine grape-growing countries, or maybe due to the innate Uruguayan hospitality – whatever the reason – it is an experience not to be missed. A typical tasting consisted of several generous pours of different vintages and blends of tannat as well as a white wine such as Albariño or chardonnay. We were very careful once we realized that a "pour" was not a California measured amount but a quarter to a third of a glass of wine.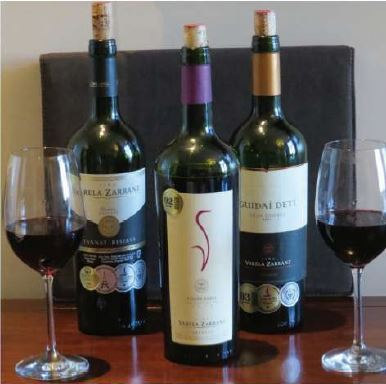 A typican Uruguayan wine-tasting "pour" - definitely not California's measured one ounce!
The tastings also usually included an appetizer platter of bread, olive oil, cheese and cold cuts and might even feature cheese pies and ice cream sundaes with wine sauce.
The wineries
Our first winery and vineyard visits were just outside Montevideo, itself. The Juanico Winery had wonderful historic buildings, with the main structure dating from 1830.
After a tour of the grounds, we tasted their wines with appetizers and enjoyed watching the cero-cero (southern lapwing) and horneros birds that were numerous in the vineyards and grass areas.
Our next winery was Vinos Finos H. Stagnari, pefhaps Uruguay's best known. It has earned the most awards for its tannats, not only in Uruguay but internationally.
We tasted numerous wines, again with appetizer plates. The highlight was the award-winning 2012 Tannat Viejo from their Salto vineyards.
After our first day's tasting experiences, our guide took us on a tour of historic Montevideo. The National Vongress Building, the 1804 cathedral, sculptures representing the 1811 revolution, and the historic downtown, with portions of the old city wall intact, were only a few of the sights not to be missed. Our next day's adventure took us to the Canelone wine region. Passing fields of pampas grass, orchards and vineyards, we visited Bodega Bouza, where we an included lunch with our wine pairings. The experience was wonderful.
All aspects of Bouza's wine operation are accomplished by hand, from the picking to the processing.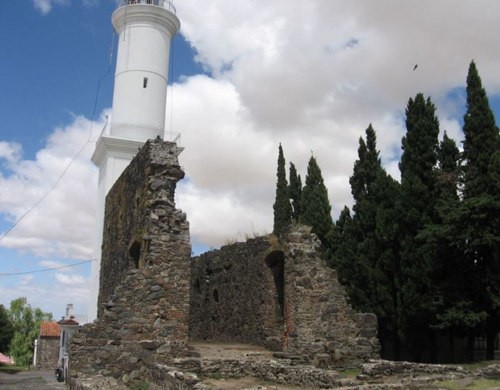 Colonia's lighthouse next to the ruins of the 17th-century Convent of San Francisco.
An Outstanding experience
One of our favorite experiences in Uruguay took place at our next stop, Viña Varela Zarranz, a multigenerational family-operated winery with beautiful grounds. We took a tour of their cellars and their huge, old oak tanks (16,900 liters each!).
We had an outdoor tasting hosted by family member Victoria Zarranz and her fiancé, Alejo, and were served a very large appetizer plate, two large pieces of cheese pie and numerous pours of their wine.
While not yet exported to the US, their wines are not to be missed by those traveling to Uruguay's wine country. All were excellent.
Just when we thought we might burst from the sheer volume of food accompanying the wine, out came an ice cream sundae dessert with a tannat souce poured over the top paired with a glass of late-harvest chardonnay. Incredible!
We spent time discussing the complexities of dofferent wines, the difficulties and costs of exporting to the US and the current lack of infrastructure to support travelers' visits to wineries. After several hours with this wonderful, knowl-edgaeble couple, we returned to Montevideo.
Historic Colonia
The next morning we left Uruguay's capital and drove to Colonia del Sacramento, passing fields of cultivated farmland. The city is best visited on foot, although care must be taken because the historic streets are made of rock and cobblestones that are uneven in many places.
We began our tour in the barrio that was the heart of the city. Walking through the city gate that was once the fortified entrance to the town, we visited one of the old colonial-era Portuguese houses, now an art shop. Continuing our walk, we passed the ruins of a 17th century convent and a lighthouse built in 1845. The national flower was in bloom on the palo borracho tree – a really beautiful sight – and bright parrots in the trees were making a loud racket as they stripped small branches to use for their nests. We had luch at the quaint, historic La Florida restaurant. The meal was excellent, and the colonial setting was a perfect way to enjoy the ambiance of this former capital.
Carmelo
After lunch, we traveled on to Carmelo in the far western section of the country. Carmelo lies at the junction of the Paraná and Uruguay rivers where they form the Río de la Plata.
Right on time, the guide and driver arranged by Amazing Peru arrived to take us for our next winery experience. We passed hundreds of acres of soybeans, a major crop there, on our way to the historic Los Cedros de San Juan winery.
Begun in 1854, the winery's buildings and underground foundations were remarkable for their state of preservation. We toured the aging and barrel rooms and watched workers separating grapes by hand, pulling out only the best for their premium-quality wines.
The tasting room reminded us of something out of the American Old West, with its long bar and antique tins lining the shelves. Again, the wines were excellent, with the tannat a wonderful expression of this little-know grape.
One final winery
Our final stop was the Irurtia winery. The older, family-owned wineries like this one are making good to great wine, and wine aficionados are missing out if they don't experience them.
For those who are not wine enthusiasts, these locations brim with historic structures and beautiful scenery, which can be combined and Uruguay's rural towns.
We thoroughly enjoyed our Uruguayan visit and could not believe we had previously ignored this wonderful, scenic, tourist-friendly country. The high quality of many of Uruguay's wines and the recent international awards received by them mean it is only a matter of time bejore they and their country are "discovered" by the rest of the world.
For current availability contact us at
info@amazingperu.com
and we will send you the relevant trip dossier along with a 90 day fixed quote, terms and conditions. Please bear in mind that significant price reductions are available for groups. All our Luxury Tours are fully private and depart daily. Contact us for more information regarding the above tour, or to begin customizing your own itinerary.
"Well-run multipurpose agency, with several offices in Peru with an extensive roster of trips, from family and honeymoon to luxury trips..."
Frommers Guides 2023
"Highly recommended, professional and well-organized, 'perfect tour', knowledgeable guides"
Footprint Handbook 2023
"Transportation services and accommodations are top-notch, and the guides are flexible and extremely helpful"
Fodor's Guides 2023
"
Amazing Peru
has more than 20 years of experience in the travel industry. Tours to Machu Picchu can be customized to include airfare, all meals, accommodations and travel insurance, and last from six to 14 days. Amazon cruises, horseback riding, river rafting, hiking and biking throughout Machu Picchu, Cuzco, Sacred Valley, Lake Titicaca..."
USA TODAY
"Move Over, Machu Picchu - How disabled travelers can tour Machu Picchu."
Christoper Reynolds
"Looking for an adventure of lifetime to kick-start married life? Consider these honeymoons with a difference… "
Perfect Wedding Magazine
"Experience"
Amazing Peru is the leading company in Latin America that combines exclusivity, luxury and authenticity for Peruvian holidays. It will tailor a 15- days tour for you that takes in Lake Titicaca, the Sacred Valley, Machu Picchu, Lima, Cuzco, Colca Canyon and the Amazon rainforest."
The Travel and Leisure Magazine UK
"A reputable firm with an impressive variety of unique excursions… "
At Home and Away with Alan Whicker CBE Magazine
Spend Christmas on a guided tour of breathtaking Machu Picchu and visit famous Lake Titicaca. Amazing Peru offers luxury Christmas vacations in Machu Picchu along the Inca Trail...
Trails Outdoor Travel Guide
"Amazing Peru takes families on both luxury and affordable tours throughout Peru. Children 12 and older are welcome to come along on the 12-day Peru Family Adventure Tour. Raft, backpack, kayak and bike through some of Peru's most unforgettable sights including Machu Picchu. The Family Tour to Peru is tailored for children younger than 12 years of age with an educational component. Relax on Peru's northern beaches, explore the high-altitude Lake Titicaca, trek through the Amazon, and visit Machu Picchu on this 16-day journey. Check out Amazing Peru's 12-day Family Tour."
Global Post USA
"
You can fly over Machu Picchu - or take a helicopter ride
Who needs hiking when you can fly? The company Amazing Peruoffers hour-long flight tours right over the Sacred Valley of the Incas. The plane fits a minimum of eight passengers, and it can also be chartered. Passengers fly over Tipon and Pikillaqta, both archaeological sites, Pisaq and the Urubamba Valley, Sacsayhuaman, and, of course, Machu Picchu itself. Flights can be longer or shorter as requested. "
"
You can Om your way through Machu Picchu
Machu Picchu is known as one of the most spiritual lands in the world, so why not go all out and Om your way through its ruins? Amazing Peru offers a seven-day yoga tour where visitors travel from Lima to Cuzco and finally to Machu Picchu, where they stay in the famed sanctuary Lodge hotel right outside of the ruins. They participate in multiple meditation and yoga sessions throughout the trip, but the highlight is a private session smack-dab in the middle of the ruins. Now that is an Om experience worth waiting for."
Yahoo Lifestyle
A Private, customized tour to Venezuela, Guyana, Suriname, French Guiana and Trinidad & Tobago. "Any traveler with a well-developed sense of adventure will be rewarded with an incredible experience on this journey to a birding paradise designed and operated by Amazing Peru."
"Savoring a taste of Uruguay's acclaimed wine region - An outstanding experience"