Ecuador & Galapagos Deluxe Adventure Land Tour
Quito - Baltra - Bartolome - Isabela - Santiago Island - Papallacta - Cotopaxi
14 days / 13 nights.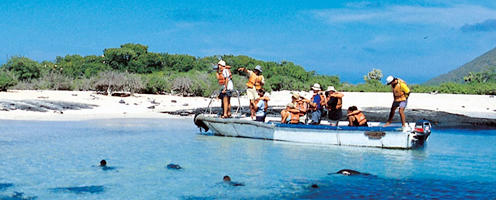 ITINERARY
Day 1. Quito
Arrival to Quito, reception and transfer to the Plaza Grande Hotel. Rest and relax from your flight.
Day 2. Quito and Museo Guayasamin B, L
After breakfast, a full day's private guided visit of colonial Quito, declared by UNESCO as a world heritage site in 1978. A visit to the Old Town, including the Plaza de la Independencia. The President still conducts business here, so access to the inside may be limited. It is the home of the tomb of Sucre and also houses interesting 17th and 18th century paintings. A visit to the Parque Alameda that houses the oldest astronomical observatory in South America, as well as an impressive monument of Simon Bolivar. The Plaza de San Francisco was constructed by the Spanish in 1553, and the church has a high altar made of gold and beautifully carved ceilings. You shall also visit La Compañia, the finest of all Jesuit churches. Damaged through the years by fires and earthquakes, it has since been restored and has a richly sculptured facade and interior. In the afternoon head over to the Museo Guayasamin for a look at some contemporary Ecuadorian art, the Templo Del Hombre, and the famous collected Incan artifacts and jewelry designs by the artist. Accommodation at the 5 star Plaza Grande Hotel.
Plaza Grande Hotel | Meals: B & L
Day 3. Quito - Baltra - Bartolome B, L, D
After breakfast, transfer to the airport for the flight to the Galapagos. Arrival and board the First Class Beluga Yacht. Settle in to your cabin. Start the cruise around the islands.
Meals: B, L & D
Day 4. Isabela - Urbina Bay - Tagus Cove B, L, D
Meals: B, L & D
Day 5. Fernandina - Punta Espinoza - Isabela - Punta Vincente Roca B, L, D
Meals: B, L & D
Day 6. Santiago Island - Puerto Egas - Rabida B, L, D
Meals: B, L & D
Day 7. Charles Darwin Station - Santa Cruz Highlands - Baltra - Royal Palm B
After breakfast, spend half the day on the Islands. Around noon, head back to Baltra, where you will be picked up by private transfer to Santa Cruz Island and the super exclusive 5* Royal Palm Hotel in your own private Villa with panoramic views. Afternoon tour of the world famous Charles Darwin Research Station. Visit the breeding center and Giant Tortoises located at Puerto Ayora, where you will witness the various stages of development of these world renowned, indigenous tortoises that can easily outlive us. While enjoying a close encounter with these impressive animals you will hear all about their fascinating life history and the story of "Lonesome George" one of the more famous island residents.
Meals: B
Day 8 and 9. Royal Palm Hotel B, L
Day trips to 2 of the Galapagos Islands (Santa Fe Island, North Seymour Island and Bachas, or South Plaza Island and Punta Carrion). Or choose from a variety of activities: snorkeling, kayaking, mountain biking, or take a day trip to Academy Bay, Tortugas Bay, Pelican Bay, etc. In the evenings, enjoy the environs of the luxurious hotel.
Meals: B & L
Day 10. Royal Palm - Baltra - Quito B
After breakfast, and a relaxing morning, transfer to the airport on Baltra Island (about 30 minutes) and board the flight to Quito. Arrive Quito and transfer to the 5 star Plaza Grande Hotel.
Plaza Grande Hotel | Meals: B
Day 11. Quito - Papallacta B, L.
After breakfast, private transfer to Papallacta, an incredible natural spa and resort some one and a half hours drive from Quito. Papallacta is perched on a high Andean valley at the entrance of the "Cinnamon Trail", the same route that the Spanish conquistador Francisco de Orellana followed in 1542. The trail led to the discovery of the Amazon River and now serves as a gateway to the Ecuadorian Amazon region. The resort places an emphasis on its therapeutic properties, offering its visitors onsite health and adventure. This includes taking enjoying the waters at the thermal springs, diverse treatments at the health spa, and possible walks in the Cayambe-Coca Ecological Reserve. After lunch, a choice of spa treatments or something a little more strenuous, such as a visit to the Cayambe-Coca Ecological Reserve. This reserve is composed mainly by páramo, primary forests, rivers and lagoons. It is regarded as home to perhaps the greatest animal and plant diversity in Ecuador.

Hundreds of species of birds are found throughout the reserve and is very popular with ornithologists.

Accommodation at the resort.
Meals: B & L
Day 12. Papallacta - Cotopaxi B, L
After breakfast, free time to enjoy Papallacta before starting our journey south in private transportation through the spectacular avenue of the volcanoes towards Cotopaxi, the most famous of all Ecuatorian volcanoes. We shall pass Pasochoa, Ruminahui and Corazon volcanoes along this spectacular journey. Arrival to the fabulous colonial Cienega Hacienda, located close to Cotopaxi and our accommodation for the night. After lunch, visit to the Hacienda of San Agustin de Callo, at the very foot of Cotopaxi. The Hacienda has been written about by the Spanish chronicler, Cieza de Leon (1553) and is one of only two major Inca sites in Ecuador. This temple or palace was built around 1440 AD by one of the last Inca emperors, Huayna Cápac, and to this day the remaining rooms prevail as a magnificent sample of the unique style of Inca construction. The site is currently being investigated by Dr. David Brown of the University of Texas, the funding of which was provided by the National Geographic Society. Previously unknown portions of Inca walls and foundations have been discovered throughout the restoration process of the house. We shall then visit an indigenous market in the area such as Saquisili and Puquilli. These are amongst the most authentic markets in Ecuador, with their colourful displays of spices, fruits and hand woven ponchos.
Meals: B & L
Day 13. Cotopaxi - Quito B, L
After breakfast, a free day of leisure to enjoy the beautiful setting of the Cotopaxi National Park. Choose between horseback riding, walks in the area or a spot of fishing in the nearby rivers. Lunch at the hacienda before returning to Quito for accommodation.
Meals: B & L
Day 14. Quito B
After breakfast, transfer to the airport for your international flight home.
Meals: B
End of our services.
Ecuador & Galapagos Deluxe Adventure Land Tour Itinerary Overview:
PRICES:

Please Contact Us Here
Credit Cards Welcome:



WHAT IS INCLUDED / NOT INCLUDED
For current availability contact us at
info@amazingperu.com
and we will send you the relevant trip dossier along with a 90 day fixed quote, terms and conditions. Please bear in mind that significant price reductions are available for groups. All our Luxury Tours are fully private and depart daily. Contact us for more information regarding the above tour, or to begin customizing your own itinerary.