Adventure Along the Ecuador Route
Quito - Tandayapa - Blanco River - Cotopaxi
8 days / 7 nights.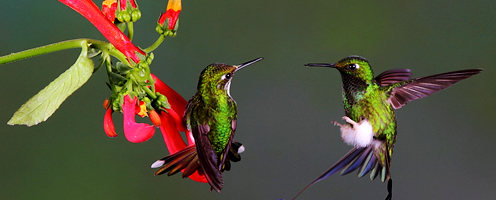 ITINERARY
Day 1. Saturday: Quito
Arrival in Quito, and transfer to your hotel.
Day 2. Sunday: Quito - Tandayapa
Today we shall begin our fabulous adventure with a bike-ride along the beautifully diverse Nono road. We first climb (in a 4x4 vehicle) the steep mountain road to viewpoints high over Quito and the surrounding mountains! We then bike downhill and along a rushing stream until Tandayapa, complete with different mountain and forest views at every turn. From Tandayapa, we continue onto our lodge located in a private reserve in the thickly - forested mountains.
Day 3. Monday: Tandayapa
Today we have an opportunity for a full day's exploration of the reserve's cloud forest trails. We shall walk through the forest, passing pristine rivers while enjoying and observing a variety of endemic trees, plant and wildflower species including orchids, bromeliads, heliconias and anthuriums. Some of the main attractions are the hundreds of bird species that inhabit the exuberant protected forest, as well as anteaters, armadillos and deer. Return to the lodge.
Day 4. Tuesday: Tandayapa
A guided bird-watching hike in the early morning as we look for colourful tanager flocks, trogons, toucans, bright woodpeckers and many more.

Then for those who wish, horses will be available for a nice ride along the quiet roads in the area or perhaps explore the reserve on your own. Return to the lodge.
Day 5. Wednesday: Tandayapa - Blanco River Lodge
After breakfast, we will leave on an early drive through the verdant landscapes down to the mountains to raft both Toachi River and /or the Blanco River. You will receive training in both safety techniques and rafting techniques before commencing our rafting adventure. Once on the river, you can expect both the action of thrilling whitewater and the tranquility of drifting silently through tropical rainforests. During the trip, we will stop for lunch beside the river, before traveling on to our hosteria alongside the river. Enjoy the afternoon hiking in the forest, or just relaxing by the pool.
Meals: B & L
Day 6. Thursday: Blanco River Lodge - Andes
Today we will have more white water action on the lower Blanco river as well as enjoying the beautiful surroundings. Afterwards, we will drive up a wonderfully serpentine road into the heart of the Andes.
Day 7. Friday: Andes - Cotopaxi - Quito
Today we shall take our 4x4 up to the perfect snowcapped cone of Cotopaxi volcano in the midst of the paramo vastness of Cotopaxi National Park. We shall take our bikes for an exhilarating ride downhill from the refuge, with vast views and the towering cone of the volcano above us before returning to Quito.
Day 8. Saturday: Quito - Otavalo - Quito
A visit to the world famous colourful Indian market of Otavalo, some two hours drive from Quito. With its many impressive arts and crafts of the local people, the market dates back to pre-Inca times when jungle products from the east were traded with highland products. Traditional dress is observed throughout the market. We shall also visit Cotacachi for its incredible range of quality leather goods. A typical lunch will be provided before returning to Quito for your final evening.
End of our services.
Adventure Along the Ecuador Route Itinerary Overview:
PRICES:

Please Contact Us Here
Credit Cards Welcome:



WHAT IS INCLUDED / NOT INCLUDED
For current availability contact us at
info@amazingperu.com
and we will send you the relevant trip dossier along with a 90 day fixed quote, terms and conditions. Please bear in mind that significant price reductions are available for groups. All our Luxury Tours are fully private and depart daily. Contact us for more information regarding the above tour, or to begin customizing your own itinerary.