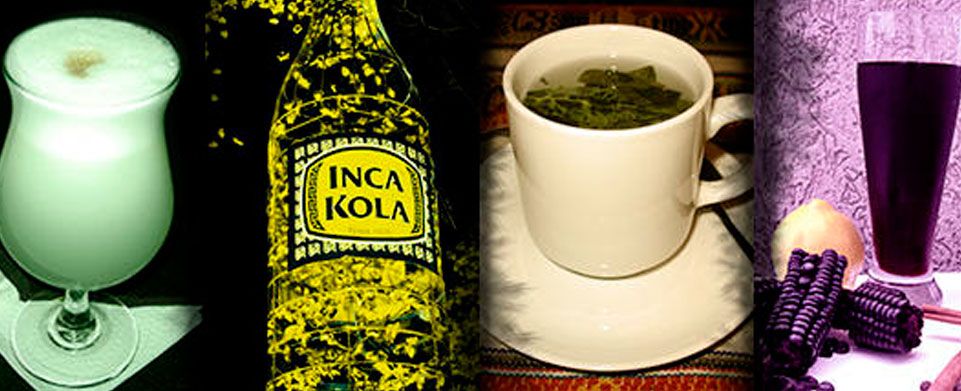 As it has already been mentioned once before on this blog, Peru is a cradle for fusion gastronomy as well as a treasure chamber for archeological and cultural sites. However, it is not only the exquisite national cuisine and the incredible mountain citadel of Machu Picchu that Peru musters its pride in, but also the national drinks are great monuments of domestic pride. The Pisco Sour cocktail represents the crown jewel of these drinks and it serves as a symbol for Peruvian culture along with the 3 other highly treasured national drinks, Mate de coca, Inca Kola and Chicha morada.
Together these 4 Peruvian creations represent integrated parts of Peruvian history, culture and social life, which is exactly why your Peru Vaccation should include the enjoyment of one or all of the above mentioned nationally treasured refreshments.
Pisco sour
The Pisco Sour is the national drink of Peru and through the centuries this alcoholic refreshment has become an integral part of Peruvian cultural identity, so much so that it even has a day dedicated to its celebration; Pisco Sour Day (1st Saturday of February). Surprisingly strong yet refreshing, this national favorite, made from the strong local brandy –like liquor Pisco, egg whites, sugar and freshly squeezed lime juice, is a must-try for any tourist. However it hasn't always been around. Viticulture in Peru began back in colonial times, when wine stalks were imported from Spain, but the production of Pisco did not begin until the 17th century, when the king banned all wines originating from Peru, thus leaving a huge grape surplus which in turn gave way for Pisco. Today the regions of Ica and Pisco are, as the latter name indicate, dedicated to the production of wine and Pisco. In fact they are the biggest Peruvian producers due to the extraordinary climate presiding in these regions. While in Peru it is recommended to visit these 2 wine- producing regions and learn about the interesting manufacturing process of both wine and Pisco, as well as of course taste the different kinds. In general it is recommended that you don't miss out on enjoying the world famous Peruvian cocktail, which has gotten excellent reviews from past tourists, while travelling around in this amazing land of the Inca.
Inca Kola
Another drink which is considered a significant part of Peruvian culture is the soft drink named Inca Kola. Ever since 1935, where a British immigrant couple named the Lindley's released a new soft drink made from the sweet and fruity local herb called Hierba Luisa, Inca Kola has been one of a kind. With its sweet fruity taste that many foreigners associate with bubble gum, and its bright yellow color, Inca Kola sets itself apart from any other soft drink on the market. In fact since the beginning, Inca Kola has with its local name and ingredients offered a national alternative to the popular foreign imported Coca Cola, thereby speaking to the Peruvian sense of nationalism. Aiding this effort is the fact that Inca Kola has been promoted through the use of phrases such as "Peru's Drink", the "National Flavor" and so on, which only added to the strong sentiment of nationalism and evidently turned this sweet flavored soda into a part of Peruvian culture. When the Coca Cola Company in 1997 realized that they couldn't compete with the strong Peruvian nationalism associated with Inca Kola, they joined a partnership with them. Today Inca Kola is not only a national icon but also the number one selling soft drink in Peru, outcompeting Coca Cola, making it a true Peruvian experience to enjoy a glass of this unique and much treasured piece of nationalism.
Mate de coca
Moving on to a highland favorite is the Mate de Coca, prepared by submerging coca leaves into boiled water, thus creating a somewhat bitter yet sweet tea, very similar to green herbal tea. The consumption of coca leaves goes back thousands of years, in fact the earliest discovery of coca leaves was found in the Huaca Prieta settlement, which dates back to 2500 BC.
Furthermore, traces of coca leaves have also been found in Peruvian mummies that date back 3000 years. Coca has a highly medicinal and spiritual usage, making it a greatly important part of Highland culture and way of life. Medicinally the coca leaves are used to cure headaches, fatigue, thirst, boost energy and most importantly for tourists, to cure altitude sickness. Furthermore, the leaves help ease the hard physical labor of the farmers of the highlands and the women use them to reduce pain as well as induce strength during childbirth. Spiritually, coca is used as offerings to the gods or to give thanks, some farmers give thanks to Mother Earth or pray for a good harvest by burying the leaves in the ground. Since the beginning of time the consumption of coca has been an important part of Peruvian culture, earning it a significant place in religious and spiritual ceremonies, celebrations and everyday life.
Chicha Morada
Another Peruvian favorite is Chicha Morada, a non-alcoholic drink prepared by boiling water with purple corn, fruits, cinnamon, and flavored with sugar and lime juice. This unique purple corn used in Chicha has for centuries been used in the Peruvian highlands to color drinks and food, due to its deep shade of purple. It essentially possesses the same biological qualities as regular yellow corn, except for the intense color, yet research has revealed that the purple corn is a potential source to prevent obesity and it also possesses anti -inflammatory capabilities. All these beneficial qualities and the distinct spicy yet sweet taste, only adds to the appeal of this tasty and adored drink. Today chicha morada can be bought in bottles in every supermarket and it is enjoyed by most of the Peruvian population.
It is evident that a true Peruvian experience doesn't just include tasting the unique cuisine or going on a tour of the amazing ancient ruins that the country possess, no it also include enjoying and savoring the unique and tasteful national drinks of Peru, which are also engraved in the Peruvian culture and lifestyle.
Contact us at info@amazingperu.com for a great offer or tailor your own trip fitting your specific personal needs and preferences. We also offer unique Machu Picchu Travel packages that let you experience the amazing ancient citadel of Machu Picchu.