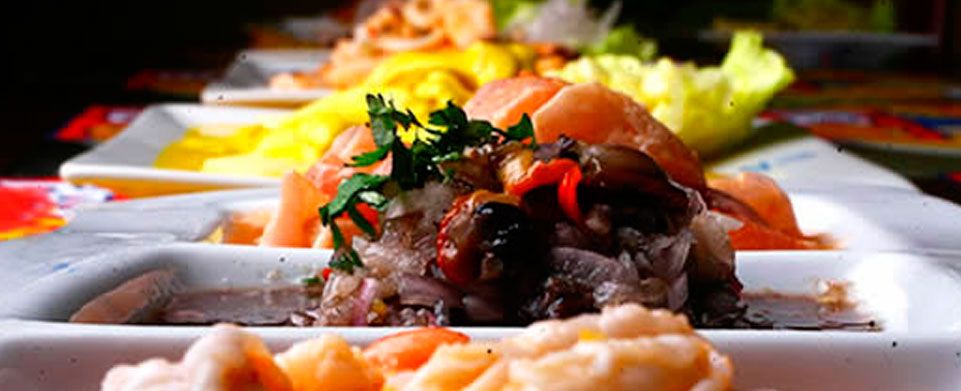 Peruvian gastronomy has within the last couple of years gained international recognition for its interesting fusions, exotic ingredients and great diversity. Just this January, Peru won the World Travel Award for Best Culinary Destination, the travel industry's equivalent to the Oscar; beating renowned culinary destinations such as France, China, Italy, Spain and Thailand.What made Peruvian cuisine stand apart in this competition is the great gastronomic fusions that it possesses, which is largely attributed to the culinary impacts of several different outside cultures such as Spanish, African and Asian. These diverse food cultures are cleverly combined to create a new and unique genre of fusion gastronomy.
A great example of a culinary fusion is the combination between the Spanish and traditional Andean also called "criolla" food, which came to life during the colonial era when the Spanish conquerors arrived in Peru. Since then it has been the cradle of amazing dishes such as the strong flavored Papas a la Huancaina and the spicy Aji de Gallina, both prepared with boiled potatoes and a creamy milky cheese- like sauce with a hint of the Peruvian chili called aji. Moreover in the 19th century the colonial powers brought African labor slaves to Peru thus giving life to the African –Peruvian fusion, which expresses itself in dishes such as the tasteful Tacu Tacu, perfectly fried rice with buttery beans and the remarkably delicious Anticuchos, skewered cow hearts marinated in sweet homemade barbeque sauce and grilled over coal.
To conclude the circle of fusions is the inspiration from Asian gastronomy which was introduced to Peru in 1849 when a wave of Chinese immigrants hit the country bringing with them the unknown ingredient of soy sauce which came to inspire one of the most popular dishes in Peru called Lomo Saltado, consisting of juicy strips of meat, fresh tomato and onion fried in a salty soy sauce together with homemade french fries and served with a side of steaming hot rice. All these dishes and fusions are strong testimonials to the evident culinary diversity that Peruvian gastronomy possesses. Combining the delicate flavors to create a previously unknown taste explosion that leaves an impression of several exotic flavors on your palate, is what makes Peru a master of fusion food.
Another contributing factor in making Peru a culinary "super power" is the extraordinary variety and high quality of the fresh ingredients such as aji, the Pervian chili, maize, fresh seafood and potatoes. Peru possesses over 3000 different kinds of potato, which is frequently used to prepare many different inspiring dishes such as the local dish Causa; a kind of cold multi-layered mashed potato specialty, made from the locally grown yellow potato and creatively seasoned with fresh lime and spicy chili. As to the origin of this dish one explanation is that during the Pacific war in 1879 a woman invented the dish and began selling it in order to make money to support the soldiers at war. Her sales slogan for the dish was "por la causa" (for the cause), giving name to the dish. Regarding the fresh seafood for which Peru is internationally renowned, the most popular dish both internationally and locally is the Ceviche which consists of finely cut pieces of raw fish marinated in lime and chili giving the dish a fresh kick. Ceviche steams from Inca times where fruit juice was used to marinate and preserve the fresh fish and it wasn't until the Spaniards arrived with lime and onion that these ingredients replaced the fruit juice as a marinade, bringing the dish to its modern day version.
Since the Peruvian culinary culture has reached international recognition and appreciation it is spreading with vast speed throughout the world with restaurants popping up all over. Just within the last 12 months 3 new Peruvian themed restaurants opened up in England. Adding to this trend is influential Peruvian chef Gaston Acurio who has opened up more than 30 Peruvian restaurants and projects in 9 different countries. One thing that he especially focuses on is developing foreign and local based social projects such as the Pachacútec Culinary School located in the desert of Lima, which has provided over 80.000 Peruvians with a free culinary education. Through these projects he has given hope and opportunities to thousands of people by using the Peruvian culinary arts.
While Peruvian gastronomy has gained popularity and is now obtainable in most of the world it is still an invaluable experience for your palate to visit the country itself. Travel through its different beautiful regions tasting various local dishes made from the freshest ingredients available, while experiencing the rich diverse cultural impacts of Africa, Asia, Europe and Peru itself, all of which lies at the heart of Peruvian culture as well as gastronomy.
Amazing Peru can also arrange special gastronomy tours throughout Peru.