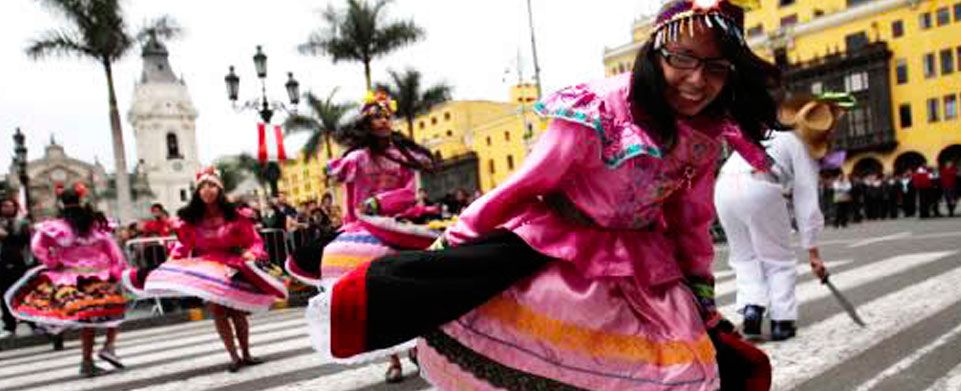 The Cultural Sector Committee of the Union of Ibero-American capital cities has declared Lima, the leading spawning ground for Ibero American culture in 2014. This nomination of the Peruvian capital was based on its ability to recover its archeological cultural heritage and provide public spaces for art, thereby reaffirming to the rest of the world, that Lima nurtures and supports its cultural scene and its many expressions.
Hopefully the new declaration will also help mold the common conception of Lima to align it with those of Buenos Aires or Rio de Janiero, who are recognized as cultural and art fostering capitals. On the other hand a mere visit to Lima would certainly convince anybody, that the capital of Peru is in fact bursting with culinary, cultural and archeological experiences that will exceed every expectation.
First of all Lima is home to many diverse and interesting cultures, which further manifests itself in the wide selection of archeological sites left behind by ancient Peruvian cultures. Included in this selection are 2 important demonstrations of Peruvian cultural heritage, Pachacamac and Caral. Pachacamac was once one of the most important religious city centers for coastal Peru, and Caral is considered the first pre-ceramic urban settlement in the Americas. The former is located approximately 40 km south-east of Lima and consists of remarkable pyramids, temples and dwellings built by different pre-Hispanic Peruvian cultures. The latter is situated 182 kilometers north of Lima and features impressive architectural complexes, counting the Great Pyramid, the Amphitheater Pyramid and the Elite's Residential Quarters. The ancient city of Caral was inhabited by over 3000 people between 2600 BC and 2000 BC, meaning that the cultural civilization was almost as ancient as those of Egypt, Mesopotamia, India, and China. With this kind of cultural manifestation of older civilizations available just outside the city, Lima's centric location proves itself highly valuable to visiting tourists. While in Lima it is also highly recommendable to join a city tour and visit some of Lima's countless historic mansions and history or art museums, to gain insight in the city's amazing and intriguing history
Secondly, Lima's versatile activity programs cater to almost every need, including those of adrenaline-seeking tourists, by offering activities such as white river rafting in the beautiful mountain-filled Lunahuana Valley, or paragliding off the coast line of Miraflores, with the beautiful scenery of Larcomar and La Costa Verde beneath. For an equally interesting, yet less adrenaline-filled day, go to the incredibly beautiful Islas Ballestas located in the Pacific Ocean 260 km south of Lima, near the city of Paracas. Take a boat ride around the islands and experience the inhabiting wildlife, including the endemic Humboldt penguins, which spend its life at sea, sea lions, dolphins, whales and several different bird species, counting pelicans and the large Condor. The abundant fauna inhabiting these islands is owed to the cold Humboldt Current, which flows through the waters of the Ballestas Islands, filling it with plankton and microorganisms, thereby further enriching the ecosystem of the sea with fish such as Palm Ruff, croakers and anchovies. Pick any of these above mentioned activities and you are guaranteed a unique experience.
Thirdly, Lima has much more to offer besides the historical, archeological, cultural and adrenaline-filled experiences described above, including the honor of being the capital of this year's Best Culinary Destination in the world. Peru won this nomination due to its innovative gastronomy which sets itself apart by being based on interesting fusions between many great culinary nations and cultures that through the centuries have melted together into a unique symbiotic taste experience, this fact alone attracts many tourists. But if you are on the lookout for an alternative way of enjoying the city's culinary scene, Lima offers great authentic cooking classes, where you can learn to prepare the national favorite dishes, such as Lomo Saltado, Aji de Gallina and Causa rellena. Or if you prefer something sweet, visit the Andean chocolate Museum in Miraflores and learn about the national cacao industry, while learning to make your own chocolate.
All of these diverse cultural attractions and adrenaline-filled activities only go to show that Lima's tourist activity catalogue is booming with history, art and culture-related offers. Furthermore, it demonstrates that the city plays an active role in the development and sustainability of its cultural scene and heritage, thus reinforcing the fact that Lima's reputation should depict the city as an art and culture fostering capital much like Buenos Aires.
Contact us at info@amazingperu.com for a great offer or tailor your own trip fitting your specific personal preferences, and let us make your Peru Vacation a unique experience. Amazing Peru can also arrange several unique Machu Picchu Tours. Please contact us for further details.