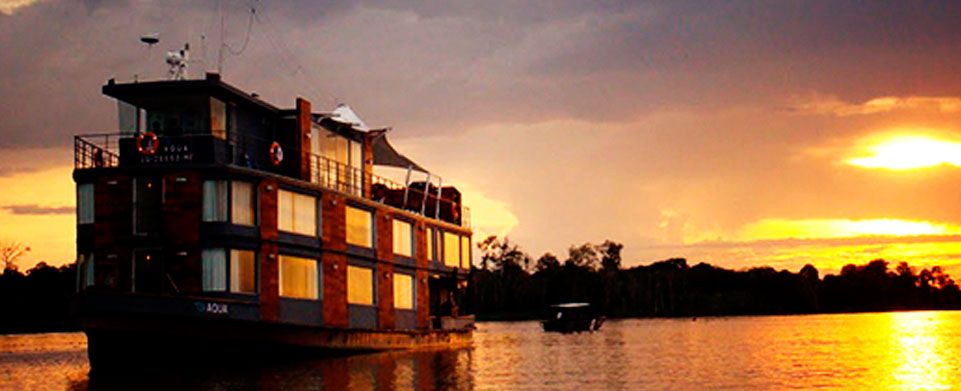 Imagine experiencing the Peruvian jungle and its rich ecosystem from the comfort of your own luxury cabin. So pick your favorite cruise and go explore the immense Amazon Rainforest where you can observe several hundred different endemic plant and animal species. There is simply nothing left to do but to pack your bags and make your pick. The most popular cruise is along the Amazon River which has its point of origin in Peru where the Ucayali and Marañon Rivers come together. It is one of the longest rivers in the world and contains around 20% of the world's fresh water, which means that it holds more water than any other river in the world.
Discovered by Francisco De Orellana in 1541, when he stumbled upon it in his pursuit of El Dorado. He named the river after the ferocious Amazon warriors because they left such a great impression on him upon their encounter. The majority of the cruises of the Amazon River start off in Iquitos, the city in the heart of the jungle and goes to Leticia in Colombia or Tabatinga in Brazil. Your journey can even take you as far as Manaus in Brazil. These spectacular journeys around the breathtaking Amazon forest, enables you to experience the sounds, sights, nature and tranquility of the jungle from the comfort of your cruise ship. Furthermore, it lets you into the magical wonder that is the Amazon Rainforest where from the boat you have the opportunity to reach some of the most remote places of the Amazon River, providing you with a peaceful and serene environment. Most of the cruises let you combine your journey with visits to the Indian communities within the jungle or jungle hikes and bird-watching. It is also highly recommendable to include a visit to the Pacaya Samiria National Reserve and experience the 85 lakes and rich biodiversity, including 250 species of fish and 450 types of birds, which are to be found within the reserve. This only goes to show that the reserve is the ideal destination for bird lovers and nature enthusiast. Choose between long cruise ship journeys all the way to Brazil or short 2 to 3 day cruises. Emerge yourself in the luxury of a gorgeous 19th-century style wooden Amazon River boat equivalent to a 5 star hotel or travel in comfort with an adventure cruise ship and experience the magic of the Amazon forest.
Combine luxury accommodation and interesting cultural sightseeing or jungle exploration with a remarkable journey on the Amazon River. Contact us at info@amazingperu.com for further information or tailor your own trip fitting your specific personal needs and preferences. We also offer several Machu Picchu Travel combinations so pick your favorite preferred way to experience the breathtaking ancient citadel of Machu Picchu.