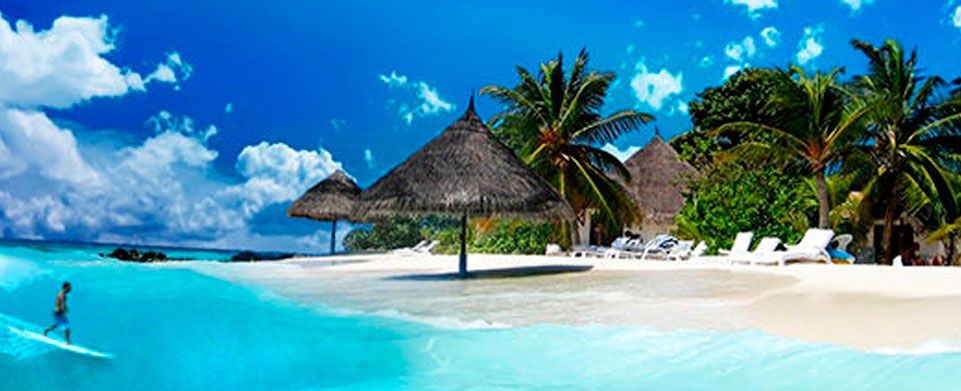 Peru might not be as famous for its beaches as say Brazil or Colombia, but that does not mean there are no excellent beaches in Peru. In fact the exact opposite seems to be the case, especially in the northern region of Peru, where there is an outstanding selection of beaches, offering great sunbathing, surfing-and watersport possibilities. More specifically the best beaches are said to be in Trujillo, Paracas, Mancora and Piura, but also Punta Hermosa close to the capital of Lima offers some excellent beaches.
So grab your sun hat and sun screen because it is time to head out for a day of pure seaside fun at one of the beautiful sandy beaches of Peru. Follow our guide for beach lovers and surf fans and you can not go wrong.
Starting off the list of sun-filled destinations are the beaches surrounding the little town of Mancora, a city which still possess the subtle charm of the small fisher village it once was. Nowadays it is the hottest beach destination in the north of Peru for both international and domestic tourists. Lined up with the open sea on one side and the dry desert on the other, the beaches of Mancora are essentially one long drag of beaches, located on the long beach stretch between Piura and Tumbes. If you are looking for a magical seaside vacation with year-round sun and warm water temperatures, perfect waves for surfing and exquisite seafood in the many open-aired restaurants, Mancora should be your destination.
Next on the list of dream seaside destinations, is the beautiful white-sand beach of Punta Sal, located 23 km north of Mancora. This tranquil beach serves as a quieter alternative to the somewhat festive beaches of Mancora, and with its crystal- like blue water and calm atmosphere, it makes for a perfect getaway destination in the warm summer months of January and February. Furthermore, the beach offers perfect fishing and diving conditions, and from June to October you are even able to see humpback whales from the shore.
Moving on, we reach the beaches of Lobitos, located 70 km south of Mancora. These beaches are known for their ideal surfing conditions and surfers from all over Peru as well as international tourists, stream to Lobitos to enjoy the great surf. The 2 dominant currents in the waters off Lobitos are the cold Humboldt from the South and the Equatorial from the North, which meet just of the shore of Cabo Blanco, creating colder water temperatures. It is this lesser warm climate and waters that subsequently combined with the strong wind creates the almost unparalleled surfing conditions that Lobitos is known for. If you are a surf fan, do not miss the opportunity to experience and savor the surfers' paradise of long waves, great barrels, excellent left waves and superb point breaks at Lobitos beaches.
Load up on sunscreen and head to the next beach on our list which offers total tranquility and relaxation just 13 kilometers outside of Mancora in an area called Los Organos. Based around a small fishing village, these beautiful beaches are rather unique because they are wide, sandy and secluded which means that the waters are calm and thus highly suitable for kids. However, Los Organos is also a great place for water activities such as sport-fishing or surfing at one of its 3 ideal surf points; Casablanca, Organitos and Los Organos, which are considered some of the best surf beaches in Peru. With the beautiful scenery, secluded location and ideal sporting conditions, it is not hard to understand why these beaches have become popular, especially when you consider the very affordable prices.
Moving further south to the capital of Lima we find some rather excellent beaches just 1, 5 hour outside of the city at Punta Hermosa. These beaches prove that it is not necessary to travel all the way to the north of Peru to experience the relaxing beaches and the warming sun of Peru. Yet even though many local Limeños and tourists stream to these beaches every summer weekend to enjoy the sun, Punta Hermosa's beaches are best known for their perfect surfing conditions, especially at the beaches Señoritas and Caballeros. The waves there are perfect throughout the year, but quite powerful with fast breaks, making it an unsuitable place for beginners. However, if surfing is not your thing then you can focus on enjoying the great sunbathing conditions and the beautiful sunsets instead.
The last beach on our list is Paracas which offers the perfect way of adding some extra adventure and beach relaxation to your Peru Vacation. Besides being blessed with a spectacular coastline and stunning sunsets, Paracas also possess a widely diversity of wildlife in the Paracas National Reserve. This gives visiting tourists the chance to obtain an extra adventurous experience and observe a great selection of animals such as Penguins, albatross, flamingos, sea lions, turtles and dolphins. From December to January the city of Paracas is blessed with warm temperatures, making it perfect for both adventure and seaside recreation.
Pack your bags, not forgetting the sunscreen, and head out to explore the beautiful coastlines of Peru. Prepare for complete seaside relaxation and fun water sports activities at one of the above mentioned wonderful beaches. Contact us at info@amazingperu.com for a great offer or tailor your own trip fitting your specific personal preferences. We also offer unique Machu Picchu Travel packages that let you experience the amazing ancient citadel of Machu Picchu.