Trek to Andagua Valley of the Volcanoes
After breakfast, start the long jouney towards the Valle de Andagua at 3600m. The journey will take about 10 hours. Accommodation at a basic hotel
Arequipa, Andagua, Vorire
4 days / 3 nights.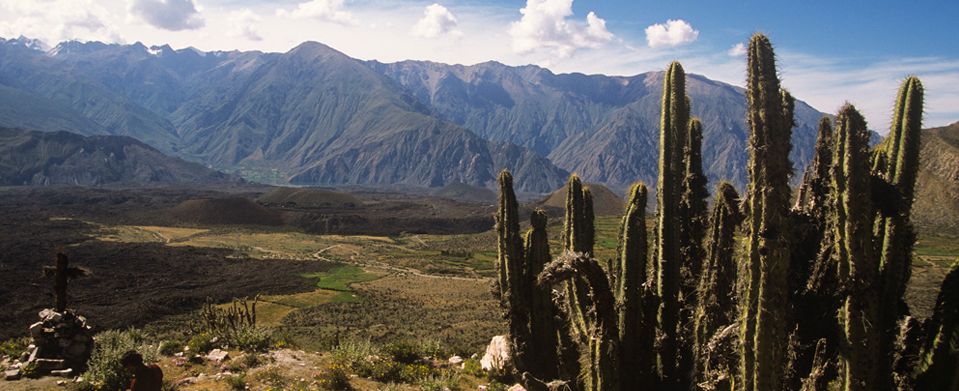 ITINERARY
Day 1: Arequipa
After breakfast, start the long jouney towards the Valle de Andagua at 3600m. The journey will take about 10 hours. Accommodation at a basic hotel.
Day 2: Andagua
Very early visit to several ancient towns and then to the viewpoint of the Valley at 3800m. From here you will visit the small town of Soporo and then onto Jechepita, a small volcano. Return to Andagua and accommodation.
Day 3: Andagua
Today you will visit the twin volcanoes called Los Mellizos at 3700m. A short hike to the rim to view the cones, the craters and a dramatic panorama of the valley. Among the black and grey volcanic cones and lava fields spreading across the landscape are thick, green groves of sanqallo cacti, with chachacoma cacti and ancient, bright-green yareta plants. In the background, in purple hues, against the cristal blue sky, rears Mount Escribano of the Chila massif, separating the valley from the Colca Canyon. Dominating all are the eternally-white Coropuna and Solimana volcanoes. Return to the Valle de Majes. Accommodation in Corire in a basic hotel.
Day 4: Corire
After breakfast, you will go up to the petroglyphs of Toro Muerto. Here you will see the petroglphys that were carved by the Wari in the 9th and 10th centuries. A visit to a pre-hispanic cemetery before lunch and then return to Arequipa.
Trek to Andagua Valley of the Volcanoes Itinerary Overview:
WHAT IS INCLUDED / NOT INCLUDED
For current availability contact us at
info@amazingperu.com
and we will send you the relevant trip dossier along with a 90 day fixed quote, terms and conditions. Please bear in mind that significant price reductions are available for groups.
Recommendations:
"Amazing Peru is a well-run multipurpose agency, with several offices in Peru and an extensive roster of trips, offering everything from family and honeymoon tours to luxury trips and adventure and jungle tours, for virtually any budget" Frommers Guides 2013
"Highly recommended, professional and well-organized, 'perfect tour', knowledgeable guides" Footprint Handbook 2013
"Transportation services and accommodations are top-notch, and the guides are flexible and extremely helpful" Fodor's Guides 2013
Amazing Destinations is a reputable firm with an impressive variety of unique excursions…" - At Home and Away with Alan Whicker CBE, Magazine At Home and Away with Alan Whicker CBE
Recommended in Bonnie's South America Travel Blog at About.com .