Kuelap Inca Trek
Transfer from your hotel for lunch with a visit to Sonche Canon and spectacular views of waterfalls. A trip onto Huancas, an Inca Mitima village, famous for their ceramic pottery. A visit to a deep Cave in the afternoon, and transfer to a local hostel
Chachapoyas,Gran Vilaya, Kuelap
7 days / 6 nights.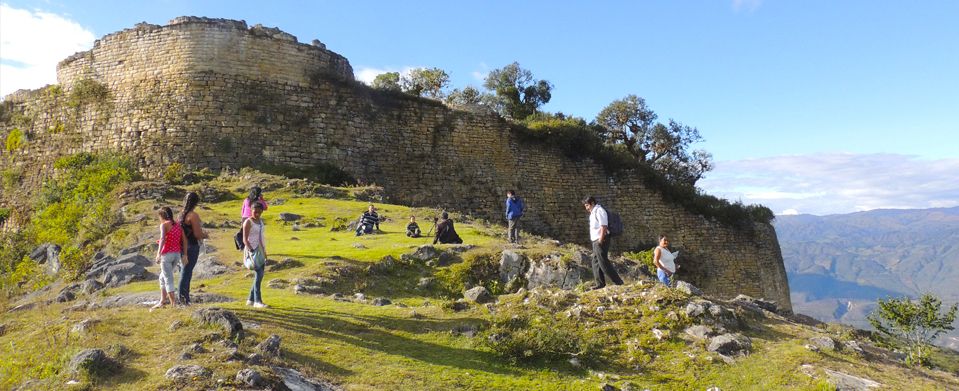 ITINERARY
Day 1: Chachapoyas
Transfer from your hotel for lunch with a visit to Sonche Canon and spectacular views of waterfalls. A trip onto Huancas, an Inca Mitima village, famous for their ceramic pottery. A visit to a deep Cave in the afternoon, and transfer to a local hostel.
Meals: L
Day 2: Karajia - Belen
Bus journey to Karajia to see the famous sarcophagus in the hillside and then to Cohechan. From here you will trek down to Belen. Here there is an ancient glacial tarn with a meandering river that extends for miles and with fabulous panoramic views. Overnight camping.
Day 3: Vilaya Valley
After breakfast, you will descend to Vista Hermosa on a mile long Inca staircase to a level of banana and coffee plantations in the Vilaya Valley. Overnight camping.
Meals: B
Day 4: Sarcophagus
Visit the Sarcophagus in a remote pristine cliff. Night in Vista Hermosa.
Day 5: Gran Vilaya ruins
A fabulous hike to Carcahuasi, one of the finest multi walled citadel discoveries of Gene Savoy's 1986 expedition. The expedition claimed a discovery of 23,000 ancient stone structures in this cloud forest. A further 3 lost stone citadels were reported in this area in 2003. Overnight camping.
Day 6: Abra Yumal pass
Today you will cross the backbone of the Cordillera through cloud forest, filled with orchids and bromeliads. On horseback you will then follow up a ridge above the valleys on an ancient road that had been excavated 5 metres deep into the mountain. The Abra Yumal pass has fabulous views with clouds below, where one of the main tributaries of the Amazon River violently flows into the Amazon Basin. Dinner, Jacuzzi and night at the lodge.
Meals: D
Day 7: Kuelap
Today you will spend the whole day at Kuelap fortress, known as "the Machu Picchu of the North". With over 400 buildings inside 5 levels of walls, it is the largest stone structure in the whole of South America. Orchids and bromeliads cover the walls and trees inside the beautiful fortress. On the return trip to Chachapoyas, you will observe the burial Tower of Macro located on a cliff and overlooking the Utcubamba River, and then you will visit the spectacular Sonche Canon. Return for dinner and accommodation in Chachapoyas.
Meals: D
For more treks around the Amazonas region such as the 5 day Lake of the Condors tour, please enquire for further details.
End of our services.
Kuelap Inca Trek Itinerary Overview:
PRICES:

Please Contact Us Here
Credit Cards Welcome:



WHAT IS INCLUDED / NOT INCLUDED
For current availability contact us at
info@amazingperu.com
and we will send you the relevant trip dossier along with a 90 day fixed quote, terms and conditions. Please bear in mind that significant price reductions are available for groups.
HIGHLY RECOMMENDED BY:
"Well-run multipurpose agency, with several offices in Peru with an extensive roster of trips, from family and honeymoon to luxury trips..."
Frommers Guides 2018
"Highly recommended, professional and well-organized, 'perfect tour', knowledgeable guides"
Footprint Handbook 2018
"Transportation services and accommodations are top-notch, and the guides are flexible and extremely helpful"
Fodor's Guides 2018
"
Amazing Peru
has more than 20 years of experience in the travel industry. Tours to Machu Picchu can be customized to include airfare, all meals, accommodations and travel insurance, and last from six to 14 days. Amazon cruises, horseback riding, river rafting, hiking and biking throughout Machu Picchu, Cuzco, Sacred Valley, Lake Titicaca..."
USA TODAY
"Move Over, Machu Picchu - How disabled travelers can tour Machu Picchu."
Los Angeles Times
"Looking for an adventure of lifetime to kick-start married life? Consider these honeymoons with a difference… "
Perfect Wedding Magazine
"Experience"
Amazing Peru is the leading company in Latin America that combines exclusivity, luxury and authenticity for Peruvian holidays. It will tailor a 15- days tour for you that takes in Lake Titicaca, the Sacred Valley, Machu Picchu, Lima, Cuzco, Colca Canyon and the Amazon rainforest."
The Travel and Leisure Magazine UK
"A reputable firm with an impressive variety of unique excursions… "
At Home and Away with Alan Whicker CBE Magazine
Spend Christmas on a guided tour of breathtaking Machu Picchu and visit famous Lake Titicaca. Amazing Peru offers luxury Christmas vacations in Machu Picchu along the Inca Trail...
Trails Outdoor Travel Guide
"Amazing Peru takes families on both luxury and affordable tours throughout Peru. Children 12 and older are welcome to come along on the 12-day Peru Family Adventure Tour. Raft, backpack, kayak and bike through some of Peru's most unforgettable sights including Machu Picchu. The Family Tour to Peru is tailored for children younger than 12 years of age with an educational component. Relax on Peru's northern beaches, explore the high-altitude Lake Titicaca, trek through the Amazon, and visit Machu Picchu on this 16-day journey. Check out Amazing Peru's 12-day Family Tour."
Global Post USA