Escorted Fixed departure Tours
Climbing Alpamayo
Climb to the Col camp at 5300m. (This section can sometimes be the most technical part of the entire climb). The high col is between Alpamayo and it's sister peak, Quitaraju. The guides will fix ropes in advance of the group on one steep
Alpamayo 5947m
8 days / 7 nights.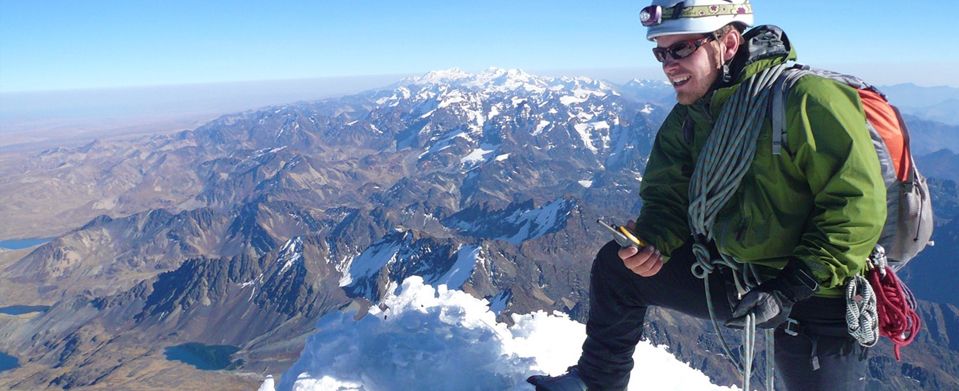 ITINERARY
Day 1:
After breakfast, drive to Cashapampa to start the trek upto Campo Llamacorral. This first day is a steady three hours of trekking.
Day 2:
Again a not too hard day as you trek to Alpamayo basecamp at 4300m.
Day 3:
Climb to the Moraine camp, which is mainly steep terminal moraine with a few sections of easy rock.
Day 4:
Climb to the Col camp at 5300m. (This section can sometimes be the most technical part of the entire climb). The high col is between Alpamayo and it's sister peak, Quitaraju. The guides will fix ropes in advance of the group on one steep section. One fixed rope and two belayed sections are normal in order to reach the col.
Day 5:
Ascent to the summit of Alpamayo, lying at 5947m. The climb starts with a reasonably steep glacier to the bergschrund. There are several steep ice pitches, around 50°. The final couple of pitches increase to 70° resulting in grading of around Alpine AD/AD+ or Ice Grade 3. We allow 7 hours to reach the summit. Return to the Col Camp.
Day 6:
Day in reserve in case of bad weather
Day 7:
Return to the base camp.
Day 8:
Return to Cashapampa and then Huaraz for a celebratory dinner.
Escorted Fixed departure Tours Climbing Alpamayo Itinerary Overview:
WHAT IS INCLUDED / NOT INCLUDED
For current availability contact us at
info@amazingperu.com
and we will send you the relevant trip dossier along with a 90 day fixed quote, terms and conditions. Please bear in mind that significant price reductions are available for groups.
Recommendations:
"Amazing Peru is a well-run multipurpose agency, with several offices in Peru and an extensive roster of trips, offering everything from family and honeymoon tours to luxury trips and adventure and jungle tours, for virtually any budget" Frommers Guides 2013
"Highly recommended, professional and well-organized, 'perfect tour', knowledgeable guides" Footprint Handbook 2013
"Transportation services and accommodations are top-notch, and the guides are flexible and extremely helpful" Fodor's Guides 2013
Amazing Destinations is a reputable firm with an impressive variety of unique excursions…" - At Home and Away with Alan Whicker CBE, Magazine At Home and Away with Alan Whicker CBE
Recommended in Bonnie's South America Travel Blog at About.com .