Escorted Fixed departure Tours - Climbing Aconcagua
Transfer from the airport to the hotel in Mendoza. In the evening there will be an instructive talk about the Aconcagua Mountain followed by some pictures of the mountain. (Food is not included)
Aconcagua climb - Normal route 6962 m
19 days / 18 nights.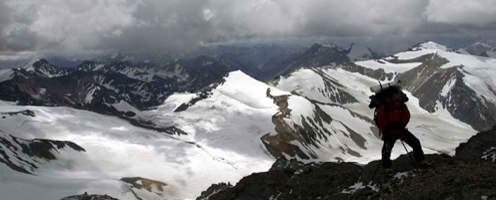 ITINERARY
Day 1: Mendoza
Transfer from the airport to the hotel in Mendoza. In the evening there will be an instructive talk about the Aconcagua Mountain followed by some pictures of the mountain. (Food is not included)
Day 2: Mendoza - Puente del Inca 2726m
Today you will obtain all the necessary permits. Transfer to Puente Del Inca for lunch. During the Inca Empire this area was a strategic point for the crossing of the Andes mountain. Over the last few years it has become the point of departure for every expedition whose aim is to get the summit of Aconcagua. Puente Del Inca hotel was built here and it is the only lodging in this strategic zone, five kilometers from the Aconcagua Park trailhead. Lodging in hostel. Preparation of the loads for the mules. Dinner.
Meals: D
Day 3: Puente del Inca - Confluencia
Drive to the entrance of the Park. Trek to Confluencia Camp. Dinner.
Meals: D
Day 4: Confluencia - Plaza Francia - Confluencia
Today you will visit the base of the mythical South Face of the Aconcagua mountain. This is the most vertical face of the mountain, with glaciers and walls almost 3000 metres tall. During the trekking, you will gain 700 metres that will give your body good acclimatisation. Reach Plaza Francia. Lunch and return to Confluencia. Dinner.
Meals: L & D
Day 5: Confluencia - Plaza de Mulas
Trek to Plaza de Mulas Base Camp through the Horcones Valley. Once you have arrived at Plaza de Mulas, you will spend the night in the fully prepared campsite. With dining tents, another for the kitchen, a third tent for equipment storage, and toilets. Here workers will prepare delicious meals and provide an excellent service. Lodging in the base camp. Dinner.
Meals: D
Day 6: Plaza de Mulas
Resting day. Short trek to the glacier. Practice with crampons.
Day 7: Plaza de Mulas - Camp 1 (Canada) 4900m - Plaza de Mulas
Trek to Camp 1 and return to Base Camp.
Day 8: Plaza de Mulas
Resting and acclimatisation day.
Day 9: Plaza de Mulas - Camp 1 "Canadá"
Climb to Camp 1. Dinner.
Day 10: Camp 1 "Canadá" - Camp 2 "Nido de Cóndores" 5200m
Climb to Camp 2.
Day 11: Camp 2 "Nido de Cóndores"
Resting and acclimatisation day.
Day 12: Camp 2 "Nido de Cóndores" - Camp 3 "Berlín" 5800m
Climb to Camp 3.
Day 13: Camp 3 "Berlín" - Summit - Camp 3 "Berlín"
Climb from Camp 3 to the summit and return to Camp 3.
Day 14: Camp 3 "Berlín" - Plaza de Mulas
Descent to Plaza de Mulas. Dinner.
Meals: D
Day 15: Plaza de Mulas - Puente del Inca
Descent to Puente del Inca. Lodging in the hostel. Dinner.
Meals: D
Day 16: Puente del Inca - Mendoza
Drive to Mendoza. Lodging in the hotel. Farewell dinner.
Meals: D
Day 17: Transfer to the airport
Transfer from the hotel to the airport.
Day 18: Reserve day
Extra day for contingencies that may prevent the normal development of the program.
Day 19: Reserve day
Extra day for contingencies that may prevent the normal development of the program.
End of our services.
Escorted Fixed departure Tours Climbing Aconcagua Itinerary Overview:
PRICES:

Please Contact Us Here
Credit Cards Welcome:



WHAT IS INCLUDED / NOT INCLUDED
For current availability contact us at
info@amazingperu.com
and we will send you the relevant trip dossier along with a 90 day fixed quote, terms and conditions. Please bear in mind that significant price reductions are available for groups.
HIGHLY RECOMMENDED BY:
"Well-run multipurpose agency, with several offices in Peru with an extensive roster of trips, from family and honeymoon to luxury trips..."
Frommers Guides 2018
"Highly recommended, professional and well-organized, 'perfect tour', knowledgeable guides"
Footprint Handbook 2018
"Transportation services and accommodations are top-notch, and the guides are flexible and extremely helpful"
Fodor's Guides 2018
"
Amazing Peru
has more than 20 years of experience in the travel industry. Tours to Machu Picchu can be customized to include airfare, all meals, accommodations and travel insurance, and last from six to 14 days. Amazon cruises, horseback riding, river rafting, hiking and biking throughout Machu Picchu, Cuzco, Sacred Valley, Lake Titicaca..."
USA TODAY
"Move Over, Machu Picchu - How disabled travelers can tour Machu Picchu."
Los Angeles Times
"Looking for an adventure of lifetime to kick-start married life? Consider these honeymoons with a difference… "
Perfect Wedding Magazine
"Experience"
Amazing Peru is the leading company in Latin America that combines exclusivity, luxury and authenticity for Peruvian holidays. It will tailor a 15- days tour for you that takes in Lake Titicaca, the Sacred Valley, Machu Picchu, Lima, Cuzco, Colca Canyon and the Amazon rainforest."
The Travel and Leisure Magazine UK
"A reputable firm with an impressive variety of unique excursions… "
At Home and Away with Alan Whicker CBE Magazine
Spend Christmas on a guided tour of breathtaking Machu Picchu and visit famous Lake Titicaca. Amazing Peru offers luxury Christmas vacations in Machu Picchu along the Inca Trail...
Trails Outdoor Travel Guide
"Amazing Peru takes families on both luxury and affordable tours throughout Peru. Children 12 and older are welcome to come along on the 12-day Peru Family Adventure Tour. Raft, backpack, kayak and bike through some of Peru's most unforgettable sights including Machu Picchu. The Family Tour to Peru is tailored for children younger than 12 years of age with an educational component. Relax on Peru's northern beaches, explore the high-altitude Lake Titicaca, trek through the Amazon, and visit Machu Picchu on this 16-day journey. Check out Amazing Peru's 12-day Family Tour."
Global Post USA