Guyana Tour
Georgetown - Kaieteur Falls - Iwokrama Santa Mission - Fort Island
7 days / 6 nights.
ITINERARY
Day 1: Arrival Guyana
Arrive, reception and transfer to your hotel.
Day 2: Kaieteur Falls - Georgetown (Breakfast & lunch)
After breakfast, departure to Ogle airport for the 1 hour flight to Kaieteur Falls. At 741 feet, this is the highest sheer drop waterfall in the world. Kaieteur supports a unique microenvironment with Tank Bromeliads, the largest in the world, in which the tiny Golden frog spends its entire life and the rarely seen Guiana Cock- of-the-rock nesting close by. You may also see the famous flights of the Kaieteur Swifts or Makonaima Birds which nest under the vast shelf of rock carved by the centuries of water, hidden behind the falling water. The tour includes a view of the falls from 5 vantage points, along with several aerial views. Lunch at the falls before a guided tour of the area. Return to your hotel. City tour of historical Georgetown. Georgetown the chief port and capital and city of Guyana is situated on the bank of the Demerara River Estuary. Most of the buildings in the city are wooden with unique architecture dating back to the 18th and 19th centuries. The main street in Georgetown provides several excellent examples of old colonial homes, a prime example of which is the State House, built in 1852. The most famous building must be St. George's Cathedral which is one of the world's tallest freestanding wooden buildings and was consecrated on 1892. At the beginning of the Avenue of the Republic stands the Public Library housed in the Carnegie Building. Other historic buildings along this promenade are the Town Hall, a splendid example of Gothic architecture, and further along are the Victoria Law Courts and St. Andrews Kirk. St. Andrew's is the oldest surviving structure of any church in Guyana. No trip to Georgetown would be complete without a visit to the Botanical Gardens and zoo. The Botanical Gardens houses one of the most extensive collections of tropical flora in the Caribbean and are laid out with ponds, canals, kissing bridges and a bandstand. Over 100 species of Guyanese wildlife can be observed at the Zoo including a wide variety of tropical fishes and birds. The Demerara Harbour Bridge is the longest floating bridge in the world and connects the east and west banks of the Demerara River.
Meals: B & L
Day 3: Iwokrama Rainforest Reserve (Breakfast, lunch and dinner)
After breakfast, flight to Iwokrama. Pick up from Annai and trip to the Rainforest Reserve. Along the way, a visit to the Cock-of-the-rock trail, and the Canopy Walkway. Continue the journey on to the Field Station with its comfortable cabins made from natural materials. After lunch. In the cool of the afternoon, explore the Screaming Piha Trail accompanied by an Iwokrama Ranger. After dinner, opportunity for some caiman spotting. The tour includes a view of the falls from 5 vantage points, along with several aerial views. Lunch at the falls before a guided tour of the area. Return to your hotel for dinner and accommodation.
Meals: B, L & D
Day 4: Iwokrama - Amerindian villages (Breakfast, lunch and dinner)
Early boat ride around Indian House Island and the Amerindian village of Fair View. Depending on the water level, you may also have an opportunity to see the petroglyphs. Return to the field station.
Meals: B, L & D
Day 5: Georgetown
Transfer to the airstrip for your return flight to Georgetown. Transfer to your hotel.
Day 6: Santa Mission & Amerindians
Early visit to the Amerindian reservation of Santa Mission. This trip takes 1 hour by road and by boat along the Demerara River. You will witness how the natives make their craftwork and also learn about their lifestyle. Afternoon return and transfer to your hotel.
Day 7: Visit to Fort Island
Morning visit to Fort Island, the Old Dutch Fort where you will learn about the history of Guyana. Return to the airport for your return flight home.
End of our services.
Guyana Tour Itinerary Overview:
PRICES:

Please Contact Us Here
Credit Cards Welcome:



WHAT IS INCLUDED / NOT INCLUDED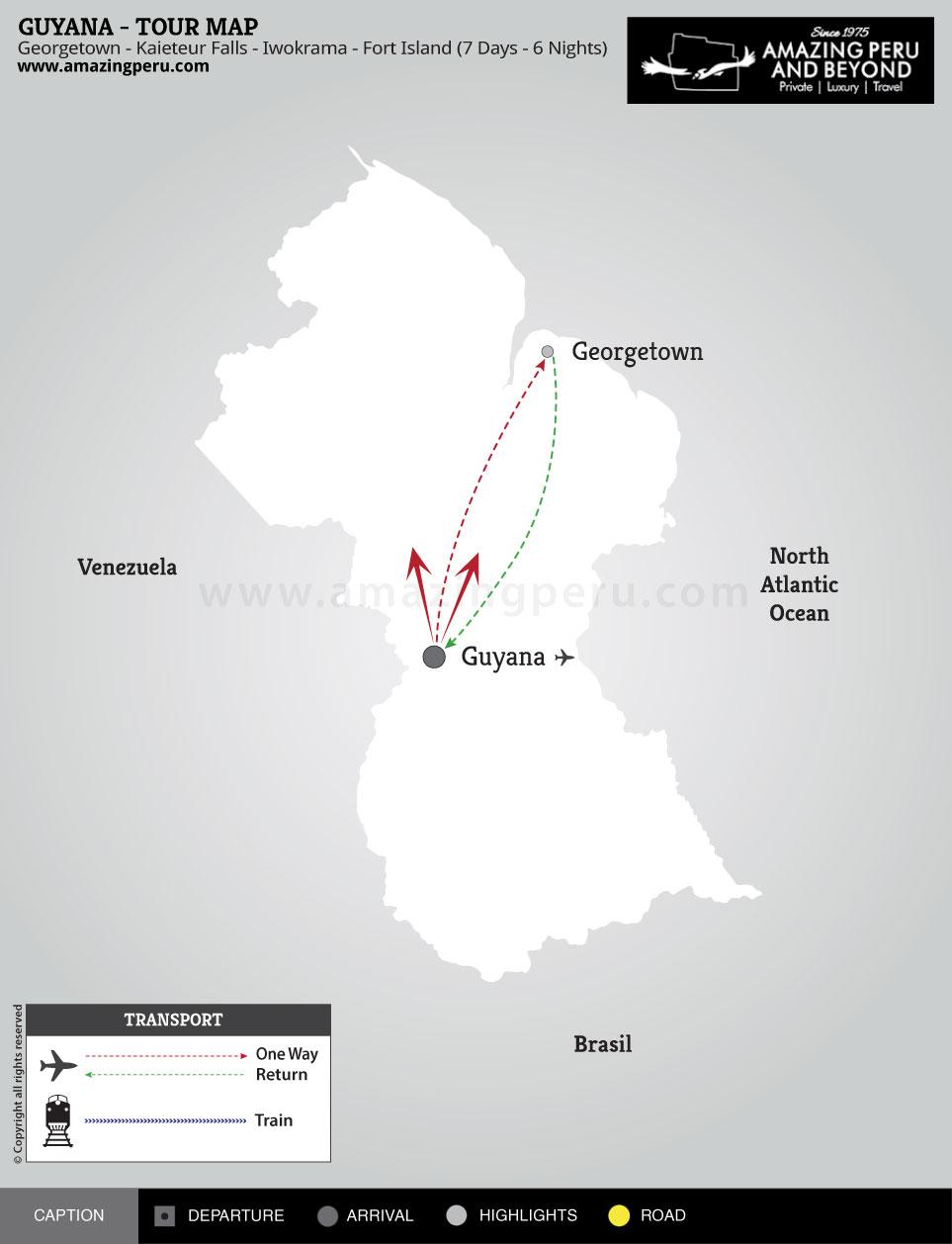 Guyana Tour
Georgetown - Kaieteur Falls - Iwokrama Santa Mission - Fort Island
7 days / 6 nights.
For current availability contact us at
info@amazingperu.com
and we will send you the relevant trip dossier along with a 90 day fixed quote, terms and conditions. Please bear in mind that significant price reductions are available for groups.
HIGHLY RECOMMENDED BY:
"Well-run multipurpose agency, with several offices in Peru with an extensive roster of trips, from family and honeymoon to luxury trips..."
Frommers Guides 2018
"Highly recommended, professional and well-organized, 'perfect tour', knowledgeable guides"
Footprint Handbook 2018
"Transportation services and accommodations are top-notch, and the guides are flexible and extremely helpful"
Fodor's Guides 2018
"
Amazing Peru
has more than 20 years of experience in the travel industry. Tours to Machu Picchu can be customized to include airfare, all meals, accommodations and travel insurance, and last from six to 14 days. Amazon cruises, horseback riding, river rafting, hiking and biking throughout Machu Picchu, Cuzco, Sacred Valley, Lake Titicaca..."
USA TODAY
"Move Over, Machu Picchu - How disabled travelers can tour Machu Picchu."
Los Angeles Times
"Looking for an adventure of lifetime to kick-start married life? Consider these honeymoons with a difference… "
Perfect Wedding Magazine
"Experience"
Amazing Peru is the leading company in Latin America that combines exclusivity, luxury and authenticity for Peruvian holidays. It will tailor a 15- days tour for you that takes in Lake Titicaca, the Sacred Valley, Machu Picchu, Lima, Cuzco, Colca Canyon and the Amazon rainforest."
The Travel and Leisure Magazine UK
"A reputable firm with an impressive variety of unique excursions… "
At Home and Away with Alan Whicker CBE Magazine
Spend Christmas on a guided tour of breathtaking Machu Picchu and visit famous Lake Titicaca. Amazing Peru offers luxury Christmas vacations in Machu Picchu along the Inca Trail...
Trails Outdoor Travel Guide
"Amazing Peru takes families on both luxury and affordable tours throughout Peru. Children 12 and older are welcome to come along on the 12-day Peru Family Adventure Tour. Raft, backpack, kayak and bike through some of Peru's most unforgettable sights including Machu Picchu. The Family Tour to Peru is tailored for children younger than 12 years of age with an educational component. Relax on Peru's northern beaches, explore the high-altitude Lake Titicaca, trek through the Amazon, and visit Machu Picchu on this 16-day journey. Check out Amazing Peru's 12-day Family Tour."
Global Post USA