Escorted Ecuador Tour 2
Quito - Coca - Amazon Jungle - Cotopaxi - Riobamba - Cuenca|
13 days / 12 nights.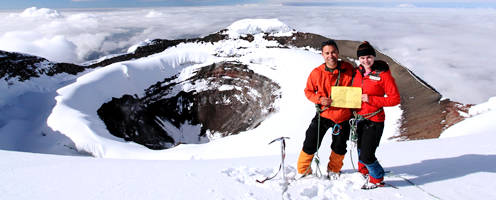 ITINERARY
Day 1: Quito
Arrival in Quito, reception and transfer to your hotel.
Day 2: Quito
After breakfast, a half day visit of colonial Quito, declared by UNESCO as a world heritage site in 1978. A visit to the middle of the world monument concludes the day. Return to your hotel.
Meals: B
Day 3: Quito - Coca - Amazon Jungle
After breakfast, transfer to the airport for the flight to Coca, a 25-minute flight that takes you over the Andes Mountains' majestic snow-covered peaks and down over 8500 feet (2600 meters) into the Amazon Region. A motorized canoe will cover the 2 hour trip down the sediment-rich waters of the Napo, the largest river in Ecuatorian Amazonia. Arrival to the lodge from where several species of monkey are often sighted.
Meals: B
Day 4: Amazon Jungle
After breakfast, a choice of activities including exploring several trails which lead through pristine terra firme forest, where 150 foot kapok trees tower above and roots form huge buttresses to give trees support. A favorite activity of our guests is to paddle dugout canoes along tannin-rich black-water creeks and lakes, where luxuriant lianas, orchids, bromeliads and palm trees thrive. Night walks and canoe trips, with the aid of flashlights, often reveal creatures seldom seen during daylight such as caiman (of the alligator family) and giant insects.
Meals: B
Day 5: Amazon Jungle
Free day with a variety of tour options including river trips and further treks into the rainforest.
Day 6: Amazon Jungle - Coca - Quito
After breakfast, transfer to the airport for the return flight to Quito and transfer to your hotel.
Meals: B
Day 7: Quito - Otavalo
After breakfast, a visit to the colourful Indian market of Otavalo; with its many impressive arts and crafts of the local people including weaving products. The market dates back to pre-Inca times when jungle products from the east were traded with highland products.
Day 8: Quito - Cotopaxi
After breakfast, we head south through the avenue of the volcanoes and on towards Cotopaxi National Park. We shall make a visit to the fabulous San Agustin de Callo Hacienda, and is one of only two major Inca sites in Ecuador. After the visit, a small hike or horse ride in the beautiful countryside in the foothills of Cotopaxi Volcano. Overnight accommodation.
Meals: B
Day 9: Cotopaxi - Banos
After breakfast, our adventure continues further south passing more volcanoes including Carihuayrazo before entering the Sangay National Park famous for its breathtaking view of Tungurahua Volcano. Transfer to the magnificent Luna Runtun, a hotel and spa nestled in fabulous countryside and with incomparable views of the volcano. Opportunities for further hikes, mountain biking, horse back riding, or visiting the countryside in the area of Sangay National Park, Llanganates National Park.
Meals: B
Day 10: Banos - Riobamba
After breakfast, we shall have a free morning to continue our enjoyment of the Sangay National Park before we continue our journey westwards to the town of Riobamba and accommodation for one night.
Meals: B
Day 11: Riobamba - Cuenca
After an early breakfast, transfer to the train station for a spectacular journey through the beautiful high country to Chanchan and through the famous "devil's nose ride" journey, with the giant Chimborazo 6,310m ever present. After the train journey, we continue on towards the famous Inca ruins of Ingapirca, the most important and the finest preserved Inca ruins of Ecuador. Visit to a local nearby museum before we continue onto Cuenca and our hotel.
Meals: B
Day 12: Cuenca
A sightseeing tour through colonial Cuenca, the most beautiful city in Ecuador. With many beautiful churches and handicraft stalls as well as the famous flower market. Cuenca is also the cultural and arts centre of Ecuador, home to many beautiful buildings with fabulous fašades and splendid balconies. Overnight in Cuenca.
Day 13: Cuenca - Quito
After breakfast, transfer to the airport for the flight to Quito and onward for your connecting flight home.
Meals: B
End of our services.
Escorted Ecuador Tour 2 Itinerary Overview:
PRICES:

Please Contact Us Here
Credit Cards Welcome:



WHAT IS INCLUDED / NOT INCLUDED
For current availability contact us at
info@amazingperu.com
and we will send you the relevant trip dossier along with a 90 day fixed quote, terms and conditions. Please bear in mind that significant price reductions are available for groups. All our Luxury Tours are fully private and depart daily. Contact us for more information regarding the above tour, or to begin customizing your own itinerary.