Special Peru & Bolivia Tour 2022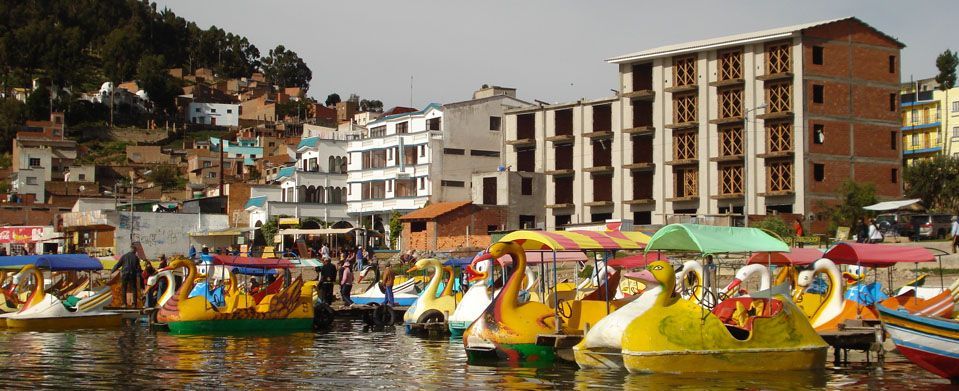 ITINERARY
Day 1. Lima
Arrival in Lima. Reception and transfer to your hotel.
Day 2. Lima (B)
After breakfast, full city tour of modern and colonial Lima, declared a UNESCO world heritage site in 1991. Tour in an air conditioned bus with a bilingual guide. The tour includes a visit to the Cathedral, Main Square, San Francisco Convent and its Catacombs, and the residential areas of San Isidro and Miraflores. Free afternoon.
Meals: B
Day 3. Lima - Cuzco (B & D)
After breakfast, flight to Cuzco, reception and transfer to the hotel of your choice. Afternoon guided visit of the four ruins nearby; the Sacsayhuaman Fortress overlooking the city of Cuzco, a pre Inca architectural masterpiece; Kenko, a rock sanctuary whose main attraction is the monolithic altar representing a puma, the red Fortress of Puca-Pucara and Tambomachay, a beautiful fountain fed by a spring forming a series of basins continue to the city of Cuzco; the Main Square, the Cathedral and the Koricancha or Temple of the Sun. Dinner and folkloric show in the evening.
Meals: B & D
Day 4. Sacred Valley (B & L)
Full-day excursion to Urubamba, the Sacred Valley of the Incas. Visit the village of Pisac, founded during Colonial times. On Sundays, Tuesdays and Thursdays the Indians barter their products, and artisans from all over the area sell their woven alpaca wool blankets and ponchos, engraved gourds, antique reproductions and jewellery. On Sundays, it is also the meeting place for the local Mayors of the region, who come dressed in their traditional costumes, to attend morning mass. After buffet lunch at the Tunupa Restaurant, a visit to Ollantaytambo, the only Inca town which is still inhabited. Explore the ruins above Ollantaytambo before returning to your hotel.
Meals: B & L
Inca Trail to Machu Picchu
Day 5. Ollantaytambo - Wayllabamba (B, L & D)
After an early morning breakfast, you will be transferred to Chilca by bus where you will meet with your Quechua porters and prepare for the Inca Trail.
You will cross over the turbulent Vilcanota River, with magnificent views of Nevado Veronica (5,900m/19,000ft) and continue along the trek admiring the Llactapata archaeological site, and stopping at the Huayllabamba River for lunch. All meals are freshly prepared by your chef. After lunch, we will visit the archeological sites of Patallacta, Qente, and the valley of Cusichaca along with the magical Polylepsis forest before continuing the hike. Our hiking today will last approximately 7 hours. Upon arriving to our campsite, dinner before listening to the intriguing stories and legends from your guide. Overnight camping on the trail.
Meals: B, L & D
Day 6. Wayllabamba - Pacaymayu (B, L & D)
An early start today as this is the most demanding day of the entire trek and we shall gain considerable altitude. We will see outstanding views to the east of the Huayanay peaks and to the west of the rugged Vilcabamba Range. After breakfast, we shall begin the climb up through the first pass at 4200 m/13,750 feet at Warmiwanusqa. Passing 3 ecological zones such as the Yunga, Quechua and Puna, we shall ascend 1000 metres in 5 hours. Lunch will be taken before the final two sections of ascent. Upon reaching the summit of Dead Woman's Pass, we shall celebrate our achievement by paying homage to the Apus or mountain gods, before descending into camp. Welcoming dinner near Pacaymayu. More secret myths will unfold tonight as the porters explain the significance of the Apus, or mountain gods. Overnight camping on the trail.
Meals: B, L & D
Day 7. Pacaymayu - Winayhuayna (B, L & D)
After breakfast, we shall begin the ascent of the second pass, although still demanding, this is easier than the previous day's ascent. A visit to the famous archaeological site of Runquraqay. We will continue on to the restored town site of Sayaqmarka ("Town in a Steep Place") and explore the Sayaqmarka Ruins, admiring at the same time the fabulous cloud forest which is now all around us. The third pass of the Inca Trail in this section is a long white granite roadway, with some ascents and descents traversing a thickly forested mountainside. We will finally descend to the magnificent archaeological site of Phuyupatamarka ("Cloud Level Town") where lunch will await us. After lunch, we will then begin the decent to Winaywayna, an outstanding Inca complex built into the mountainside. A visit of the ruins before our dinner. We shall also meet with our porters for the very last time and exchange thanks and talk about the ancient paths upon which we have trekked for the last few days. Overnight camping on the trail.
Meals: B, L & D
Day 8. Winayhuayna - Machu Picchu - Cuzco (B)
Early morning wake up at 4:30 AM for breakfast and to begin the final trek to Intipunku, and the first site of the archaeological complex of Machu Picchu. We will descend rapidly from cloud forest into high jungle habitat. Orchids and hummingbirds are commonly seen along this spectacular section of the trail high above the river. We will arrive at Intipunko "Gate of the Sun" to observe the sunrise over Machu Picchu from an elevated vantage point. We will then continue down to the royal road and at last the "Lost City of the Incas".
Begin your tour of Machu Picchu. Built by the Inca Pachacutec, and comprising stone blocks fitted with masterful precision, Machu Picchu harmoniously blends into the mountain landscape. There are many theories as to the origins behind Machu Picchu but three of the most popular ideas include a temple to the sun, a fortress against the jungle inhabitants and a sanctuary for the Incas. This fabulous city holds houses, temples, warehouses, a large central square and all connected by narrow roads and steps, which is surrounded by terraces cut into the mountain side which were used for agriculture. We shall visit the Main Plaza, the Royal Quarters, the Temple of Three Windows, the Circular Tower and the Sacred Sun Dial and Burial Grounds. After the guided tour, return to Cuzco.
Meals: B
Day 9. Cuzco - Tambopata Jungle (B, L & D)
Transfer to the airport for the flight to Puerto Maldonado. Reception and transfer from the airport. Short journey by road and then transfer to the Tambopata River. Travel by motor boat along the river. During the trip we may see caiman, turtles and waterfowl, etc. After approx. 3 hours we will arrive at the lodge where we will be received with a welcome drink. We are now deep inside pristine primary rainforest and surrounded by the wonderful sounds. After a short rest we will have a short hike in time to enjoy a jungle sunset at Sunset Point. After returning we will have dinner, at which the Resident Naturalists (RNs) will be available to answer questions or brief us on the Amazon rainforest.
Meals: B, L & D
Day 10. Tambopata Jungle (B, L & D)
After an early breakfast, (during which we can hear the howler monkeys calling) guided by one of our RNs, we will start a 3½ miles hike to Cocococha oxbow lake. On the way we will observe exotic plants and insects, colourful butterflies and birds, monkeys and, with luck, perhaps even some of the large mammals. At the lake, canoes will be available for a ride around it watching the wildlife on the shoreline, where we shall see Hoatzin (ancient birds) and hopefully giant otters. Return to the lodge for a late lunch. Afternoon free for relaxing and independent activities. After dinner, we will board a canoe for a short night ride to spot caiman on the river banks by flashlight.
Meals: B, L & D
Day 11. Tambopata Jungle - Cuzco - Puno (B)
After an early breakfast, depart by boat back to the city of Puerto Maldonado, directly to the airport, for your return flight back to Cuzco and public bus to Puno. Lying on the shores of Lake Titicaca, the highest navigable lake in the world, Puno is also the folkloric capital of Peru. Accommodation at your hotel.
Meals: B
Day 12. Islands of Lake Titicaca (B & L)
Full day excursion to the islands of Uros and Taquile. Uros, a group of islands made entirely of tortora reeds is home to a small community dating back to a pre-Inca culture. The inhabitants of Taquile are more closely related to the Aymara people of Bolivia than the Quechua Incas of Peru. Basic lunch on the island prepared by the local inhabitants. Return to Puno.
Meals: B & L
Day 13. Puno -Copacabana- La Paz (B)
After breakfast, transfer to the bus station for the tourist bus to La Paz. Cross the border, after the formalities, continue onto La Paz and transfer to your hotel.
Meals: B
End of our services.
Peru and Bolivia Tour Itinerary Overview:
PRICES:

Please Contact Us Here
Credit Cards Welcome:



WHAT IS INCLUDED / NOT INCLUDED
For current availability contact us at
info@amazingperu.com
and we will send you the relevant trip dossier along with a 90 day fixed quote, terms and conditions. Please bear in mind that significant price reductions are available for groups.
HIGHLY RECOMMENDED BY:
"Well-run multipurpose agency, with several offices in Peru with an extensive roster of trips, from family and honeymoon to luxury trips..."
Frommers Guides 2022
"Highly recommended, professional and well-organized, 'perfect tour', knowledgeable guides"
Footprint Handbook 2022
"Transportation services and accommodations are top-notch, and the guides are flexible and extremely helpful"
Fodor's Guides 2022
"
Amazing Peru
has more than 20 years of experience in the travel industry. Tours to Machu Picchu can be customized to include airfare, all meals, accommodations and travel insurance, and last from six to 14 days. Amazon cruises, horseback riding, river rafting, hiking and biking throughout Machu Picchu, Cuzco, Sacred Valley, Lake Titicaca..."
USA TODAY
"Move Over, Machu Picchu - How disabled travelers can tour Machu Picchu."
Christoper Reynolds
"Looking for an adventure of lifetime to kick-start married life? Consider these honeymoons with a difference… "
Perfect Wedding Magazine
"Experience"
Amazing Peru is the leading company in Latin America that combines exclusivity, luxury and authenticity for Peruvian holidays. It will tailor a 15- days tour for you that takes in Lake Titicaca, the Sacred Valley, Machu Picchu, Lima, Cuzco, Colca Canyon and the Amazon rainforest."
The Travel and Leisure Magazine UK
"A reputable firm with an impressive variety of unique excursions… "
At Home and Away with Alan Whicker CBE Magazine
Spend Christmas on a guided tour of breathtaking Machu Picchu and visit famous Lake Titicaca. Amazing Peru offers luxury Christmas vacations in Machu Picchu along the Inca Trail...
Trails Outdoor Travel Guide
"Amazing Peru takes families on both luxury and affordable tours throughout Peru. Children 12 and older are welcome to come along on the 12-day Peru Family Adventure Tour. Raft, backpack, kayak and bike through some of Peru's most unforgettable sights including Machu Picchu. The Family Tour to Peru is tailored for children younger than 12 years of age with an educational component. Relax on Peru's northern beaches, explore the high-altitude Lake Titicaca, trek through the Amazon, and visit Machu Picchu on this 16-day journey. Check out Amazing Peru's 12-day Family Tour."
Global Post USA
"
You can fly over Machu Picchu - or take a helicopter ride
Who needs hiking when you can fly? The company Amazing Peruoffers hour-long flight tours right over the Sacred Valley of the Incas. The plane fits a minimum of eight passengers, and it can also be chartered. Passengers fly over Tipon and Pikillaqta, both archaeological sites, Pisaq and the Urubamba Valley, Sacsayhuaman, and, of course, Machu Picchu itself. Flights can be longer or shorter as requested. "
"
You can Om your way through Machu Picchu
Machu Picchu is known as one of the most spiritual lands in the world, so why not go all out and Om your way through its ruins? Amazing Peru offers a seven-day yoga tour where visitors travel from Lima to Cuzco and finally to Machu Picchu, where they stay in the famed sanctuary Lodge hotel right outside of the ruins. They participate in multiple meditation and yoga sessions throughout the trip, but the highlight is a private session smack-dab in the middle of the ruins. Now that is an Om experience worth waiting for."
Yahoo Lifestyle
"A good bird watching site. Private, customized tour to Venezuela, Guyana, Suriname, French Guiana and Trinidad & Tobago"