Boutique Tour of Argentina & Chile
Buenos Aires - Iguazu - Santiago - Valparaiso - Viña del Mar
21 days / 20 nights.
ITINERARY
Day 1. BUENOS AIRES
Arrival to Buenos Aires, reception and transfer to your hotel. We recommend the Casacalma.
Day 2. BUENOS AIRES (Breakfast only)
After breakfast, a city tour of perhaps the most cosmopolitan metropolis in South America. Most of the population is of European descent and the city is reminiscent of Paris. It is situated on the Rio de la Plata, and as its name suggests, it is the city of good winds. The tour will include a visit to the Plaza de Mayo, the hub of the city centre and where many public buildings such as the Catedral Metropolitana can be found. At the east end, you will find the Casa Rosada presidential palace with the famous balcony from which Juan and Evita Peron greeted the masses. A visit will also be made to La Boca, Buenos Aires' most colourful neighbourhood. San Telmo, just a few blocks south of Plaza de Mayo is the artist's quarter, what some believe to be Buenos Aires' most interesting feature. Visit to Recoleta, a very fashionable area where you can visit the fine arts museum, called Museo Nacional de Bellas Artes, and the city's gardens of Plaza Alvear and Plaza Francia. The latter hosts the largest crafts fair in the city every Sunday.
Meals: B
Day 3. BUENOS AIRES (Breakfast & dinner)
After breakfast take a 30 minute transfer to Villa Elisa town in the Buenos Aires province. Here you will enjoy a horse ride in the national reserves of "El Palmar" an area with the most biodiversity in the entire Buenos Aires province. In the afternoon, return to your hotel.
In the evening, enjoy a dinner and tango show at Esquina Carlos Guardel.
Meals: B & D
Day 4. BUENOS AIRES (Breakfast)
Free day. In the evening, enjoy an informal wine-tasting class at the Cave de Vines.
Meals: B
Day 5. BUENOS AIRES - IGUAZU (Breakfast only)
After breakfast, transfer to the airport for the flight to Puerto Iguazu. Transfer to your hotel, we recommend the Saint George Hotel. A visit to the fabulous UNESCO World Heritage Iguazu falls, the most voluminous falls in the world and more than three times the width of the Niagara Falls. The Argentinean side of Iguazu allows for a close appreciation. Set in a subtropical rain forest reserve of over 180,000 hectares, Iguazu is home to jaguar, puma, caiman and over 400 species of bird. The tour will include the Aventura ride, an exhilarating boat ride on the Parana River, heading towards the Iguazu falls themselves. Return to your hotel.
Meals: B
Day 6. IGUAZU FALLS - BRAZIL SIDE (Breakfast only)
Today you will cross the border into Brazil for a half day excursion to appreciate a wider view of the falls. The falls lie on the three borders of Brazil, Argentina and Paraguay. Return to your hotel in Argentina for your last night.

(Please note that all US & Canadian citizens require a Brazilian visa for this excursion).
Meals: B
Day 7. PUERTO IGUAZU - BUENOS AIRES - SANTIAGO (Breakfast only)
After breakfast, transfer to the airport for the flight to Buenos Aires and take the connecting flight to Santiago. Arrival and transfer to your hotel. We recommend the Orly Hotel. Free evening.
Meals: B
Day 8. SANTIAGO (Breakfast)
After breakfast, a half day city tour of Santiago including a visit to the Museo Chileno de Arte Precolombino. This museum offers a thorough overview of 4500 years of pre-Columbian civilization throughout Central and South America. At the Main Square (Plaza de Armas) view the Cathedral, Post Office and National Museum. Continue along the main avenue called "Alameda" to admire the San Francisco Church, the National Library. You shall also see the Mercado Central and is Santiago's most colourful market and home to many great seafood restaurants.
Meals: B
Day 9. SANTIAGO - VALPARAISO (Breakfast)
After breakfast, we start our journey through the valleys of Curacaví and Casablanca, where we shall visit a local vineyard. Afterwards we travel to the port of Valparaíso, a tourist attraction that cannot be missed. This city was declared a world heritage site thanks to the picturesque architecture of its 44 hills, and their characteristic elevators, 15 of them still working. We first visit the National Congress and then go up the Bellavista hill to see "La Sebastiana", a beautiful house that belonged to the poet Pablo Neruda, a Nobel Prize winner (1971), with an option to visit this lovely building (ticket not included). We then move on to the Sotomayor Square, to see the Building of the National Navy (declared a National Monument) and the Monument for the Heroes of Iquique (Pacific War 1879-1883).

Thereafter, we go up the Concepción hill and stroll along the Atkinson and Gervasoni Walks, for a spectacular view of the port. Afterwards, we visit the Yugoeslavian Walk and the Baburizza Palace, a museum house that maintains the greatness of its first owners.

We then continue towards the Inmigrations Building (National Monument) and take the Artillería Elevator to visit the famous 21 de Mayo observatory, where each year hundreds of visitors gather to see the fantastic fireworks that the port launches to welcome the New Year. Overnight at the Boutique Sutherland House.
Meals: B
Day 10. VINA DEL MAR - SANTIAGO (Breakfast)
After breakfast, we border the coast on our way to Viña del Mar, also known as the City of Gardens, to have lunch in one of its many restaurants. You will have a chance to visit the Flower Clock, the Viña del Mar Casino, the Seaside Walk, Reñaca Beach, and the Fonck Museum, famous for its Easter Island collection (option to visit the museum, ticket not included). Return to Santiago in the evening and to the Orly hotel.
Meals: B
Day 11. SANTIAGO - EASTER ISLANDS (Breakfast & inflight-lunch)
After breakfast, transfer to the airport for the flight to Rapa Nui, otherwise known as the Easter Islands. The flight will take approximately 5 hours. Arrival, traditional welcome and transfer to your hotel. We recommend the Altiplanico.

Rapa Nui is the most isolated, inhabited island in the world.
Located 2000 miles (3200 km) west of Chile and over 4000 km from Tahiti, it was discovered by the Dutch in 1772, Admiral Jacob Roggeween landed there on Easter Sunday and gave the island its present name. He was the first European to describe the unusual statues carved from the volcanic rock from Rano Raraku. Standing as tall as 18 ft (5.5 m) and weighing up to 100 tons, the statues are known as moai, and each are supposed representations of clan chieftains. These moais, were placed on top of platforms called ahu, which in turn served as a family burial vault.
Meals: B & L
Day 12: RAPA NUI (EASTER ISLANDS) (Breakfast & lunch)
After breakfast, a full day's tour visiting Vaihu, where eight toppled Moai lie, Akahanga, Rano Raraku volcano, where the statues are half buried, Ahu Tongariki, where the largest Ahu (or platform) is located, Te Pito Kura (a large rock believed to have been brought from Tahiti) and Ahu Nau Nau (where the Moai are in particularly good condition). Enjoy a local style ballet show.
Meals: B & L
Day 13: RAPA NUI (EASTER ISLANDS) (Breakfast)
Today, a half day's excursion to Rano Kau volcano, site of ancient petroglyphs and the ceremonial temple of Iorongo, Vinapu (site of meticulous stonework found nowhere else on the islands) along with the Anakai Tangata caves. Free afternoon.
Meals: B
Day 14: RAPA NUI (EASTER ISLANDS) (Breakfast)
Today, enjoy a half day horse riding tour on the islands. Return to your hotel.
Meals: B
Day 15: RAPA NUI (EASTER ISLANDS) - SANTIAGO (Breakfast & inflight lunch)
After breakfast, a half day excursion to Ahu Akivi, the famous seven Moais, believed to be one of the last built around 1460 and measuring 14 feet in height and weighing 12 metric tons. The caves of Ana Tepahu and Puna Pau, a quarry, from where the red hats that are worn by some of the Moai were made is also visited today. Transfer to the airport for the return flight back to Santiago and transfer to your hotel.
Meals: B & L
Day 16 SANTIAGO - CALAMA - SAN PEDRO DE ATACAMA (Breakfast & dinner)
After breakfast, transfer to Santiago airport for the flight to Calama, set in the middle of the Atacama desert. Arrival and transfer to the Awasi Lodge. Accommodation at your Hotel. The Atacama Desert is home to volcanoes, dry salt lakes, ponds and waters emerging in the midst of the desert. Exploring the Atacama with Awasi, is individual and private, personally tailored for each guest… customized for the most adventurous, for the faithful hiker, for the lover of heights, and for those who just want to be surprised.

An Awasi jeep and a professional guides are always available for private excursions so that guests can take the outings according to their own preferences and pace. The Awasi guides are experienced professionals who have been trained to carry out the outings in an entertaining and safe way. With a fleet of jeeps specially prepared for the difficult conditions of the desert and the altitude, which lets us drive comfortably over off-road courses and thus access unique, exclusive sites and landscapes. In order to always operate with maximum safety, all our vehicles are equipped with a GPS unit and VHF or satellite telephones
Meals: B & D
Day 17: ATACAMA DESERT TOUR (All meals)
Private tour through the Atacama Desert.
Meals: B, L & D
Day 18: ATACAMA DESERT TOUR (All meals)
Private tour through the Atacama Desert.
Meals: B, L & D
Day 19: ATACAMA DESERT TOUR (All meals)
Private tour through the Atacama Desert.
Meals: B, L & D
Day 20: ATACAMA - CALAMA - SANTIAGO (Breakfast)
Very early morning departure to the Tatio Geysers to experience this spectacular demonstration of volcanic activity. In the middle of the Andean mountains, the El Tatio Geysers at 4,500 metres above sea level gush fumaroles at dawn. Box lunch on route. Return to Calama in the afternoon for your transfer to the airport and your return flight to Santiago. Reception and transfer to your hotel.
Meals: B
Day 21: SANTIAGO (Breakfast)
After breakfast transfer to the airport for your flight home.
Meals: B
End of our services.
Boutique Tour of Argentina & Chile Itinerary Overview:
PRICES:

Please Contact Us Here
Credit Cards Welcome:



WHAT IS INCLUDED / NOT INCLUDED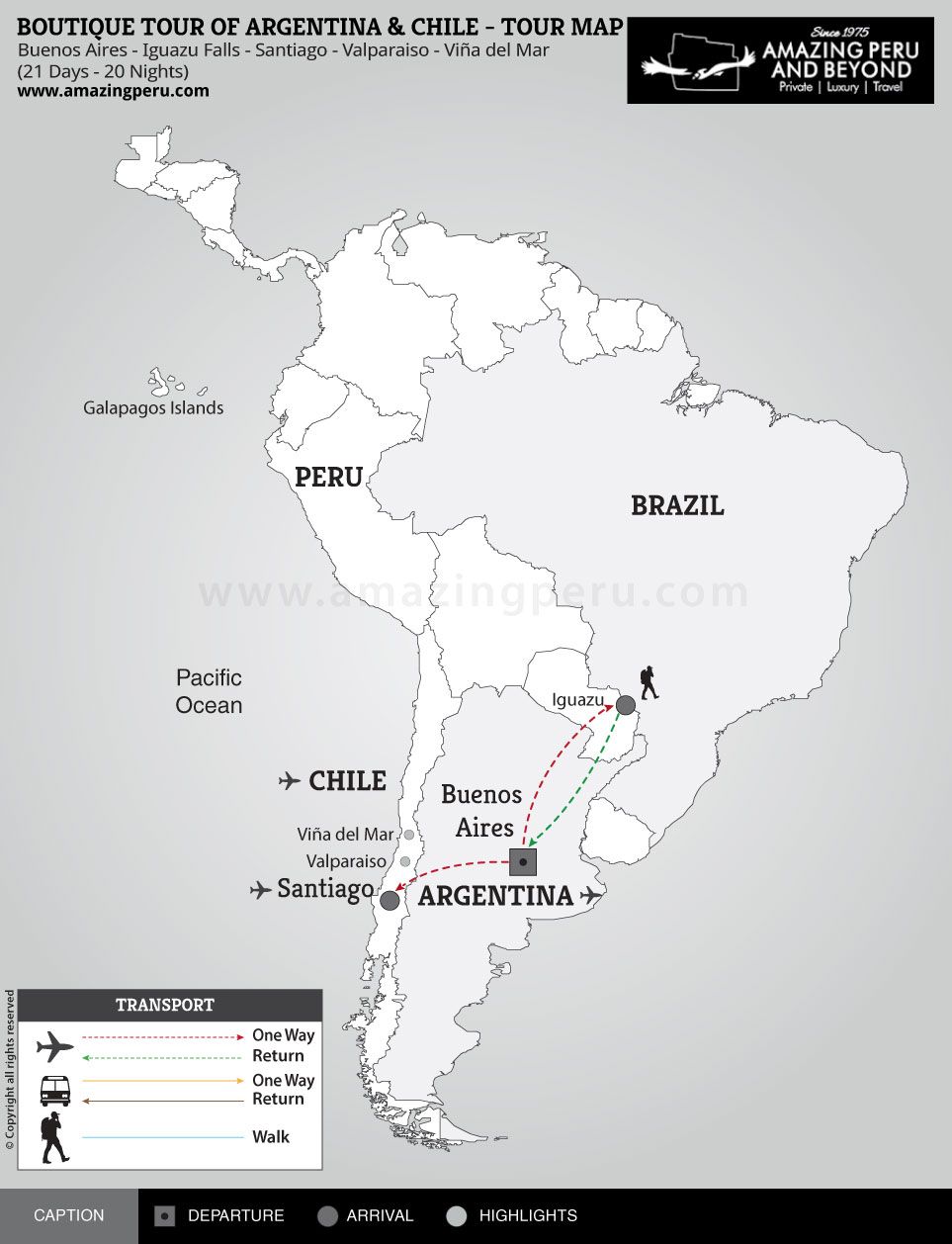 Boutique Tour of Argentina & Chile
Buenos Aires - Iguazu - Santiago - Valparaiso - Viña del Mar
21 days / 20 nights.
Tour Review:





Hi Jim

Things are finally back to normal so I can now tell you about our trip. All in all it was fantastic! Our time in BA was great. Everything went according to the itinerary and we got our vouchers on arrival. Please recommend the Esquina Carlos Guardel dinner and tango show if you have clients who wish to see a show. The venue was beautiful and the dinner and show were as well. But the highlight was the horseback riding. Caballos Al a par was a great experience. We highly recommend them! Our hosts Miriam and Adrian were terrific and we really enjoyed the day. Even Sonja, a beginner rider enjoyed it and we both learned so much.

Iguazu was beautiful on both the Argentine and Brazilian sides. We really liked the Aventura ride. The Panoramic Hotel was a great choice also.

When we travelled to Santiago, we were not aware that there was a reciprocity fee for Canadians and Americans that was payable at the Santiago airport. Please pass this on to clients you may have from those countries who are going to Chile. The Orly hotel was in a great location and very accommodating. Each time we left to go elsewhere, they gladly kept our ever growing pile of souvenirs until we returned. The half day tour of Santiago turned into a full day...OK.
On the day we were to do a vineyard tour and visit Valparaiso, we also did the tour of Vina Del Mar, rather than do it the next day, so we didn't see perhaps as much as we might have if it were done on a separate day. The day was a little exhausting. We loved the Sutherland House Hotel. So on the Vina Del Mar day we had a free morning and arranged with our driver to pick us up in the early afternoon to return to Santiago. The driver Carlos Fuentes F. was fantastic. He was with us all through our stay in and around Santiago. We always knew we could count on him to be there through delays or whatever might happen. Please send our regards for him to the tour company that hires him.

The trip to Easter Island was uneventful, but it was nice to go to a warmer climate. Our tours were great, the local ballet show Kari Kari and the horseback riding. Everything was EXCELLENT. I have a feeling that if we hadn't been closely watching our itinerary, we would have missed them. As it turned out, Sonja wasn't feeling well so we didn't go riding. We just took it easy and wandered around town. The Altiplanico was a great hotel.

Then it was on to Calama and the Atacama desert. The Awasi was expensive but worth every cent. Our guide was amazing and set up an itinerary that allowed us to see everything we wanted to see. We can't recommend this place highly enough.

The only part of the trip that we found particularly tiring were the frequent flights. I know that these were necessary to fit in all the activities and places we wanted to do and see, but as we get older, I think our expectations have to be less ambitious. Getting old sucks!

Thank you once again for planning a fantastic trip for us. South America is truly an amazing place and we still have so much more to experience.

I don't know where next years adventure will take us but we will keep you in mind. We look forward to working with you again

Doug and Sonja
Canada

For current availability contact us at
info@amazingperu.com
and we will send you the relevant trip dossier along with a 90 day fixed quote, terms and conditions. Please bear in mind that significant price reductions are available for groups.
"Well-run multipurpose agency, with several offices in Peru with an extensive roster of trips, from family and honeymoon to luxury trips..."
Frommers Guides 2023
"Highly recommended, professional and well-organized, 'perfect tour', knowledgeable guides"
Footprint Handbook 2023
"Transportation services and accommodations are top-notch, and the guides are flexible and extremely helpful"
Fodor's Guides 2023
"
Amazing Peru
has more than 20 years of experience in the travel industry. Tours to Machu Picchu can be customized to include airfare, all meals, accommodations and travel insurance, and last from six to 14 days. Amazon cruises, horseback riding, river rafting, hiking and biking throughout Machu Picchu, Cuzco, Sacred Valley, Lake Titicaca..."
USA TODAY
"Move Over, Machu Picchu - How disabled travelers can tour Machu Picchu."
Christoper Reynolds
"Looking for an adventure of lifetime to kick-start married life? Consider these honeymoons with a difference… "
Perfect Wedding Magazine
"Experience"
Amazing Peru is the leading company in Latin America that combines exclusivity, luxury and authenticity for Peruvian holidays. It will tailor a 15- days tour for you that takes in Lake Titicaca, the Sacred Valley, Machu Picchu, Lima, Cuzco, Colca Canyon and the Amazon rainforest."
The Travel and Leisure Magazine UK
"A reputable firm with an impressive variety of unique excursions… "
At Home and Away with Alan Whicker CBE Magazine
Spend Christmas on a guided tour of breathtaking Machu Picchu and visit famous Lake Titicaca. Amazing Peru offers luxury Christmas vacations in Machu Picchu along the Inca Trail...
Trails Outdoor Travel Guide
"Amazing Peru takes families on both luxury and affordable tours throughout Peru. Children 12 and older are welcome to come along on the 12-day Peru Family Adventure Tour. Raft, backpack, kayak and bike through some of Peru's most unforgettable sights including Machu Picchu. The Family Tour to Peru is tailored for children younger than 12 years of age with an educational component. Relax on Peru's northern beaches, explore the high-altitude Lake Titicaca, trek through the Amazon, and visit Machu Picchu on this 16-day journey. Check out Amazing Peru's 12-day Family Tour."
Global Post USA
"
You can fly over Machu Picchu - or take a helicopter ride
Who needs hiking when you can fly? The company Amazing Peruoffers hour-long flight tours right over the Sacred Valley of the Incas. The plane fits a minimum of eight passengers, and it can also be chartered. Passengers fly over Tipon and Pikillaqta, both archaeological sites, Pisaq and the Urubamba Valley, Sacsayhuaman, and, of course, Machu Picchu itself. Flights can be longer or shorter as requested. "
"
You can Om your way through Machu Picchu
Machu Picchu is known as one of the most spiritual lands in the world, so why not go all out and Om your way through its ruins? Amazing Peru offers a seven-day yoga tour where visitors travel from Lima to Cuzco and finally to Machu Picchu, where they stay in the famed sanctuary Lodge hotel right outside of the ruins. They participate in multiple meditation and yoga sessions throughout the trip, but the highlight is a private session smack-dab in the middle of the ruins. Now that is an Om experience worth waiting for."
Yahoo Lifestyle
A Private, customized tour to Venezuela, Guyana, Suriname, French Guiana and Trinidad & Tobago. "Any traveler with a well-developed sense of adventure will be rewarded with an incredible experience on this journey to a birding paradise designed and operated by Amazing Peru."
"Savoring a taste of Uruguay's acclaimed wine region - An outstanding experience"