Luxury Peru Tour 1 - Option 2
An all encompassing Luxury tour throughout the highlights of Peru. Visit the ancient Inca capital city of Cuzco whilst staying at the deluxe Monasterio Hotel; travel aboard the Hiram Bingham train to the ancient lost city of the Incas, Machu Picchu; and take the Orient Express Explorer to Lake Titicaca, the highest navigable lake in the world.
ITINERARY
Day 1: Lima
Arrival to Lima, reception at the airport and transfer by private vehicle to the deluxe 5* Miraflores Park Hotel. VIP check-in to your Executive Suite complete with Ocean views. Fresh flowers and dry fruits will be waiting for you. If your arrival flight is late your massage will be postponed for tomorrow. If you arrive on an early flight, you will have a choice of an a la carte dinner or room service (if arriving after 11PM).
Day 2: Lima
After breakfast, a private guided visit of colonial and modern Lima, including the cathedral, dating from 1654, the main square, which still houses the original bronze fountain built in 1650, and the San Francisco Convent and its catacombs. Known as the city of the kings, Lima was founded in 1535 by Pizarro and rebuilt in 1991, the same year that UNESCO declared it a world heritage site. One of the very few South American cities that preserve the colonial past, Lima was home to the Spanish viceroy during the time of the Spanish colonialists. The tour will include a visit to the residential areas of San Isidro and Miraflores, before stopping at Larco Mar to enjoy a view of the beautiful Pacific Ocean. Lunch at the internationally renowned Rosa Nautica, the best seafood restaurant in Lima. After lunch, a visit to a museum of your choice. We recommend the Gold Museum, originally from a private collection. The museum includes valuable pieces, particularly gold, silver and copper from several pre-Hispanic cultures. The most precious piece in the collection is the solid gold Tumi (ceremonial knife) belonging to the Lambayeque culture. Return to your hotel to enjoy a relaxing 60 minute massage (for two people) which will invigorate the senses and prepare you for a delicious dinner at the Huaca Pucllana Restaruant. Located within an actual pre-Inca archaeological site and next to a 1500 year old adobe pyramid, the food here is exquisite and the sommelier will help you choose amongst your personal favourites or some Chilean and Argentinean classics. Return to your hotel.
Meals: B, L & D
Day 3: Lima - Cuzco
After breakfast, transfer to the airport for your flight to Cuzco, the ancient Inca capital of the Incas. After the one hour flight, reception and transfer to the exclusive deluxe 5* Monasterio Hotel. VIP check-in by the chapel to your deluxe room. A fruit basket, fresh flowers, and fine chocolates will be waiting for you. The room will be oxygenated (the only hotel in the world with this facility) to help you relax and sleep more comfortably in the high altitude setting of Cuzco (11,600ft above sea level). After a recommended light lunch in the wonderful hotel restaurant, a private guided tour of Cuzco including the Cathedral, Qoricancha temple, the Inca fortress of Sacsayhuaman overlooking Cuzco, Qenko and Puka Pukara. Return to the hotel. Dinner in the El Tupay Restaurant. On Saturdays a folkloric music show will accompany your dinner.
Los Monasterio | Meals: B, L & D
Day 4: Urubamba
After breakfast, a private full-day excursion to Urubamba, the sacred valley of the Incas and to the ancient Inca market town of Pisac. Lunch in Urubamba or a picnic lunch will be provided. A visit will be made to Ollantaytambo, the only Inca town that was not defeated by the Spanish and a chance to explore the ruins before returning to Cuzco. Return to your hotel to relax and unwind. Before dinner, enjoy a 30 minute 'Inca massage' accompanied by traditional music. This relaxing massage incorporates aromatherapy using Kantu, the sacred flower of the Incas. Dinner in Cuzco at a recommended restaurant.
Meals: B, L & D
Day 5: Cusco - Machu Picchu
Enjoy a good night's sleep before your private transfer at 9AM to Poroy, a short distance from Cuzco. Boarding of the luxurious Hiram Bingham train to Aguas Calientes. This Orient Express train is the most exclusive way to visit Machu Picchu and includes a hearty brunch aboard the train. Guides will also be available to answer any questions. Arrival to Aguas Calientes, assistance with your luggage and boarding of the bus for the short ride up to Machu Picchu, the ancient Inca citadel. At the very entrance to Machu Picchu, your hotel is located, the Sanctuary Lodge hotel. VIP check-in to your room, complete with king size bed and a view of the incredible mountains. A welcome drink and fruit basket will be waiting for you. Shortly after, a guided tour of Machu Picchu, the most spectacular ancient city in the world. Built by the Inca Pachacutec, and comprising stone blocks fitted with masterful precision, Machu Picchu harmoniously blends into the mountain landscape. There are many theories as to the origins behind Machu Picchu but three of the most popular ideas include a temple to the sun, a fortress against the jungle inhabitants or a sanctuary for the Incas. This fabulous city has houses, temples, warehouses, a large central square, all connected by narrow roads and steps, and is surrounded by terraces cut into the mountain side which were used for agriculture. Lunch (if required), dinner and accommodation at the Machu Picchu Sanctuary Lodge. Opportunity to return to the site once all the other visitors have gone and an opportunity to truly appreciate the grandiose setting of this Inca masterpiece; with no crowds but only an eerie silence that few people experience.
Machu Picchu Sanctuary Lodge | Meals: L
Day 6: Machu Picchu - Cuzco
Early opportunity to return to the site and enjoy a wonderful sunrise over Machu Picchu. Time for some private reflection before returning for breakfast. Today no guide is provided as we feel that Machu Picchu requires a certain amount of self discovery to be fully understood. Take any of the several paths around various parts of the site (we will provide a map to help you), trek up to Wayna Picchu or walk down to the Inca's bridge. Let Machu Picchu unfold all its mysteries for you, take in the breathtaking cloud forests and jagged mountains, or marvel at the extraordinary Masonic precision of the ancient Incas. Either way, your day of self discovery will be a day never to be forgotten. Return to your hotel for lunch before returning back down to Aguas Calientes by bus. Some free time to visit the colourful town before boarding the Hiram Bingham train in the early evening. Return in style, converse with your fellow passengers and guides and enjoy cocktails followed by a four course dinner. Reception and transfer to the Monasterio hotel for your final night in Cuzco.
Los Monasterio | Meals: B, L & D
Day 7: Cuzco - Puno
Transfer to the railway station for the wonderful trans-altiplano Inca express (Mondays, Wednesday and Saturdays). Lunch onboard the "Orient Express" of Peru. Along the route, there shall be plenty of opportunities to see alpacas and vicuñas in their natural habitat along with the marvellous scenery of the altiplano. A stop at the highest point, La Raya, 4319m, will also be made. (Alternatively, you may fly to Juliaca and then transfer to Puno). Reception and transfer to the deluxe 5* Libertador hotel, situated on the very shore of Lake Titicaca. Dinner overlooking the lake.
Libertador Hotel | Meals: D
Day 8: Puno - Suasi Island (Lake Titicaca)
After early breakfast, transfer to the port for the journey to the Exclusive Suasi Lodge, located on a very remotest part of Lake Titicaca. En route, you shall visit the floating islands of Uros. Made entirely of reeds and inhabited by the Aymara Uros people, they live in huts built on platforms of reeds, not more than 30-40 cms/1foot thick. A short hike on the islands, before the boat trip continues as far as the island of Taquile. Taquile is also renowned for its fine, decorative weavings. Arrival to Suasi Island in the early afternoon and transfer to your Andean Cottage which is located lakeshore, on a private beach off the island. Complete with living room with kitchenette, chimneys in both the living room and main room, private terrace and an unrivalled view of the lake. There is also a private butler service.
As Suasi is a private island, you are able to enjoy 360° views over the highest navigable lake in the world. There is 24-hour hot water fuelled by solar power. No TV, no telephones, this is a real escape which will reinvigorate your every sense. The landscaped gardens are a dream, and there are many activities such as kayaking around the island, hiking and observing the wild vicuna on the island or just relaxing and enjoying the peaceful atmosphere. All meals at the lodge included along with house wine and national beer. Premium wines available at extra cost.
Meals: B
Day 9: Suasi Island (Lake Titicaca)
Return to Puno or spend today on the island with access to the following activities:
Treks around the Island
Few places in the world offer such a beautiful landscapes as that of Suasi. A network of trails suitable for people with all forms of physical condition will take you to enjoy the island and its attractions. Discover eucalypt forests, fields covered with flowers and a hill that dominates the western part of the island; from where you can enjoy fabulous sunsets.
Wild Flora and Fauna Observation
Suasi is a high Andean wildlife reserve. Its hills are home to herds of alpacas, llamas, guanacos and vicunas, the latter are the most beautiful and graceful Andean camelids. The dense forests located along its banks shelter a wide variety of birds such as goldfinches, high Andean plateau ducks, cormorants -and colourful hummingbirds that visit numerous flowers.
Visit to the Andean Farming Plots
(between September and April)
The high Andean plateau's inhabitants domesticated potatoes and several other products that are now household names. Visit Suasi's ecological plots and discover the main Andean crops: quinoa, oca, potatoes, tarwi and much more. Get to know at first hand, from the Titicaca peasants- traditional sowing and harvesting systems for native plants. Between December and March you can walk among hundreds of aromatic and medicinal plants and enjoy the unforgettable fragrances of the muña and paico.
Canoe Rides
(suggested between March and September)
Only few experiences can match that of being in close contact with the great Titicaca Lake all by yourself. Canoeing offers the possibility to travel along its blue and calm waters from an incomparable perspective observing closely the cormorants' nests lying along the cliffs. Suasi is a natural refuge for these fishing birds which can mainly be seen between March and September. We will provide you with life jackets, rowing classes and everything that is needed to take the first steps in the art of canoeing.
Walks along the Beach
Can you picture yourself walking barefoot on the lake's smooth sand, having a fresh trout for lunch in an exclusive beach or swimming in the lake's crystal clear waters at noon? To walk along the beautiful beaches of the Titicaca is a privilege. "A life experience" say those who have enjoyed it. Dinner and accommodation on the island.
Day 10: Puno - Juliaca - Lima
After breakfast, transfer back to Puno before heading towards Juliaca, with an excursion to the Silluastani towers. The pre-Inca Sillustani funeral towers lie close to the Umayo Lake and form part of one of the largest and most important necropolis in the world. Used by both the Altiplano civilisation and the Incas and their wives "Collas" to honour their dead and in preparation for the after-life. They were abandoned when the first Spanish arrived. With over ninety chulpas (tombs), all built from volcanic rock, those for the Incas can be easily recognised by their finer detail. Picnic lunch before arriving to Juliaca airport for the flight back to Lima and the deluxe 5* Miraflores Park Hotel. Fresh flowers and dry fruits will be waiting for you. A la carte dinner at the Poissonnerie Restaurant.
Miraflores Park Hotel | Meals: B
Day 11: Lima
Leisurely day with plenty of opportunity for shopping before your late check out and transfer to the airport for your return flight home.
End of our services.
PRICES:

Please Contact Us Here
Credit Cards Welcome:



WHAT IS INCLUDED / NOT INCLUDED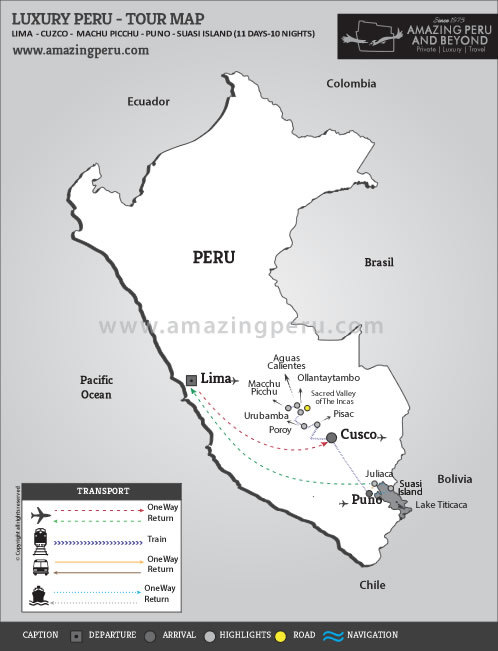 Luxury Peru Tour 1 - Option 2
Cuzco - Urubamba - Machu Picchu - Puno - Suasi Island
11 days / 10 nights.
For current availability contact us at
info@amazingperu.com
and we will send you the relevant trip dossier along with a 90 day fixed quote, terms and conditions. Please bear in mind that significant price reductions are available for groups. All our Luxury Tours are fully private and depart daily. Contact us for more information regarding the above tour, or to begin customizing your own itinerary.
"Well-run multipurpose agency, with several offices in Peru with an extensive roster of trips, from family and honeymoon to luxury trips..."
Frommers Guides 2023
"Highly recommended, professional and well-organized, 'perfect tour', knowledgeable guides"
Footprint Handbook 2023
"Transportation services and accommodations are top-notch, and the guides are flexible and extremely helpful"
Fodor's Guides 2023
"
Amazing Peru
has more than 20 years of experience in the travel industry. Tours to Machu Picchu can be customized to include airfare, all meals, accommodations and travel insurance, and last from six to 14 days. Amazon cruises, horseback riding, river rafting, hiking and biking throughout Machu Picchu, Cuzco, Sacred Valley, Lake Titicaca..."
USA TODAY
"Move Over, Machu Picchu - How disabled travelers can tour Machu Picchu."
Christoper Reynolds
"Looking for an adventure of lifetime to kick-start married life? Consider these honeymoons with a difference… "
Perfect Wedding Magazine
"Experience"
Amazing Peru is the leading company in Latin America that combines exclusivity, luxury and authenticity for Peruvian holidays. It will tailor a 15- days tour for you that takes in Lake Titicaca, the Sacred Valley, Machu Picchu, Lima, Cuzco, Colca Canyon and the Amazon rainforest."
The Travel and Leisure Magazine UK
"A reputable firm with an impressive variety of unique excursions… "
At Home and Away with Alan Whicker CBE Magazine
Spend Christmas on a guided tour of breathtaking Machu Picchu and visit famous Lake Titicaca. Amazing Peru offers luxury Christmas vacations in Machu Picchu along the Inca Trail...
Trails Outdoor Travel Guide
"Amazing Peru takes families on both luxury and affordable tours throughout Peru. Children 12 and older are welcome to come along on the 12-day Peru Family Adventure Tour. Raft, backpack, kayak and bike through some of Peru's most unforgettable sights including Machu Picchu. The Family Tour to Peru is tailored for children younger than 12 years of age with an educational component. Relax on Peru's northern beaches, explore the high-altitude Lake Titicaca, trek through the Amazon, and visit Machu Picchu on this 16-day journey. Check out Amazing Peru's 12-day Family Tour."
Global Post USA
"
You can fly over Machu Picchu - or take a helicopter ride
Who needs hiking when you can fly? The company Amazing Peruoffers hour-long flight tours right over the Sacred Valley of the Incas. The plane fits a minimum of eight passengers, and it can also be chartered. Passengers fly over Tipon and Pikillaqta, both archaeological sites, Pisaq and the Urubamba Valley, Sacsayhuaman, and, of course, Machu Picchu itself. Flights can be longer or shorter as requested. "
"
You can Om your way through Machu Picchu
Machu Picchu is known as one of the most spiritual lands in the world, so why not go all out and Om your way through its ruins? Amazing Peru offers a seven-day yoga tour where visitors travel from Lima to Cuzco and finally to Machu Picchu, where they stay in the famed sanctuary Lodge hotel right outside of the ruins. They participate in multiple meditation and yoga sessions throughout the trip, but the highlight is a private session smack-dab in the middle of the ruins. Now that is an Om experience worth waiting for."
Yahoo Lifestyle
A Private, customized tour to Venezuela, Guyana, Suriname, French Guiana and Trinidad & Tobago. "Any traveler with a well-developed sense of adventure will be rewarded with an incredible experience on this journey to a birding paradise designed and operated by Amazing Peru."
"Savoring a taste of Uruguay's acclaimed wine region - An outstanding experience"