Escorted Natural Ecuador through Cloud Forest & Rain Forest
Quito - Ibarra - Coca - Yasuni National Park - Napo River - Cicame Museum
13 days / 12 nights.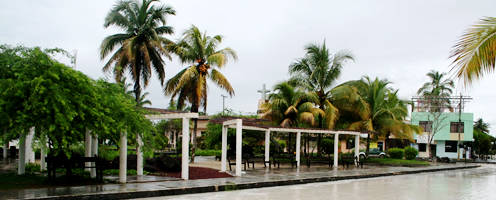 ITINERARY
Day 1: Quito
Arrival in Quito, reception and transfer to your hotel.
Day 2: Quito - Ibarra
After breakfast, excursion to Ibarra, located in the El Choco rainforest reserve, a mixture of both rainforest and cloud forest. The El Choco rainforest reserve has primary and secondary forest, with a variety of tropical birds such as parrots and toucans. Animals found in the area include the mantled howler monkey. Treks into the fabulous reserve.
Meals: B
Day 3: Ibarra
A selection of tours available with further treks into the cloud forest and horse back riding tours.
Day 4: Ibarra - Quito
Morning at the hacienda for various excursions before a late afternoon return to Quito and transfer to your hotel.
Day 5: Quito - Coca - Yasuni National Park
After breakfast, transfer to the airport for the flight to Francisco de Orellana (Coca). Arrival and transfer to the Napo River port before the canoe ride downstream. Arrival to Amazon Explorer River boat, complete with private air conditioned cabins. We begin navigating down the Napo River for the whole afternoon.
Meals: B
Day 6: Yasuni National Park
On the second day of our cruise, we will explore one of the fantastic tributaries of the Napo River that originates from the core of the Yasuní National Park. At this river, we will navigate upstream in search of the evasive Giant River Otter, the mysterious Jaguar and the timid Spider Monkey. Excursion into the Yasuní National Park to look for Capybara and Caiman (South American alligators).
Day 7: Peruvian Border & Cuyabeno Wildlife Reserve
After a morning excursion to observe plants, birds and more wildlife in the Yasuní National Park, we will navigate into the Aguarico River, the largest tributary of the Napo River to get through the Cuyabeno Wildlife Reserve, one of the highlights of our exploration. On our way to Cuyabeno, we will visit a Peruvian town and meet some local people.
Day 8: Cuyabeno Wildlife Reserve - The Forest Dwellers
A full day visit today to the Indian Community will give as an idea of how indigenous people live in the forest. At the community, a local guide accompanied by our expedition leaders will enlighten you with the use of plants for medicinal purposes.
Day 9: Cuyabeno Wildlife Reserve - Lagartococha
This remote area is accessible only through the Lagarto (Alligator) River, a black water river surrounded by freshwater mangroves (Coussapoa trinervia), Macrolobium trees, and Palm trees adapted to flooding conditions. Lagartococha (Alligator Lake) is not one but a system of lakes situated along the Ecuadorian-Peruvian boundary. An overnight stay in the forest could be arranged for this day.
Day 10: Napo River
From this day, we will start our return to the point where we boarded the crusier. There will be navigation throughout the entire day to relax and observe the Napo River banks, the forest and perhaps some wildlife.
Day 11: Napo River - Panacocha (Piranha Lake)
Today we will continue our navigation upstream to arrive at the mouth of the Pañayacu (Piranha River). After arrival, there will be a canoe trip through the Piranha River to see the sights of this interesting protected forest. There is a possibility to observe Pink River Dolphins and the agile Common Squirrel Monkeys.
Day 12: Yasuni National Park - Cicame Museum
The cruiser will arrive back to were we started our adventure. Early morning, we will visit the most accessible Parrot and Parakeet clay licks in Ecuador. There are blinds or hides to watch and enjoy this nature show so close! It is difficult to imagine hundreds, sometimes thousands of parrots and parakeets coming all together at once into the clay licks. This area is also located inside of the Yasuni National Park.
Day 13: Quito
After an early breakfast, transfer to the airport for your return flight to Quito and your connecting flight home.
Meals: B
Escorted Natural Ecuador through Cloud Forest & Rain Forest Itinerary Overview:
PRICES:

Please Contact Us Here
Credit Cards Welcome:



WHAT IS INCLUDED / NOT INCLUDED
For current availability contact us at
info@amazingperu.com
and we will send you the relevant trip dossier along with a 90 day fixed quote, terms and conditions. Please bear in mind that significant price reductions are available for groups. All our Luxury Tours are fully private and depart daily. Contact us for more information regarding the above tour, or to begin customizing your own itinerary.