Cotopaxi & Chimborazo Ascent
Quito - La Cienega - Chimborazo - Cotopaxi
6 days / 5 nights.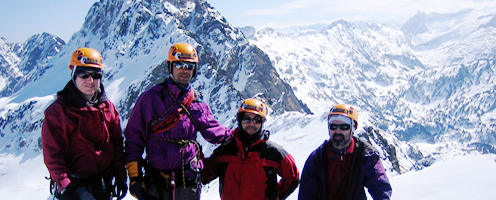 ITINERARY
Day 1: Quito - Cotopaxi José Ribas Mountain Refuge
We will leave Quito in the morning and head south through the valley of the volcanoes to the Cotopaxi National Park. We will start our one hour hike before reaching the Jose Rivas refuge (4800 m). After doing some ice climbing techniques and exercises on the glacier, we will have dinner and prepare for the ascent.
Meals: D
Day 2: Refuge - Cotopaxi Summit (5897m) - La Cienega Hosteria
Wake up at midnight for the 7 hour climb through the glacier before reaching the summit. After the descent we, will rest for a while in the refuge before continuing on to La Cienega hosteria.
Day 3: La Cienega Hostelry
A day of relaxation, or some activities such as horseback riding.
Day 4: La Ciénega - Chimborazo Mountain Refuge
After breakfast, we will head further south until we reach the Hermanos Carrel refuge (4800m). From here we will walk for another 45 minutes to the Whymper refuge (5000 m), where we will relax, have supper and prepare for the ascent.
Meals: B
Day 5: Refuge - Chimborazo Summit 6.310m - Quito
We will wake up at midnight again and after 8 hours of climbing, we will first reach the Veintimilla summit (6270m) and afterwards the Whymper summit (6310 m). After enjoying the spectacular views, we will descend to arrive back in the refuge around midday. Here you will relax before returning to Quito.
Day 6: Extra Day
This day is used in case of bad weather conditions on either Cotopaxi or Chimborazo. If it is not required, we will arrange a city tour in Quito, visiting a Museum and colonial Quito.
End of our services.
Cotopaxi & Chimborazo Ascent Itinerary Overview:
PRICES:

Please Contact Us Here
Credit Cards Welcome:



WHAT IS INCLUDED / NOT INCLUDED
For current availability contact us at
info@amazingperu.com
and we will send you the relevant trip dossier along with a 90 day fixed quote, terms and conditions. Please bear in mind that significant price reductions are available for groups. All our Luxury Tours are fully private and depart daily. Contact us for more information regarding the above tour, or to begin customizing your own itinerary.