Santa Cruz Trek

(4 days, 3 nights)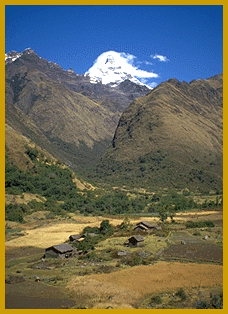 Day 1: Huaraz - Llamacorral
Leaving early morning, we drive along the Santa River passing several villages until we reach the present day Yungay. The road winds slowly up into the gully between the Huascarán massif and the Huandoy three-pronged peak, driving until Cashapampa. Start of the trek. Hiking for about six hours until Llamacorral where we will camp at 4000m.

Day 2: Llamacorral - Taullipampa
After breakfast, hike for about six hours. We will see Mt. Taulliraju looming above us and on the other side its glacial lake. The glacier will add colour and contrast to the amazing view down the Santa Cruz Valley. The peaks of Santa Cruz, Quitaraju, Artesonaju and Alpamayo, the most beautiful mountain in the world, will come into view as well as the two lakes of Ichicocha and Hatuncocha. The trail ascends into Taullipampa, where we will camp at 4400m.

Day 3: Taullipampa - Punta Unión Pass - Paria
Early breakfast. The trail starts ascending towards Punta Union, a pass at 4700m(15,711 ft). This old trail was heavily used in pre-Columbian and colonial times as a route for transporting goods from the eastern side of the Andes to the main valley. As we approach the pass, you will enjoy amazing panoramic views down the Santa Cruz Valley to the west, and views of the Huaripampa Valley to the east. The peaks of Santa Cruz surrounded by Andean vegetation of Quenual (Pilylepis), the snow-capped peaks of Paria and Taulliraju, Artesonraju and Huaripampa will all come into view. Camp in the vicinity of Paria or Tuctu 3800m in the heart of Huascarán National Park.

Day 4: Paria - Vaquería - Llanganuco
After breakfast, hike through the Huaripampa valley, Colcabamba, Vaquería and finally to Portachuelo of Llanganuco at 4750m, (15,580 ft.) From this point, you will get a spectacular view of Mt. Huascarán, Huandoy, Pisco and Chacraraju. Private transportation to Huaraz.


We are also able to arrange several 1 day treks around the Cordillera Blanca such as Hatunmachay, Cueva de Guitarrero, Wilcahuain and Lake 69 - Contact us for further information.
| | |
| --- | --- |
| | |

For current availability contact us at info@amazingperu.com and we will send you the relevant trip dossier along with a 90 day fixed quote, terms and conditions.