Fixed Departure Climbing Expedition!
For the Ishinka, Pisco and Huascaran climbs only, US$1900
per person, based on two sharing and includes all food on the expedition, a professional UIAGM mountain guide, personal porters, all camping equipment (tents, mattress, cooking equipment), first aid kit and emergency oxygen bottle.
Prices do not include the Lima - Huaraz - Lima bus tickets, arrangements and hotels in Lima and Huaraz. If requiring these additional services, please add US$390 per person based on two sharing.

The international flight ticket to Peru and airport taxes are not included.



Ishinka - Pisco - Huascaran 2005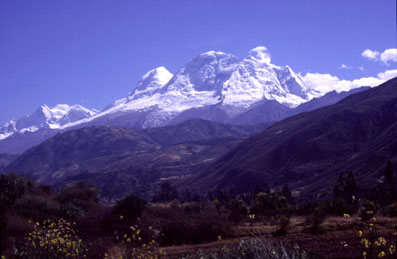 July 25th: Huaraz - Base Camp
After breakfast, transport to Paltay to start the trek to Collon at 3300m. Continuing up the beautiful Ishinka valley that sits directly under Tocllaraju, Urus, Ishinka, and Ranrapalca. Arrive at the base camp of Ishinka at 4300m. Camp for the night.

July 26th: Base Camp - Summit of Ishinka - Base Camp
Climb over the glacier to reach the Morraine Camp. Then an attempt at the summit. Return to base camp. Camping for the night.

July 27th: Base Camp - Huaraz
After breakfast, return back down to Huaraz.

July 28th: Huaraz
Free day.

July 29th: Huaraz - Cebollapampa Campsite
Leaving Huaraz you will head north to the small town of Yungay at the foot of the Quebrada Llanganuco. Entering the Quebrada you will continue heading east into the mountains to the wide and pastoral valley between Huascarán on the south and Huandoy on the north. Camp near the trailhead at Cebollapampa. An easy day to achieve further acclimatisation.

Juky 30th: Acclimatisation hike to Lagoon 69
Hike today for about 6 hours, surrounded by the mountains of Chacraraju, Yanpaccha and Pisco. Return to Cebollapampa basecamp.

July 31st: Cebollapampa campsite - Moraine Camp
After breakfast, a short trek to Pisco Base Camp at about 4400m. With good acclimatisation, you will pass the Pisco Base Camp and settle at the Moraine Camp at 4900m. Sleeping at the foot of Pisco's steep South Face in preparation for tomorrow's summit attempt.

August 1st: Morain Camp - Summit - Basecamp - Cebollapampa campsite
Your summit climb of Pisco follows the occasionally narrow West Ridge. Snow and a little ice leads directly to the top. Pisco is well known for its incredible views, and with strategic view points there will be many opportunites for photographs. The close proximity of the neighbouring peaks of Huandoy and Chacraraju are astonishing. Return to Base Camp. From the Base Camp, continue the hike out to Cebollapampa campsite.

August 2nd: Cebollapampa campsite - Huaraz
After breakfast, return with private transport to Huaraz.

August 3rd: Huaraz
Free day.

August 4th: Huaraz
Free day.

August 5th: Huaraz - Musho - Basecamp
After breakfast, leave for Huaraz, heading north to the town of Musho, approximately two hours from Huaraz. From Musho you start the hike for about five hours until Huascaran base camp at an elevation of 4400m. Camp.

August 6th: Base Camp - Moraine Camp
Today, as you climb above the Base Camp, the route becomes more difficult, taking a complex path up and around huge glacially polished granite slabs. Your next camp, is the Moraine Camp 4900m, located just below the glacier.

August 7th: Morain Camp- Camp I
Today you will arrive at the edge of the ice itself. An additional 2 hours of glacier traversing takes you to camp I on the glacier at 5400m.

August 8th: Camp I - Camp II
Climb for about three hours until La Garganta (The Throat), a broad saddle between the north and south summits. As you climb through the increasingly broken glacier, you will encounter short sections of technical climbing including an ice ascent of up to 60 degrees inclination. Camp II is at 6000m.

August 9th: Huascarán Summit
Very early start at 3.00 am to reach the summit at approximately 11.00 am. Return to camp II.

August 10th: Camp II - Base Camp
Descend to Base Camp, which lasts about 6 hours.

August 11th: Base Camp - Musho - Huaraz
Hiking for another three hours until Musho where your private transport will be waiting. Return to Huaraz and a celebratory dinner.

End of expedition.


Please e-mail us at info@amazingperu.com for further information or to book this expedition.