(16 days, 15 nights)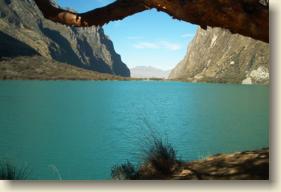 Day 1: Lima
Arrival in Lima, reception and transfer to a four star hotel.

Day 2: Lima City tour of Lima including a guided visit to the Cathedral, the Main Square and the San Francisco Catacombs.

Day 3: Ballestas Islands
We visit the Paracas National Reserve and Ballestas islands. Commonly referred to as the "little Galapagos", here you will see an amazing concentration of sea birds and sea lions in their natural habitat.

Day 4: Nazca Lines
Today we fly over the spectacular Nazca lines, gigantic drawings and figures which are over 2000 years old.

Day 5: Arequipa
City tour of Arequipa, the "white city", including the 16th century convent which is built entirely of volcanic lava.

Day 6: Colca Canyon
After breakfast, we drive through some wonderful scenery towards the Colca canyon, where we shall see groups of wild alpacas, vicuņas and guanacos.

Day 7: Arequipa
An early start to visit the Colca canyon, the second deepest canyon in the world (the deepest canyon lies only a few kilometres from here). We shall also have an opportunity to see the huge condor, the largest flying bird.

Day 8: Cuzco
Flight to Cuzco, the ancient capital of the Incas. Guided tour of Cuzco including the Inca fortress of Sacsayhuaman.

Day 9: Sacred Valley
Excursion to Urubamba, the sacred valley of the Incas and to the ancient Inca market of Pisac.

Day 10: Machu Picchu
Train journey to Aguas Calientes and a full day's guided tour of Machu Picchu, the most spectacular ancient city in the world.

Day 11: Lima
Return flight to Lima. Free day in Lima.

Day 12: Huaraz
Private bus to Huaraz passing through some of the most spectacular mountain scenery in the world.

Day 13: Llanganuco
Day trip to the beautiful, glacial Llanganuco lake situated at 3850m. There are splendid views of the Cordillera, the highest tropical mountain range in the world.

Day 14: Pastoruri
We visit the tropical Pastoruri glacier at 5240m and the Puya Raymondi flowering plants that grow to over 12m in height.

Day 15: Lima
Return to Lima and accommodation at a four star hotel.

Day 16: Lima
Free day in Lima and then transfer to the airport.

| | |
| --- | --- |
| | |

For tours outside of the fixed group departures, please contact us for a personal quote.

For current availability contact us at info@amazingperu.com and we will send you the relevant trip dossier along with a 90 day fixed quote, terms and conditions. Please bear in mind that significant price reductions are available for groups.