HUARAZ - LLANGANUCO- CHAVIN - PASTORURI

(5 days, 4 nights)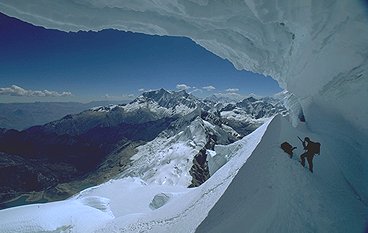 Day 1:
Transfer to the bus terminal for the spectacular trip to Huaraz. Heading first along the pan-american highway, you will eventually turn east and start gaining altitude as you head up towards the Andes. Arrival and transfer to your hotel.

Day 2:
Day of rest and acclimatisation to the 3100m setting.

Day 3:
Trip to Lake Llanganuco in the north of the Callejon de Huaylas with stopovers in Carhuaz and the tragic aftermath of old Yungay. Llanganuco is a beautiful lake in the Cordillera Blanca region of the Huascaran National Park. There are splendid views of the Cordillera, the highest tropical mountain range in the world. Lunch at a typical restaurant and then return to Huaraz.

Day 4:
Trip to Chavin de Huantar, site of the oldest pan-andean civilisation dating back to 2000BC. Located on the outskirts of the village of the same name, a tour of the ruins is followed by lunch. The site has many galleries and subterranean tunnels and houses many carved stone figures of anthropomorphic semblances reminiscent of the Maya culture. It is the oldest known pre-Columbian culture discovered and is known as Chavin-Kotosh. The most remarkable piece of carving is "El Lanzon", a granite carving 4.5 metres in height. Its head is built into the roof of the gallery and its base into the floor, making it immovable. An anthropomorphic figure with feline teeth, it is thought to indicate an important ceremonial, religious artefact. Return to Huaraz where the journey takes you over the continental divide at the high Kawish pass.

Day 5:
Early departure to Pastoruri galcier, passing through the towns of Recuay and Catac. Once heading into the National Park, you will see the Puya Raymondi, the remarkable exotic plant that belongs to the pineapple family, and takes 29 years to grow. With thousands of flowers, it towers over 12m in height and is the tallest flowering plant in the world. Along the way, you will also see prehistoric wall paintings, and natural carbonated mineral springs. Once at the foot of the glacier, the trail will take about an hour to walk. Return to Huaraz and then by luxury night bus back to Lima.

(There are a plethora of adventure opportunites around Huaraz from rafting to trekking, horse riding to mountain climbing - please ask for further details).

| | |
| --- | --- |
| | |

For current availability contact us at info@amazingperu.com and we will send you the relevant trip dossier along with a 90 day fixed quote, terms and conditions.