MANU

(4 days, 3 nights)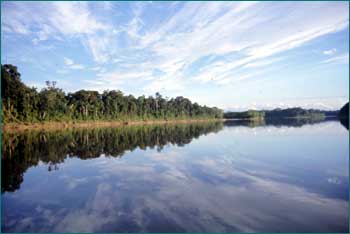 Day 1:
Flight to Cuzco. Connecting flight for the 35 minute journey to Boca Manu, a small airstrip cut into the rainforest. Reception by your rainforest guide and transfer to the river for the two hour trip down the Madre de Dios River to the Manu Wildlife Centre, a strategically located lodge. On the river journey you will see amazonian wildlife and riverside birds such as Skimmers, Terns, Herons, Egrets and Orinoco Geese. Arrival at the lodge for lunch and a chance to talk with some of the visiting biologists working there. In the afternoon, an exploration of a local trail that leads out to a lookout point high above the river where you can watch out for flights of Parrots as the sun sets. Also perhaps a chance encounter with a troop of monkeys in the forest. Optional night walk with the guide in search of nocturnal inhabitants of the forest. Night at Manu Wildlife Centre.

Day 2:
Early start for the Macaw Clay Lick. A truly great wildlife spectacle as hundreds of Parrots and Macaws congregate to eat the mineral rich clay that is essential to their digestion. A floating blind is used to get close to the birds. The noise alone is incredible and the sight of these brightly coloured birds at the lick is a sight not to be forgotten. As the lick slows down during midmorning, you will head for Cocha Blanco, an old, ox-bow lake, in search of a family of Giant Otters and canoe around the lake on a floating platform looking for other wildlife. After lunch at the lodge, an exploration of other trails in search of Emperor and Saddleback Tamarin monkeys, and perhaps the rare Goeldi's Monkey. Night at the Manu Wildlife Centre.

Day 3:
A full day to explore the forest and trails around the lodge. Looking for Monk Saki - a rarely seen monkey and also for groups of Manakins, neo-tropical birds that perform their strange mating dances. Also a walk to a blind close to a large mammal lick where Guans, Parakeets and groups of Black Spider Monkeys visit on occasions. You may return with the guide to the lodge or stay at the lick after dark until midnight to see nocturnal creatures coming to the lick. Tapirs, the largest South American land mammal are frequent visitors with up to 12 animals visiting in one night. Night at the Manu Wildlife Centre.

Day 4:
After breakfast, head upriver to the small airstrip at Boca Manu. Early morning flocks of birds normally pass over the boat, and you may see Capybara, the world's largest rodent. Arrival at the airstrip, board your aircraft for the 35 minute flight back to Cusco, and your onward flight to Lima.


| | |
| --- | --- |
| | |

For current availability contact us at info@amazingperu.com and we will send you the relevant trip dossier along with a 90 day fixed quote, terms and conditions.