Peru and Bolivia Tour

(18 days, 17 nights)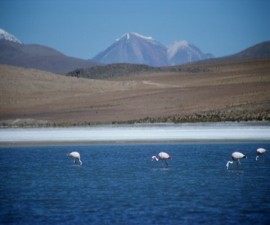 Day 1: Lima
Arrival in Lima, reception and transfer to a four star hotel.

Day 2: Lima
City tour of Lima including a guided visit to the Cathedral, the Main Square and the San Francisco Catacombs.

Day 3: Cuzco
We fly to Cuzco, the ancient capital of the Incas. Guided tour of Cuzco including the Inca fortress of Sacsayhuaman.

Day 4: Sacred Valley
Excursion to Urubamba, the sacred valley of the Incas and to the ancient Inca market town of Pisac.

Day 5: Machu Picchu
Train journey to Aguas Calientes and a full day's guided tour of Machu Picchu, the most spectacular ancient city in the world.

Day 6: Puno
Departure by scheduled bus to Puno visiting en route Inca ruins and the remains of the Viracocha temple. We shall also visit the steaming volcanic pools by La Raya.

Day 7: Lake Titicaca
After transfer to the port we visit the reed island of Uros on lake Titicaca. Overnight stay on the island of Taquile in local Aymara Indian homes.

Day 8: Lake Titicaca
Morning on Taquile island and afternoon return to Puno.
Day 9: La Paz
After breakfast, private bus to Copacabana Bolivia. Transfer to Tiahuanaco for a full tour of the oldest civilisation in Bolivia. Onward journey to La Paz and transfer to your hotel.

Day 10: La Paz
Morning city tour of La Paz, with a unique topography containing few flat areas and protected by its eternal guardian, the snow peak of Ilimani (6402m). Housing the seat of government, La Paz is a city of contrast, between both ancient and modern. A visit will also be made to the Valley of the Moon. The city centre sites include the Plaza Murillo (with its presidential palace, national congress and metropolitan cathedral), museums, and many interesting markets. Free afternoon.

Day 11: Oruro - Uyuni
Trip by bus to Oruro, on the shores of the giant Poopo lake. Fabulous train journey south to Uyuni. Transfer to your hotel.

Day 12 - Day 15: Salar de Uyuni tour
Fabulous four day adventure to the highest salt lakes in the world. A journey only achievable by 4x4 vehicles to this huge expanse of salt. Amongst the sites are Isla Pescado or la Isla Incahuasi, an island in this amazing lake, and home to numerous giant cacti. The trip will also include an excursion to the salar de Chiguana, where you will see the Ollague volcano, along with many lakes that are home to flamingoes. Laguna Colorada, Sol de Maņana, a zone of great volcanic activity, with many geysers and fumaroles, the beautiful Laguna Verde, which changes its colour throughout the day and Llicancabur volcano.

Day 16: Potosi - Sucre
Return by bus to Potosi, the highest city in the world and onto Sucre, the judicial capital of Bolivia. Transfer to your hotel.

Day 17: Sucre
After breakfast, city tour. Free afternoon.

Day 18: La Paz
Flight to La Paz and onward for your connecting flight home.


| | |
| --- | --- |
| | |

For current availability contact us at info@amazingperu.com and we will send you the relevant trip dossier along with a 90 day fixed quote, terms and conditions. Please bear in mind that significant price reductions are available for groups.