Rio de Janeiro - Iguazu Falls - Bonito

(12 days, 11 nights)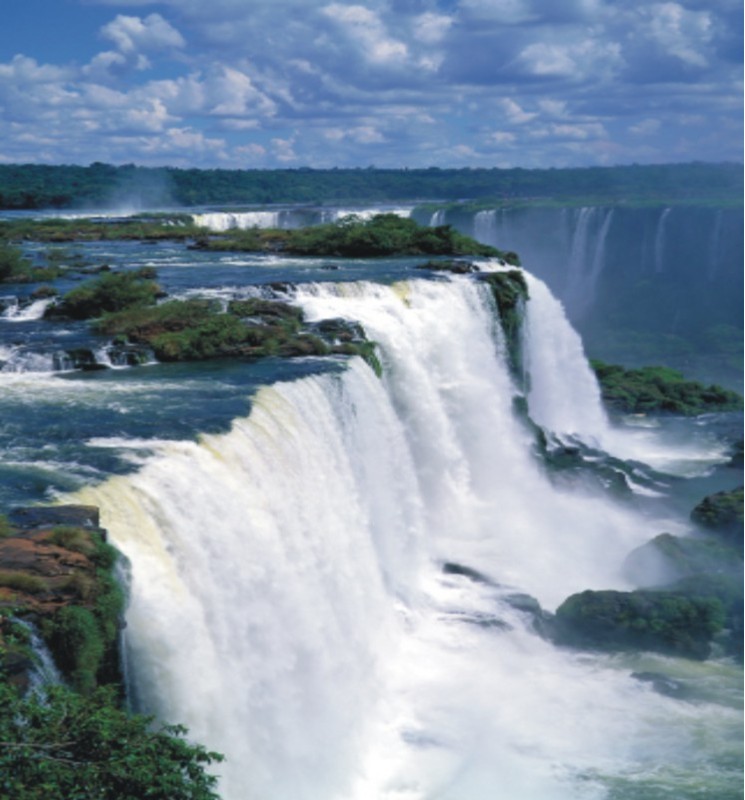 Day 1: Rio de Janeiro
Arrival in Rio, reception and transfer to the 3* Copacabana Rio Hotel.

Day 2: Rio de Janeiro
After breakfast, a half day visit of the "marvelous city" including a sightseeing tour to Sugar Loaf Mountain. A two-stage cable car takes you to the top of Sugar Loaf Mountain where you will enjoy a splendid view of Rio, Copacabana Beach, and Guanabara Bay. Return to your hotel. *Option of a spectacular dinner and show in Rio.

Day 3: Rio de Janeiro
After breakfast, a half day visit to Corcovado, the mountain home to the world famous, Christo de Redentor statue for a magnificent 360° panoramic view of Rio. After, a trip to the Tijuca forest, a luxuriant tropical forest only minutes away from this huge metropolis. Return to your hotel.
Day 4: Rio de Janeiro
Full day visit by boat to the tropical islands around Rio. Lunch on the islands is included.

Day 5: Rio de Janeiro - Iguazu
Transfer to the airport for the flight to Iguazu. Reception and transfer to the 4* Hotel Carima.

Day 6: Iguazu Falls - Brazil side
Full day excursion to the fabulous UNESCO World Heritage Iguazu falls, the most voluminous falls in the world and more than three times the width of the Niagara falls. The falls lie on the three borders of Brazil, Argentina and Paraguay. The tour will include a "Macuco Safari" an exhilarating boat ride on the Parana river, heading towards the Iguazu falls themselves. Return to your hotel.

Day 7: Iguazu Falls - Argentina side
Today, we will cross the border and enter Argentina for a closer view of these magnificent falls. Set in a subtropical rain forest reserve of over 180,000 hectares, Iguazu is home to jaguars, pumas, caiman and over 400 species of bird. It also offers a chance of seeing the falls close up. Return to Brazil and your hotel.

Day 8: Iguazu - Campo Grande - Bonito
Transfer to the airport for the flight to Campo Grande. Reception and transfer to the your hotel in Bonito, some 160 k/m from Campo Grande. Welcome to the Water's Eye Pousada in Bonito.

Day 9: Bonito - Lago Azul
Half day tour to the beautiful Blue Cave Lake. Three hundred meters from the cave's mouth, you will see a deep, blue lake. It is thought to originate from a subterranean river and creates a beautiful spectacle when the sun's rays catches the water.

Day 10: Bonito - Formosa River
After breakfast, a half day excursion involving an eight kilometer trip on rafts to the "Isle of the Priest". The journey will involve passing several small waterfalls and two rapids. You should be able to see several species of birds and fish along the way as well as monkeys, tapirs and perhaps even a boa along the banks.

Day 11: Bonito - Falls Park
A fabulous full day to the "Falls Park", one of the most beautiful settings in the region. A two hour hike passing several waterfalls, natural swimming pools and submerged caves. Arrival at a "fazenda", or farmhouse for a delicious lunch. Return to your lodge.

Day 12: Bonito - Campo Grande - Rio de Janeiro
After breakfast, transfer back to Campo Grande and the return flight back to.




For current availability contact us at info@amazingperu.com and we will send you the relevant trip dossier along with a 90 day fixed quote, terms and conditions.